North Korea claims to have fired hypersonic missile that 'precisely' hit its target
by
David Choi
Stars and Stripes
January 6, 2022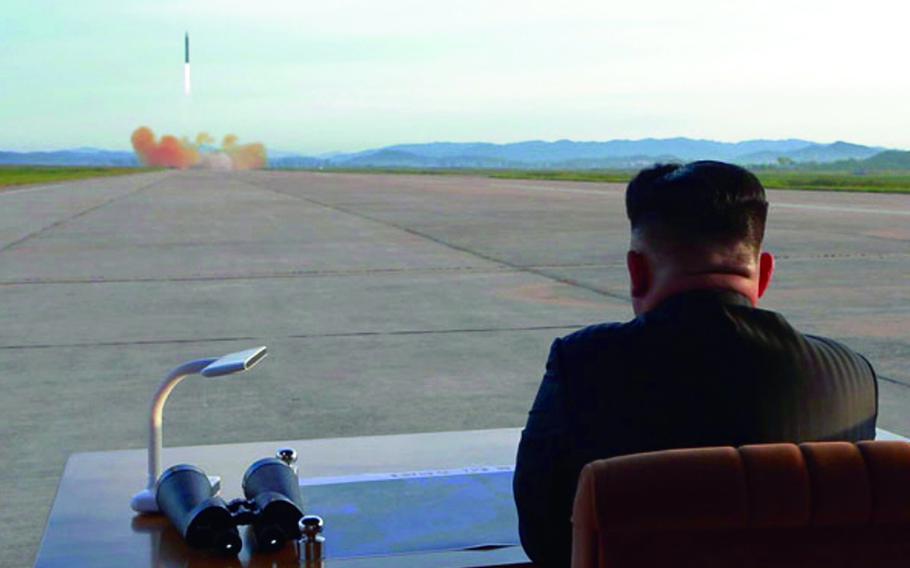 CAMP HUMPHREYS, South Korea — North Korea's first weapons test of the new year, carried out Wednesday, was a hypersonic missile that "precisely" hit a target about 435 miles away, the country's state-run news agency said Thursday.
The Korean Central News agency said the launch had a "strategic significance" and that its missile glided 75 miles laterally after detaching to hit its target.
"The test launch clearly demonstrated the control and stability of the hypersonic gliding warhead, which combined the multi-stage gliding jump flight and the strong lateral movement," KCNA said in its announcement.
Hypersonic weapons travel at least five times faster than the speed of sound, or around 3,800 mph. The weapons can fly at lower altitudes and are harder to defend against due to their maneuverability.
The latest missile was detected by South Korean and Japanese militaries at 8:10 a.m. Wednesday. Japanese Defense Minister Nobuo Kishi said initial estimates show a projectile flew about 310 miles and fell into the sea outside of his country's exclusive economic zone.
In a statement the same day, U.S. Indo-Pacific Command, which oversees all U.S. forces in the Pacific, said the missile launch did "not pose an immediate threat to U.S. personnel or territory, or to our allies."
The communist regime claimed it first tested a hypersonic weapon in September, after the U.S. and South Korean militaries detected a short-range missile fired from the North's eastern coast. North Korean leader Kim Jong Un had vowed to develop longer-range intercontinental ballistic missiles as well as hypersonic aircraft.
South Korean military officials previously told Stars and Stripes that September's launch "shows something different" from the North's previous missile tests. North Korea claimed that that test "ascertained the stability … of missile fuel ampoule" for the first time, which would ostensibly make detecting the missile prior to its launch more difficult as well as shortening its preparation time.
North Korea joins a host of other countries developing hypersonic weapons. The U.S. is "not as advanced" in hypersonic programs compared to China or Russia, according to Space Force Gen. David Thompson, the vice chief of space operations.
During an interview at the Halifax International Security Forum in November, Thompson said the U.S. had some "catching up to do very quickly" due to the technological advancement of hypersonic weapons compared to traditional ballistic missiles.
North Korea's last launch prior to Wednesday's test was in October, after it fired what appeared to be a submarine-launched ballistic missile. The regime regularly claims its weapons tests are for defensive measures against hostility from the U.S. and its allies.
South Korean President Moon Jae-in, who addressed the launch in a speech Wednesday, said his country "must not give up dialogue" with the North.
South Korea's Ministry of Unification also said in a statement that North Korea needed to "respond to our endeavors to make peace and cooperation."
"South and North Korea should work together without giving up dialogue between them in order to overcome concern, which is being caused by this launch, by the roots," the ministry said in a statement.
---
---
---
---