South Korea, Japan need 'strong mediator' to work out differences, says former US ambassador
By
Stars and Stripes
April 22, 2022
---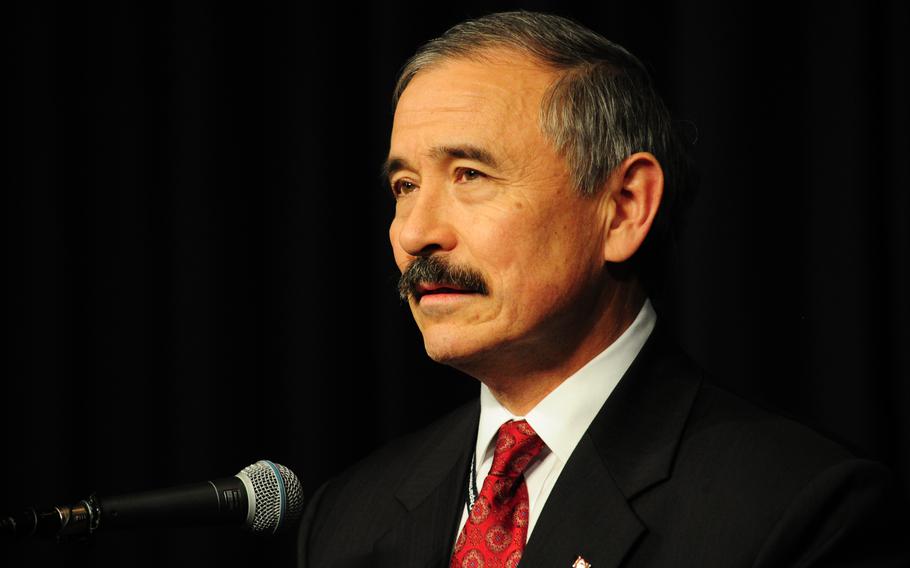 A healthy alliance between South Korea, Japan and the United States is "crucial" to Asia's stability, former U.S. Ambassador to South Korea Harry Harris said Thursday.
But, he added, Seoul and Tokyo need a third-party mediator like Washington to help them work out their differences.
"Since World War II, the network of U.S. alliances and partnerships has been at the core of a stable Indo-Pacific," Harris said during a virtual panel discussion hosted by the Hudson Institute, a nonpartisan think tank in Washington, D.C. "Relationships matter and alliances matter."
To address North Korea's provocations and ensure stability in the region, South Korea and Japan must put aside the "bad history" between them, he said.
Historical divisions often mar relations between two of the region's most powerful and successful democracies.
For decades, the two countries have bickered over ownership of a cluster of small islands in the Sea of Japan, or East Sea. The islands, which Seoul and Tokyo call Dokdo and Takeshima, respectively, have prompted the two nations to create government websites dedicated to their claims.
When then-South Korean President Lee Myung-bak visited the islands in 2012, Japan's government recalled its ambassador in Seoul and described the visit as "unacceptable."
South Korea and Japan also argue over whether Japanese troops forced Korean women into prostitution during World War II and what reparations those "comfort women" are due.
Harris said it is crucial that the two countries and the U.S. "work together to enhance security cooperation and preserve the international rules-based order."
"The reality is that no important security or economic issue in the region can be addressed without South Korea's and Japan's active involvement," he said.
But, Harris said, he believes Tokyo and Seoul are "unable to work out their differences by themselves" and that they need a mediator, like the U.S., or a "strong, common existential threat," such as North Korea or China.
Harris, a retired admiral who also led U.S. Indo-Pacific Command and the Pacific Fleet, represented U.S. interests in South Korea from 2018 to 2020.
Growth between the two countries plateaued during Harris' tenure. Then-President Donald Trump demanded that Seoul pay more for stationing of U.S. troops in the country and South Korean President Moon Jae-in undertook a passive approach to diplomacy with North Korea.
Despite several groundbreaking summits between Trump, Moon and North Korean leader Kim Jong Un, diplomatic progress between the three countries stalled and have now regressed to sharp rhetoric and more weapons tests from Pyongyang.
President Joe Biden is expected to visit South Korea and meet with President-elect Yoon Seok-youl in May, according to multiple news reports. Yoon, a member of the conservative party, is scheduled to take office May 10 and has signaled closer ties with Japan and the U.S. at the expense of relations with North Korea.
Harris said he was optimistic about Yoon's stated outreach to Japan: "The stakes are too high to take any other course."
---
---
---
---