Most South Koreans believe their country should have closer ties to US, poll says
By
Stars and Stripes
April 4, 2022
---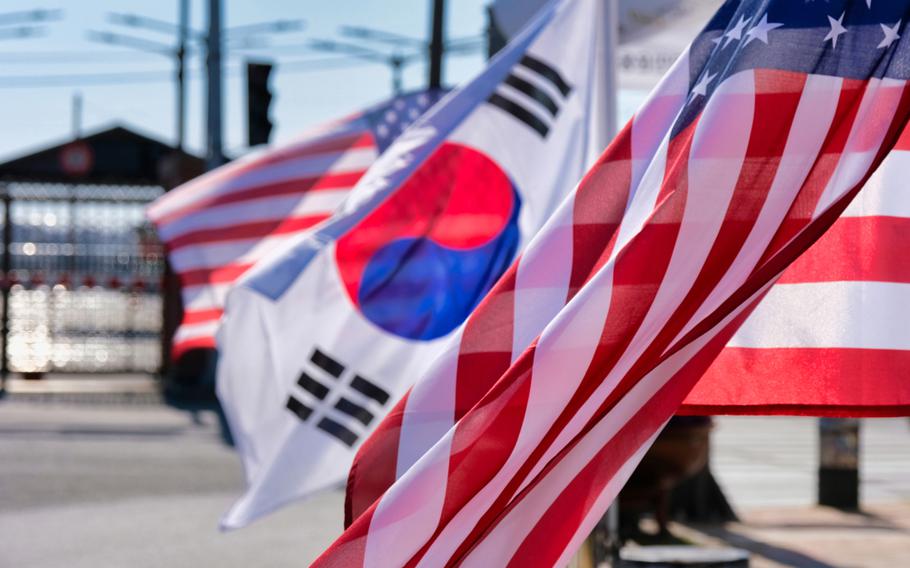 CAMP HUMPHREYS, South Korea — Nearly 87% of South Koreans think their country ought to develop closer ties to the United States than to any other nation, according to a poll released Monday.
The survey found 86.8% of respondents believe Seoul should develop closer economic, foreign and security policy ties with Washington. The Federation of Korean Industries commissioned the poll, which was conducted March 24-28.
Just 5% of respondents said North Korea ought to be the top partner with South Korea, and 3.2% said China. The European Union was cited by 2.1%, and 1.4% said Japan.
The poll surveyed 1,000 people and had a margin of error of 3 percentage points. The federation, an association of large businesses, seeks to "promote sound economic policies," according to its website.
The results come one month before South Korean President Moon Jae-in finishes his five-year term. Yoon Seok-youl, a former chief prosecutor elected president last month, is scheduled to be inaugurated May 10.
Moon's critics accused him of prioritizing relations with North Korea over ties to the U.S. Following his summit meetings with North Korean leader Kim Jong Un in 2018, Moon agreed to indefinitely postpone large-scale military exercises with U.S. troops to lower tensions on the Korean Peninsula, a frequent North Korean demand.
In contrast, Yoon, a member of the conservative People Power Party, has called for closer ties with the U.S., including the resumption of large-scale drills, while taking a hardline stance against North Korea's provocations.
"We will rebuild the [South Korea]-U.S. alliance and boost the comprehensive strategic alliance, sharing liberal democracy, a market economy, and the key value of human rights," he said in a statement March 10.
FKI's survey comes five months after a separate poll found that 67% of respondents viewed the U.S.-South Korean alliance favorably. The findings of that poll by the Seoul-based Korea Institute for Defense Analysis represent a "substantial" increase in U.S. support over previous years, according to the institute.
Nearly 75% of FKI respondents believe the South Korean government should repair relations with Japan. Twenty-two percent said it was very necessary to improve relations and 52.9% said it was somewhat necessary. Another 18.5% of respondents said it was somewhat unnecessary while 6.6% said it was very unnecessary.
Moon's government has at times been at odds with Tokyo, particularly as the two countries continue to spar over territorial disputes in the Dokdo, or Takeshima, islands and address reparations for Korean comfort women subjected to prostitution by Japan during World War II.
Conservative lawmakers like Yoon have campaigned to mend ties with Japan, calling for a "future-oriented" relationship "based on a correct understanding of history," according to a policy outlook from Yoon's presidential campaign.
Stars and Stripes reporter Yoo Kyong Chang contributed to this report.
---
---
---
---