New COVID-19 cases rising on Okinawa and US bases in South Korea
By
Stars and Stripes
March 30, 2022
---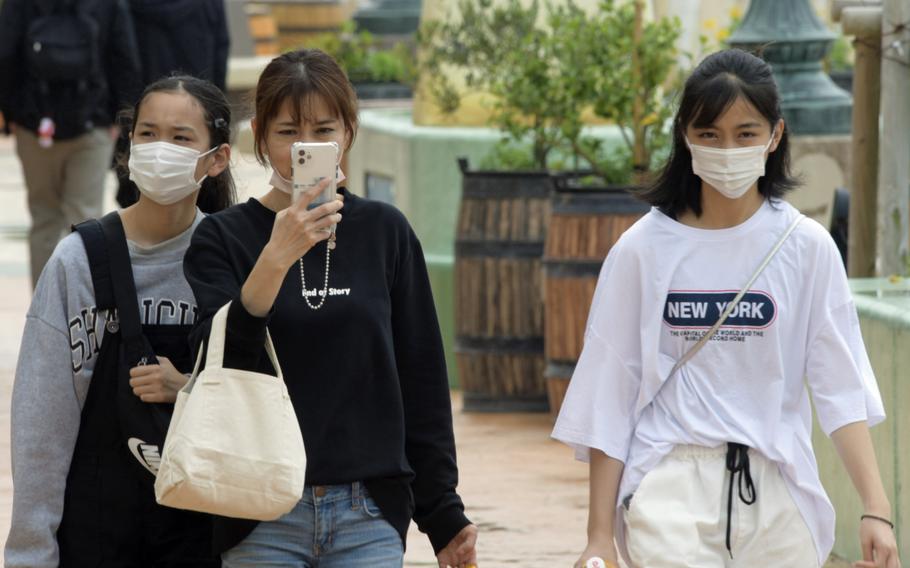 Stars and Stripes is making stories on the coronavirus pandemic available free of charge. See more stories here. Sign up for our daily coronavirus newsletter here. Please support our journalism with a subscription.
The pandemic may be easing but Japan and South Korea together are counting hundreds of thousands of new cases of COVID-19 every day, and it still has a stubborn hold in some quarters.
Okinawa prefecture, where the bulk of more than 50,000 U.S. troops in Japan are located, continues to report relatively high numbers. And the U.S. military in South Korea reported a third week of higher new case numbers.
Wednesday, Okinawa confirmed 1,058 new cases of COVID-19, the highest one-day count since 1,029 on March 1. The prefecture averaged nearly 850 new cases every day over the past week. During the previous week, new cases averaged 622 per day.
About 1% of COVID-19 cases during the sixth wave, which took hold in December, are attributed to visitors to Okinawa from other prefectures, a spokesman for the department told Stars and Stripes by phone on Tuesday.
"Tourism is not the only reason but considered to be one of the reasons," he said. "It increases human interactions."
Government spokespeople in Japan typically speak to the media on condition of anonymity as a condition of their employment.
The sixth, or omicron wave proved less virulent than its predecessors although the omicron variant spread more easily and created thousands more infections. Nearly a quarter of hospital beds set aside for COVID-19 patients on Okinawa are occupied; however, only 2.3% of those patients are hospitalized, according to the department.
The prefecture expects tourists to watch their health status carefully, get vaccinated and take a PCR test for the disease before coming to Okinawa, the spokesman said. Most tourists in Japan are coming from other parts the country. The government has stayed visas for foreign travelers although it admits limited numbers of business travelers and students.
South Korea update
In South Korea, the number of new cases of COVID-19 within the U.S. military rose again for the third consecutive week, according to a weekly update Tuesday.
U.S. Forces Korea reported 677 new cases of the coronavirus respiratory disease for the week ending Monday, 192 greater than the previous week and 520 more than the first week in March. By contrast, U.S. Forces Japan reported an average 59.3 new cases per day, about 415 total, for the week ending March 21, its most recent update.
USFK'S 677 cases are the second-highest weekly tally so far this year. New case numbers reported by the command peaked at 1,599 between Jan. 4 and 10. USFK is responsible for about 28,500 troops.
COVID-19 holds firm in South Korea, which reported 42,464 new cases Tuesday, according to a daily update Wednesday by the Korea Disease Control and Prevention Agency. The KDCA has confirmed about 340,000 or more new cases on six of the previous nine days.
Gyeonggi province, where the U.S. installations Camp Humphreys and Osan Air Base are located, accounted for 81,824 on Tuesday; Seoul, the capital city, confirmed 12,301.
Stars and Stripes reporters Mari Higa, Yoo Kyong Chang and David Choi contributed to this report.
---
---
---
---