Okinawa asks US military to mask up on base again to stem stubborn COVID-19
By
Stars and Stripes
March 23, 2022
---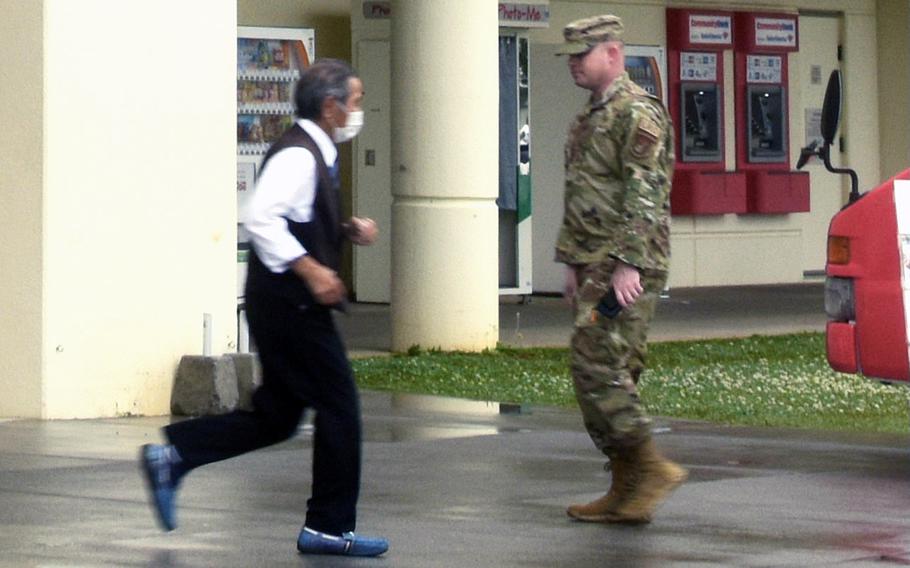 Stars and Stripes is making stories on the coronavirus pandemic available free of charge. See more stories here. Sign up for our daily coronavirus newsletter here. Please support our journalism with a subscription.
TOKYO — The coronavirus' omicron phase may be declining in Japan, but Okinawa prefecture is still riding a wave of new COVID-19 cases and wants the U.S. military to help curb them, according to the prefecture's Public Health Department.
On Tuesday, the prefecture asked Marine Corps bases on the island to rescind an order that did away with the mask mandate at U.S. installations on Okinawa.
"The U.S. military is part of our community, and it is necessary to continue working together to prevent the infections," said an email provided to the media from Masahito Tamari, the prefectural deputy director general for military base affairs, to Col. Neil Owens, assistant chief of staff for government and external affairs at Marine Corps Installations Pacific. "Therefore, Okinawa prefecture requests the U.S. military to take measures in line with Okinawa prefecture's prevention measures, which include wearing masks both on and off base."
Marine Corps bases on Okinawa, along with other large U.S. installations in Japan, dropped their base mask mandates March 14 after U.S. Forces Japan eased its mask requirement in most cases. Other U.S. installations followed suit so that masks are no longer required indoors or outdoors for anyone on U.S. military bases regardless of vaccination status.
USFJ patterned its protection order on guidance from the Centers for Disease Control and Prevention for communities with low or medium spread of COVID-19 and on Japan's own measures, a spokeswoman said at the time.
Anyone affiliated with the U.S. military is still required to wear a mask off base and in some indoor settings on base, including medical and dental facilities. Individuals testing positive for COVID-19, who have had contact with a positive case or who are suffering COVID-19 symptoms are also expected to wear masks.
Base commanders have discretion to increase coronavirus protection measures on their installations, based on conditions in their local communities, U.S. Forces Japan spokeswoman Lt. Col. Brooke Brander told Stars and Stripes by email Wednesday.
"Each installation continues to review its individual COVID-19 situation to decide if increased measures are required," she wrote. "In addition, USFJ will continue to monitor and adjust COVID-19 mitigation measures in coordination with [government of Japan] counterparts as we have done since the start of the pandemic."
Brander referred Stars and Stripes to the installations command for further comment.
Marine Corps Installations Pacific follows the force protection order laid out by USFJ, a spokeswoman for the command, 1st Lt. Ashleigh Fairow, told Stars and Stripes by email Tuesday. She did not comment on what response, if any, the command provided the prefecture.
New case numbers in Okinawa's communities fall and rise week to week and sometimes day to day. After posting 802 new cases on Saturday, the prefecture reported 300 on Monday and 326 on Tuesday, according to the prefectural Department of Public Health and Medical Care.
On Wednesday, the department reported 913 new cases, along with 27 cases from the U.S. military population. Okinawa between March 11 and Wednesday reported 8,010 new cases of the coronavirus respiratory disease, just shy of the 8,131 reported in Tokyo on March 13. The city reported 6,430 on Wednesday, a sharp drop from 10,221 reported a week earlier, according to metro government data and public broadcaster NHK.
Although case numbers on Okinawa have fallen this month from 1,029 on March 1, the 913 posted Wednesday still exceeds the highest daily number of the fifth wave, 805, on Aug. 25. Okinawa's one-day record is 1,827 new cases on Jan. 15.
Stars and Stripes reporter Mari Higa contributed to this report.
---
---
---
---