South Korea relaxes some pandemic restrictions, even as COVID-19 cases hover at record levels
By
Stars and Stripes
March 18, 2022
---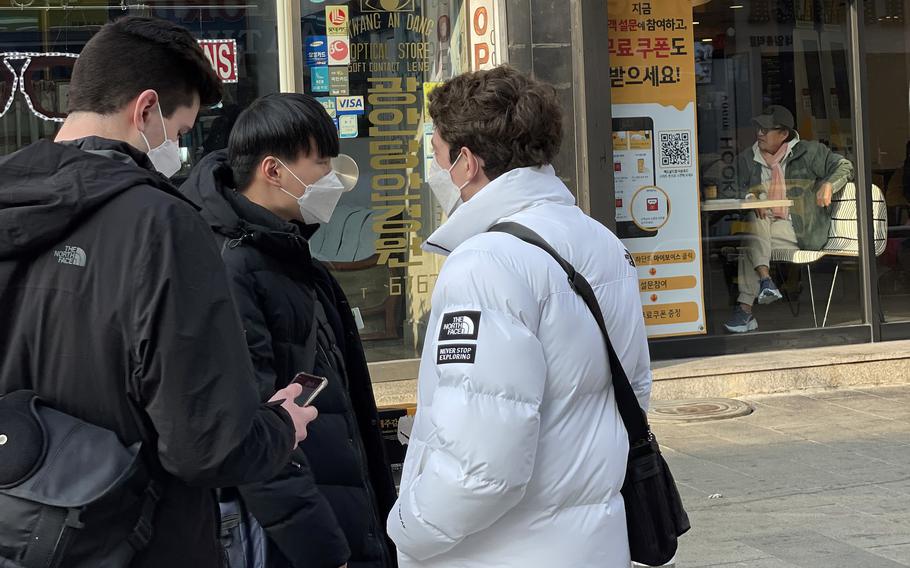 Stars and Stripes is making stories on the coronavirus pandemic available free of charge. See more stories here. Sign up for our daily coronavirus newsletter here. Please support our journalism with a subscription.
CAMP HUMPHREYS, South Korea — South Korea decided Friday to loosen restrictions on private gatherings, despite reporting a record-high of 621,328 new COVID-19 cases and 429 deaths the previous day.
The Health and Welfare Ministry raised the limit on private gatherings from six to eight people effective Monday but extended the existing 11 p.m. curfew on businesses until April 3.
One of South Korea's leading experts on COVID-19 said he "couldn't understand" the government's policy changes amid a record-breaking case count.
"As an infectious disease expert, it is an insane action because already a lot of patients are in the intensive-care unit at the hospital and there are many deaths," Dr. Kim Woo Joo, a professor of infectious diseases at Korea University Guro Hospital, told Stars and Stripes by phone on Friday. "The hospitals are already strained, and health care workers are infected."
Many of his colleagues share his concern, Kim said. He said political considerations, such as protests from business owners, could have played a role in changing group limits.
"It could aggravate the situation more by increasing the number of laboratory-confirmed cases every day," Kim said.
Health and Welfare Minister Kwon Deok Cheol at a meeting Friday seemed to acknowledge the risk to public health but said the decision to ease gathering limits was overdue.
"It is high time that we should newly adjust our social distancing for the last two weeks," Kwon said at the Central Disaster and Safety Countermeasure Headquarters. "But it is a situation of great public concern about significant relaxation of social distancing, considering uncertainties in predicting the peak of the pandemic, a huge epidemic of the omicron variant and burdens on our medical response system."
Health and government officials had "heated discussions" prior to Friday's policy change and ultimately decided to "slightly adjust" gathering limits "in consideration of everyday inconveniences … and the ease of the suffering of the self-employed and small business owners."
South Korea counted 621,328 cases Thursday, according to the daily COVID-19 update by the Korea Disease Control and Prevention Agency. The KDCA also reported 429 deaths, another one-day record that brought the nation's pandemic death toll to 11,481.
Those counts dropped Friday to 407,017 and 301, respectively, the KDCA reported.
Meanwhile, the occupancy rate in the nation's hospitals "is rising rapidly," Kwon said. He said 65% of hospital beds are occupied and some regional hospitals are reporting 90%.
Nonetheless, South Korea has suffered fewer deaths from COVID-19 than the United States, Russia, the United Kingdom, Switzerland, Germany, Vietnam and Japan, according to data from the World Health Organization.
South Korea, however, had the highest seven-day average case count, 2.7 million, on Friday, according to the WHO update. It ranked fifth in average deaths during the same period, behind the U.S., Russia, Brazil and China.
The U.S. military command in South Korea reported 302 new cases between March 8 and 14, nearly double its 157 infections the previous week.
U.S. Forces Korea "maintains a very aggressive approach against COVID-19," command spokesman Wesley Hayes told Stars and Stripes by email on Friday. He did not comment on whether USFK plans to adjust its existing pandemic restrictions.
USFK, responsible for around 28,500 troops, will "balance readiness with the health and well-being of our affiliated community, and continue to monitor and assess the current COVID-19 situation … on a daily basis," Hayes said.
Service members, family members, contractors and South Korean employees are prohibited from trips to Seoul except for official business or to visit the Dragon Hill Lodge at Yongsan Garrison. All personnel are required to abide by South Korean guidelines, which require masks when out in public.
Unit commanders may impose tighter restrictions for service members, including curfews and reduced privileges off-base.
Stars and Stripes reporter Yoo Kyong Chang contributed to this report.
---
---
---
---