Japan, Russia feud on Twitter over Ukraine invasion, WWII-era territorial dispute
By
Stars and Stripes
March 2, 2022
---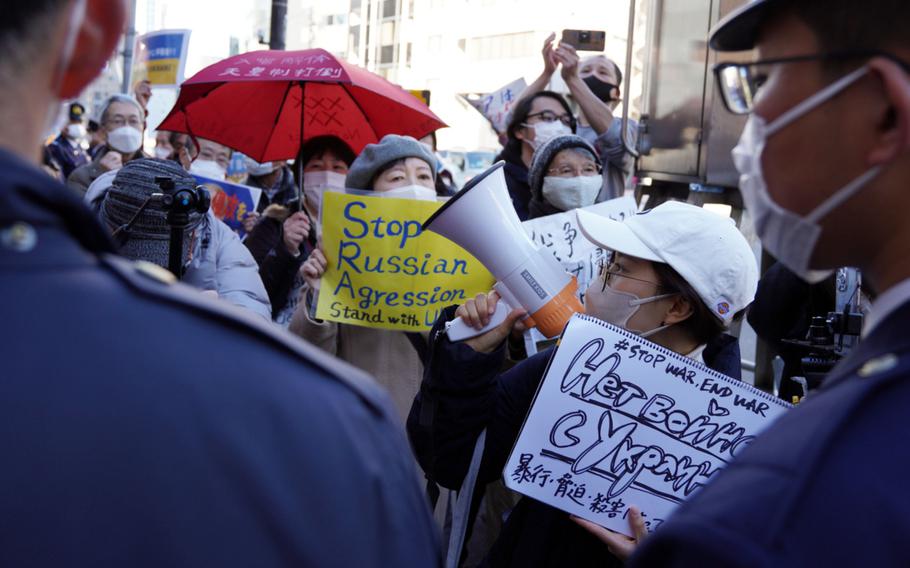 TOKYO – Japan and Russia, sparring publicly over Russia's week-old invasion of Ukraine, have revived a dispute over Pacific territory left over from World War II.
A Japanese Foreign Ministry official on Monday compared the Russian invasion to its occupation of four islands north of Hokkaido that Japan calls the Northern Territories and Russia the Southern Kuriles.
"I understand that Russia occupying Northern Territories and Russian military's invasion happening in Ukraine now are both against international law," Hideki Uyama, director-general of the European Affairs Bureau of Japan's Ministry of Foreign Affairs, told the House of Councilors Budget Committee, the Asahi newspaper reported Tuesday.
Japan joined other nations Monday in sanctioning Russia's central bank over the war in Ukraine. Prime Minister Fumio Kishida announced the sanctions after telling Ukrainian President Volodymyr Zelenskiy that Japan would stand by his country.
In response to Uyama's comments, Russia's Embassy in Tokyo tweeted Monday that Japan's Ministry of Foreign Affairs had forgotten history.
"The Kuril Islands, including the Southern Kuriles, were transferred to our country as a result of World War II on legal grounds in accordance with the Allied decisions," the embassy wrote.
The embassy followed up with another tweet that its possession of the islands was punishment for Japan's aggression and its alliance with Nazi Germany.
"Japan has come to support the Nazi government twice in less than 100 years," the embassy wrote. "They once supported the Hitler administration, and this time the Ukrainian administration."
Japan and Russia never signed a peace treaty after World War II. The status of the islands, which were captured by the Soviets at the end of the war, has been a sticking point for more than seven decades.
Meanwhile, former Japanese foreign and defense minister Taro Kono tweeted "Shame on you" on Tuesday after Russia's mission to the U.N. claimed in a tweet the previous day that no evidence shows its military destroyed civilian infrastructure in Ukraine.
Kono then retweeted a photograph of the Tokyo Skytree, a 2,080-foot broadcasting and observation tower, lit up in Ukraine's blue and yellow national colors.
Stars and Stripes reporter Hana Kusumoto contributed to this report
---
---
---
---