'Pacing threat' from China underpins Marine littoral regiment to be stood up in Hawaii
By
Stars and Stripes
March 1, 2022
---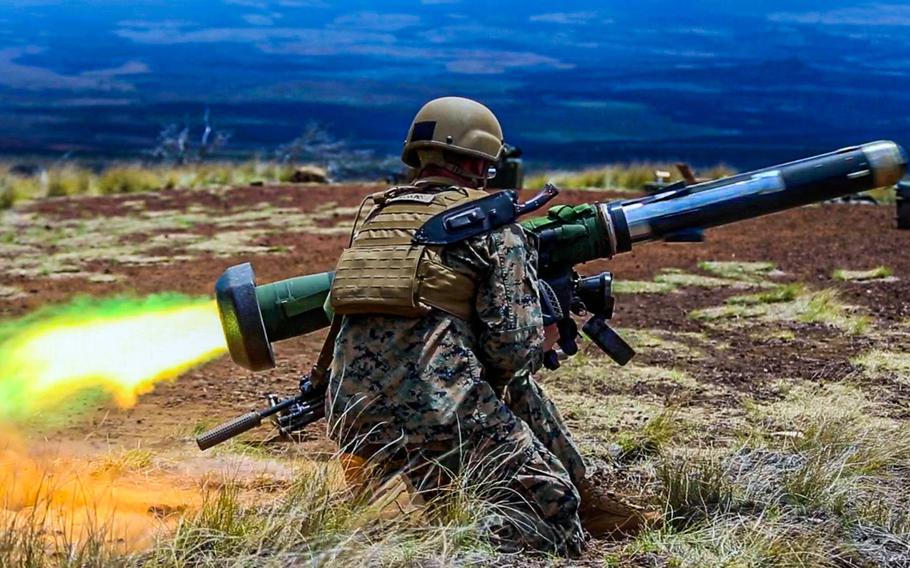 FORT SHAFTER, Hawaii — The 3rd Marine Littoral Regiment to be stood up Thursday in Hawaii represents a significant step forward in the Marine Corps' decade-long plan to make its Pacific force leaner and more mobile in response to China's growing military might, according to a top Marine Corps official.
The 3rd Marine Regiment, based at Marine Corps Base Hawaii, will be redesignated during a ceremony as a littoral regiment, the first of three the Corps expects to transition by 2030.
"The 3rd Littoral Regiment that is standing up on Thursday, after a year or more of reorganizing, is now built into smaller units that actually are capable of deploying tonight," Gen. Eric Smith, assistant commandant of the Marine Corps, told reporters during a conference call Monday.
The existing regiment was organized around its three battalions of roughly 900 Marines each that went on regular, planned deployments, Smith said.
"Six-month workup, six-month deployment, you come home, you reset, you deploy again for six months," he said. "So that was 3rd Marine Regiment. And they did that for decades, and they did it with excellence. They did it in combat. It was awesome."
The littoral regiments, however, are revamped into units roughly the size of reinforced platoons of 75-100 Marines intended to be "low-signature, long-range, highly mobile [and] easily moveable," Smith said.
The regiment's size is expected to be about 2,000 Marines, but that could change as it evolves, Smith said.
The small units will operate within the so-called "weapon engagement zone," sustain themselves for short periods while faced with the enemy and deploy new technologies and capabilities in whatever remote Indo-Pacific location they are sent, he said.
That does not mean the regiment is "scattered," Smith said.
"I hate that term," he said. "They are strategically placed via [the Corps' sea and air vessels] throughout the first and second island chains in order to change an adversary's calculus."
Those small units will come with various capabilities.
Some will specialize in expeditionary advanced base operations, which can provide Navy ships with surveillance information and provide precision targeting information. The Marine Corps experimented with the concept in August in Hawaii during the Navy's Large-Scale Exercise 2021.
"Some of those units are designed to jam you," Smith said. "Some of those units are designed to deceive you. Some of those units are designed to reinforce logistically our other units. Some are designed to simply collect, to listen and sense what the adversary's doing."
The littoral regiments are "specialized to deal with the rising threat of China," Smith said.
Defense Secretary Lloyd Austin has described China as America's pacing threat.
Smith reiterated that assessment several times during the conference call, even when asked to consider Russia in the wake of its invasion of Ukraine last week.
"I don't think that what's happening in the Ukraine now changes — or should change — the focus of the stand-up of this first of three Marine littoral regiments," he said.
"Because despite what's happening today, with Russia in Ukraine, the pacing threat of China hasn't changed."
Russia has less than half of the United States' population of 329 million, Smith said.
"China has 1.6 billion inhabitants," he said. "So, they are the pacing threat, in terms of GDP, in terms of military size. You can't take your eye off the fastest runner."
The timetable calls for the 4th and 12th Marine Regiments on Okinawa to transition into littoral regiments by 2030, Smith said.
In the shorter term, the Marine Corps has a goal of introducing four new capabilities in the Pacific by the end of 2023, he said.
Standing up the 3rd Marine Littoral Regiment will achieve the first of those, Smith said.
Still to come are additional "organic" aviation lift capacity by way of the Corps' KC-130 transport planes; long-range strike capability; and long-range surveillance via the MQ-9A Reaper unmanned aerial vehicle, he said.
---
---
---
---