Hitchhiking and roadside campfires: American and his family reach Polish border after fleeing home in Ukraine
By
Stars and Stripes
February 28, 2022
---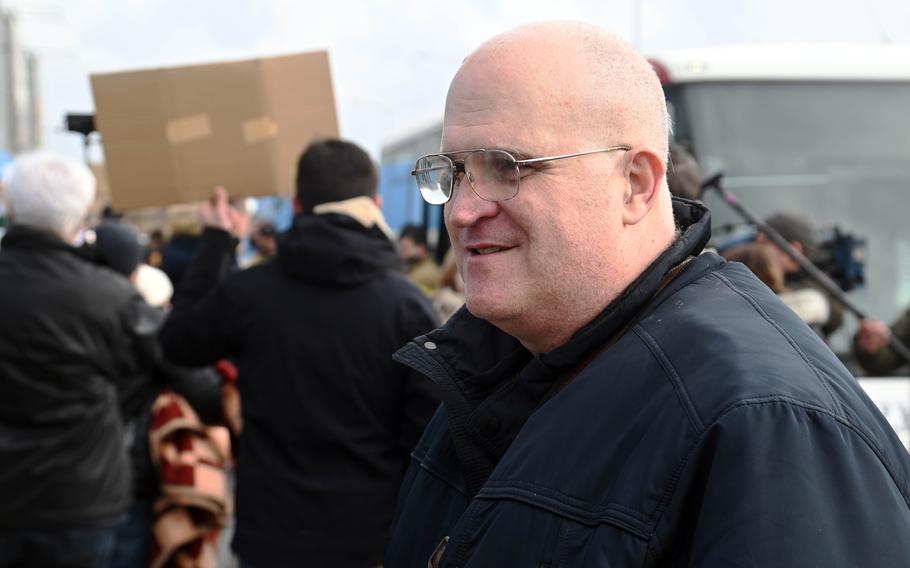 KORCZOWA, Poland — Raymond Heckard, an Oklahoma City native who calls Ukraine home, stepped off a bus packed with refugees, dazed and exhausted after days of travel to reach the Polish border.
"I'm looking for a welcome center for Americans," the 58-year-old said aloud, looking for direction from anyone within earshot amid the chaotic swarm of people.
Heckard, an English teacher who arrived at the border crossing in Korczowa, Poland, on Sunday afternoon with his Ukrainian wife and daughter, made the 200-mile trip from Khmelnytskyi, a city in western Ukraine roughly halfway between Lviv and Kyiv.
The trip was a stop-and-go journey of multiple hitched rides, traffic jams and roadside campfires at night to stay warm, they said.
"But with what is going on, we felt it was better to leave now (rather) than later," he said. "If the Russians don't stop, there's going to be nothing to go back to."
Heckard was among the tens of thousands of evacuees from Ukraine following Russia's invasion, which also has prompted the Pentagon to send thousands of extra troops to Poland to be available to assist with an influx of refugees if called upon.
Since the full-scale invasion started Thursday, more than 500,000 people have left Ukraine, according to the United Nations, with nearly half crossing into Poland. Others have sought refuge in Moldova, Hungary, Slovakia and Romania.
Polish officials have said the country could take in up to 1 million people if needed.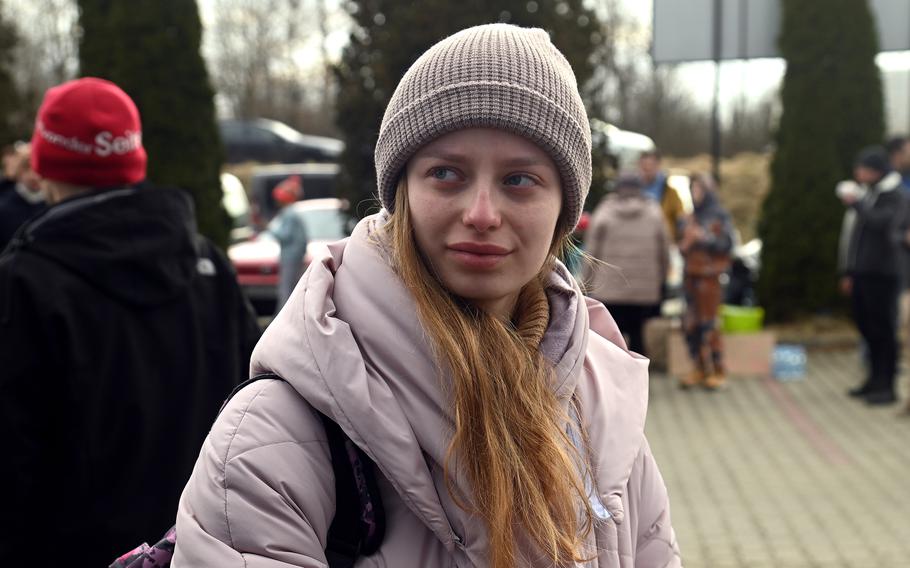 Heckard's daughter, Maria, teared up as she spoke about the life she was leaving behind in Kyiv, possibly for good. When explosions rocked Ukraine's capital last week, she and a friend raced out of Kyiv by car, heading for her hometown like thousands of others who fled the city as fighting intensified.
"The feeling was shock and panic," said Maria, 20.
At the Korczowa border crossing, refugees board buses and are taken to a nearby industrial area, which has been transformed into a site where some people link up with waiting family members.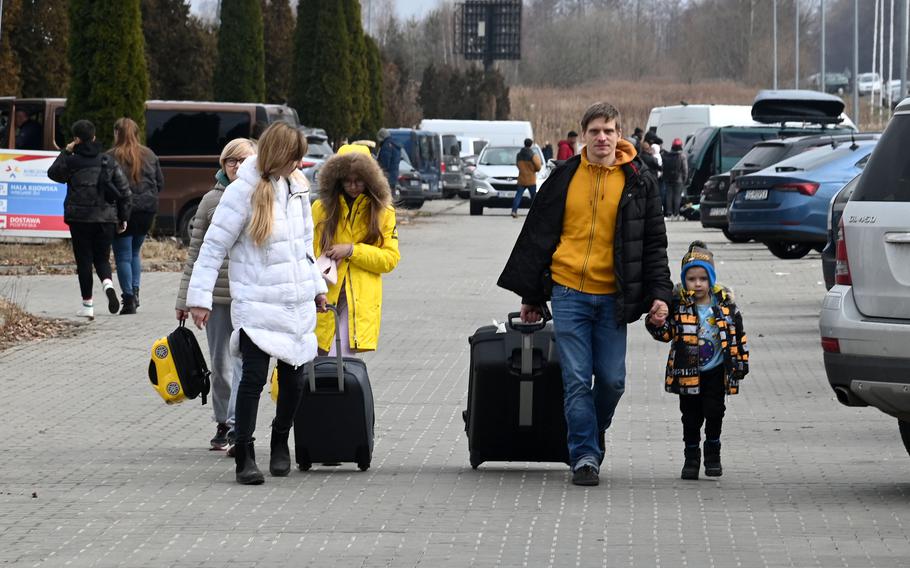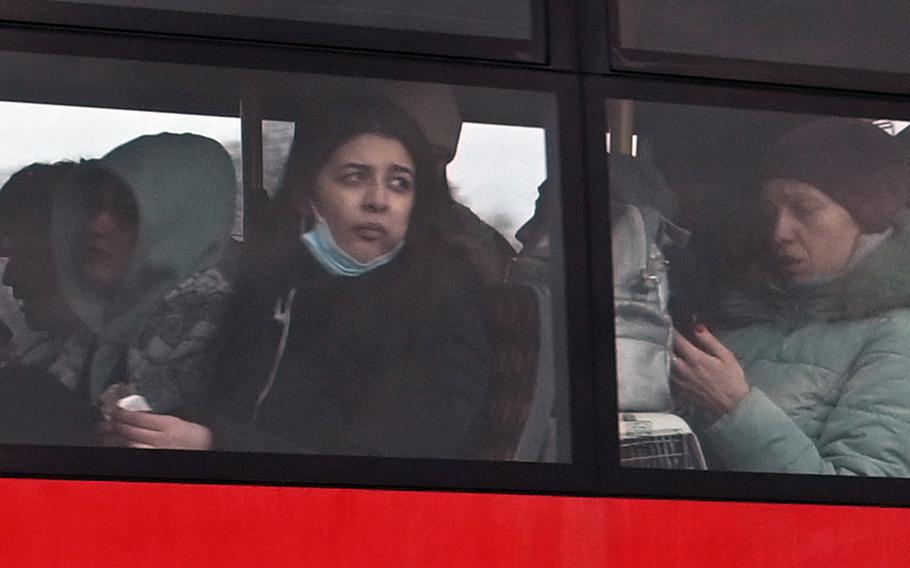 Mixed in with the flood of people have been a smattering of American expatriates like Heckard.
In anticipation that some Americans could be lost in the confusion of the unfolding crisis, the U.S. Embassy in Poland set up a small welcome center at the SPA Hotel Gloria in Przemysl, not far from the Ukrainian border.
After arriving at the border crossing, the Heckards were going to make the U.S. welcome center their next stop, which meant 20 miles more to go. Stars and Stripes reporters who overheard Raymond Heckard asking for help gave the family a ride.
At the embassy center, Americans in transit can get refreshments and help with planning their next steps.
For the Heckards, the plan was to take a 3-hour train ride to Krakow and search for a hotel there, because rooms are hard to come by near the border.
His wife, Irina, said the family isn't sure where to go next. Since she doesn't have a U.S. visa, they could move to Israel, where she has family, if going back to Ukraine isn't a viable option, she said.
Everything they could carry from their lives in Kyiv and Khmelnytskyi was packed into four suitcases. The family cat, named Romeo, was carried along too.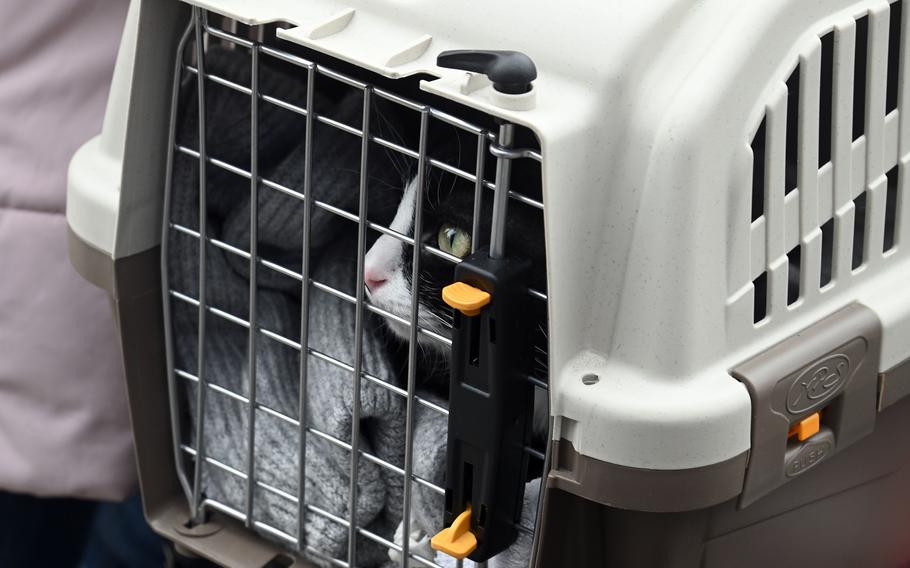 ---
---
---
---