North Korea fires apparent ballistic missile off its eastern coast, South's military says
By
Stars and Stripes
February 26, 2022
---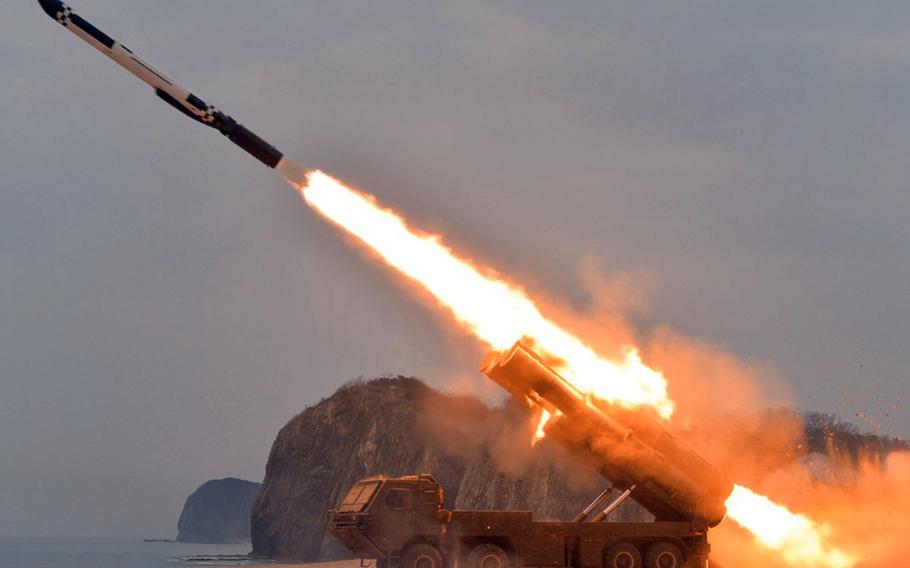 CAMP HUMPHREYS, South Korea — North Korea fired a suspected ballistic missile off its eastern coast around 7:52 a.m. Sunday, South Korea's military told Stars and Stripes in a text message after the launch.
"Our military is … tracking and monitoring related trends in preparation for additional launches," the message said.
It flew about 186 miles at a peak altitude of 385 miles, according to South Korea's military. The Japan Coast Guard said the missile splashed down into the East Sea/Sea of Japan.
U.S. Indo-Pacific Command said it was consulting with regional allies about the test.
"The United States condemns this launch and calls on [North Korea] to refrain from further destabilizing acts," the command said in a statement on Sunday. "While we have assessed that this event does not pose an immediate threat to U.S. personnel, territory, or that of our allies, we will continue to monitor the situation."
It's the first launch by the communist regime since Jan. 30, when it test-fired a Hwasong-12 intermediate-range ballistic missile capable of reaching the U.S. territory of Guam.
That launch marked a turning point in what had already been a turbulent year for North Korea — the Hwasong-12 was the longest-range missile fired by the country since 2017 and was the seventh round of tests in January.
Foreign policy experts from South Korea theorized North Korea would refrain from angering China, its closest ally, by not conducting weapons tests as Beijing hosted the Winter Olympics Feb. 4-20.
South Korean Foreign Minister Chung Eui-yong spoke by phone with U.S. Secretary of State Antony Blinken on Saturday to discuss the denuclearization of the Korean Peninsula as well as Russia's invasion of Ukraine, according to a statement that day from South Korea's Ministry of Foreign Affairs.
Pyongyang has continued to aim bellicose statements at the U.S. and South Korea through its Ministry of Foreign Affairs and state-run news agency.
"It is a universal knowledge that the failure of the situation on the Korean Peninsula to easily be out of the whirlwind of aggravated tension just lies in the U.S. hostile policy toward [North Korea]," the North's foreign affairs ministry said in a statement on Feb. 2.
---
---
---
---