North Korea launches intermediate-range ballistic missile, its seventh test this month
By
Stars and Stripes
January 29, 2022
---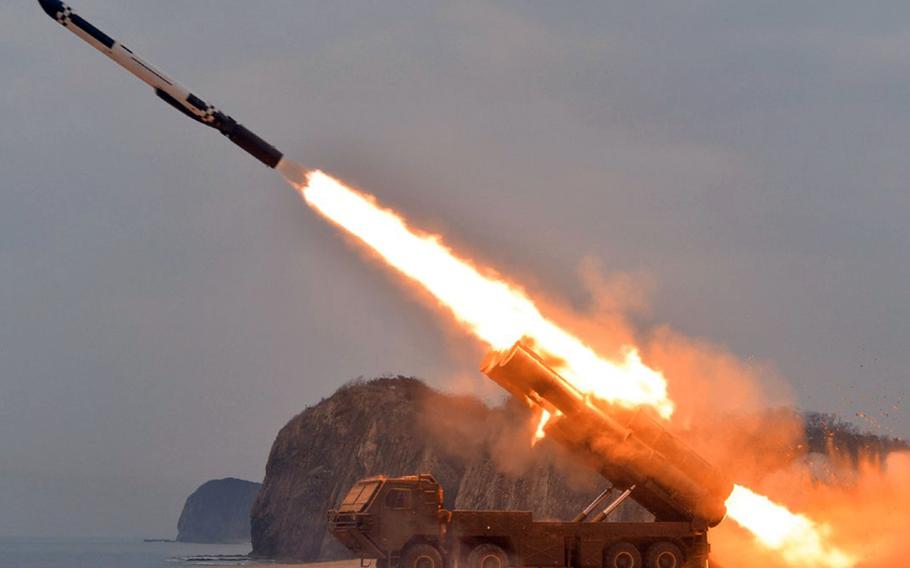 CAMP HUMPHREYS, South Korea — North Korea carried out its seventh weapons test of the month on Sunday, firing an intermediate-range ballistic missile off its eastern coast, South Korean and Japanese officials said.
South Korea's military detected the launch from the North's northern border at around 7:52 a.m., according to separate statements from the country's Joint Chiefs of Staff and National Security Council.
The military estimated the missile flew about 500 miles at an altitude of 1,240 miles. The launch was still being analyzed by U.S. and South Korean intelligence agencies, the Joint Chiefs said.
"In preparation for additional launches, the military maintains a readiness posture by tracking and monitoring related trends," its statement said.
Meanwhile, Japanese officials confirmed and condemned North Korea's latest weapons test.
"A possible ballistic missile was launched from North Korea," Prime Minister Fumio Kishida's office tweeted at 8:01 a.m. It was in the air for about 30 minutes and landed in waters outside Japan's exclusive economic zone, Chief Cabinet Secretary Hirokazu Matsuno told reporters about an hour after the launch.
"Such a violent ballistic missile launch violates the relevant U.N. Security Council resolution, and Japan has made a strict protest against North Korea," Matsuno said. "We will continue to collect information to protect the lives and property of the people."
The launch of an intermediate-range ballistic missile would be North Korea's first in nearly five years. The communist regime last tested an IRBM and its first intercontinental ballistic missile in 2017, amid heightened tensions with the United States and South Korea.
Such a launch would also conflict with a statement by North Korean leader Kim Jong Un on April 20, 2018, a week before summit talks between him and South Korean President Moon Jae-in. Kim said his country would no longer need to conduct nuclear tests or test-fire intermediate-range and intercontinental ballistic missiles due to the advancements made in its weapons program, KCNA reported.
Moon presided over a National Security Council meeting on Sunday and described North Korea's actions as "similar" to the ratcheted tensions in 2017.
The launch constitutes North Korea's seventh round of weapons tests so far this month. It fired two "tactical guided" missiles on Thursday that struck an island target, according to a Friday report by the state-run Korean Central News Agency in which Pyongyang pledged to "keep developing powerful powerheads." Two cruise missiles were launched on Tuesday.
"The practical combat performance of the long-range cruise missile system would hold a reliable share in boosting the war deterrence of the country," the KCNA report said.
South Korea's Ministry of National Defense said Thursday's tests were short-range ballistic missiles that are prohibited by the U.N. Security Council.
The South's military estimated those missiles flew a maximum 118 miles at an altitude of 12 miles, specifications that are below a previous ballistic missile test conducted Jan. 17. The military did not release detailed information on Tuesday's cruise missiles.
---
---
---
---