North Korea test-fires another pair of ballistic missiles, South's military says
By
Stars and Stripes
January 27, 2022
---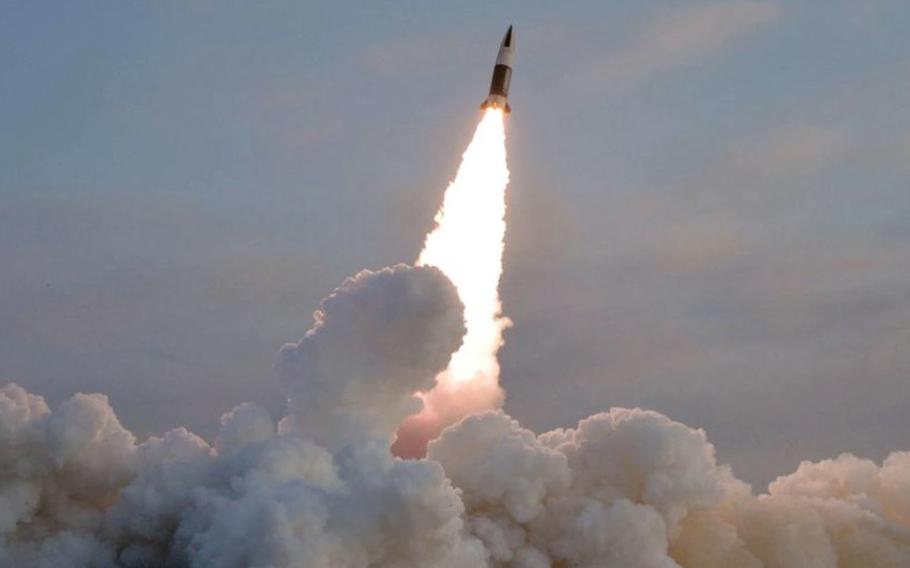 CAMP HUMPHREYS, South Korea – North Korea fired another pair of projectiles believed to be ballistic missiles on Thursday in its sixth round of tests so far this month.
The communist regime is believed to have launched the short-range ballistic missiles off its eastern coast at around 8 a.m., according to a text message from South Korea's Joint Chiefs of Staff. North Korea last fired a pair of cruise missiles on Tuesday, according to the military.
"Our troops are currently maintaining readiness posture, tracking and monitoring relevant moves in preparation for the North's additional launch," the joint chiefs said.
The missiles are estimated to have traveled a maximum distance of 118 miles at an altitude of 12 miles.
The missiles' estimated flight distance is shorter than the previous pair of ballistic missiles fired by North Korea on Jan. 17. Those missiles, believed by experts to be KN-24s, were pegged at 174 miles with a peak altitude of 26 miles, according to South Korea's military.
Japanese Prime Minister Fumio Kishida described the latest test as "greatly regrettable," according to a statement from his office Thursday.
Japan's Ministry of Defense issued its own statement: "North Korea's repeated launches of missiles, including ballistic missiles recently, are a serious issue for the international community as a whole, including our country."
North Korea is prohibited from testing ballistic missiles by the U.N. Security Council and is subjected to sanctions, including penalties unilaterally imposed by the United States. Following a missile test earlier this month, the U.S. Treasury Department on Jan. 12 slapped sanctions against six North Koreans, a Russian, and a Russian firm.
Earlier this month, the North's state-run Korean Central News Agency called for the immediate "bolstering" of its capabilities to curb the U.S.'s "hostile moves."
North Korea claims its weapons tests are purely defensive in nature, precautions against the U.S. and its allies, who continue to conduct joint military exercises near its border.
"The U.S. viciously slurred our state and committed the foolish act of taking over 20 independent sanctions measures," KCNA said Jan. 20. "Especially the present U.S. administration persists in maneuvers to deprive [North Korea] of its right to self-defense."
U.S. diplomats from President Joe Biden's administration have stressed they are open to talks with their North Korean counterparts without preconditions.
"We have made it very clear to Pyongyang: We will go anywhere, we will talk about anything, there are no reservations we have," Mark Lambert, deputy assistant secretary of state for Japan and South Korea, said during a panel discussion hosted by the Center for Strategic and International Studies. "We have to have a serious discussion about the denuclearization of North Korea, and if North Korea is willing to do that, all sorts of promising things can happen."
Sue Mi Terry, director of the Center for Korean History and Public Policy, said during the panel that she was "not too optimistic" on North Korea turning a corner, given its rate of missile tests and signaling a break from its five-year moratorium on nuclear weapon and intercontinental ballistic missile tests.
"They usually do what they say they're going to do," she said.
Stars and Stripes reporter Hana Kusumoto contributed to this report.
---
---
---
---