North Korea comes to Russia's defense over Ukraine conflict
By
Stars and Stripes
February 11, 2022
---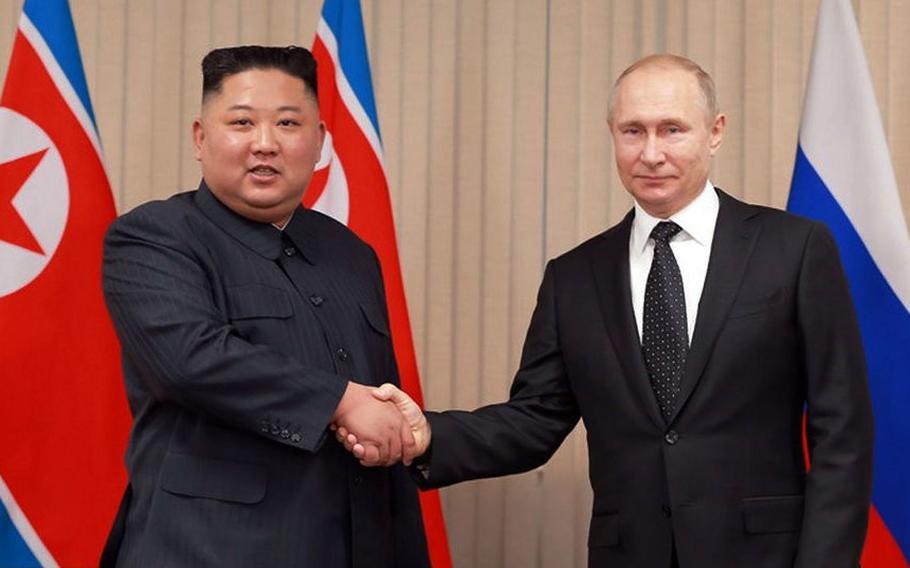 North Korea, weighing in on the ongoing conflict over Ukraine, has demanded the United States cease its "hostile policy for isolating and weakening" Russia.
The communist regime's Ministry of Foreign Affairs on Wednesday published an unsigned online column criticizing the U.S. role in heightened tensions in Ukraine. NATO allies, including the U.S., have sent military aid and supplies in recent weeks to support Kyiv as Moscow masses troops on the two countries' shared border.
"The U.S. is flatly rejecting Russia's legitimate demand while stubbornly insisting that it can never abandon NATO's 'open-door policy' … and that Ukraine's membership in NATO is an issue that belongs to the sovereignty of the country," the Foreign Ministry's column said.
Russian President Vladimir Putin has responded to U.S. and NATO calls to de-escalate the situation by demanding guarantees that Ukraine will never join NATO.
Russia has built up a force of more than 112,000 troops at the border, Ukraine's envoy to the U.N., Sergiy Kyslytsya, said on Feb. 1. Other news reports indicated that up to 130,000 troops may have been amassed at Ukraine's eastern border and on the Black Sea.
President Joe Biden, meanwhile, has ordered 3,000 U.S. troops to Germany, Poland and Romania. The U.S. had "made it very clear we're ready to continue talks in good faith" but noted NATO would respond accordingly if Moscow "violates Ukraine's sovereignty and territorial integrity," Biden said in a speech Tuesday.
"But if Russia makes a choice to further invade Ukraine, we are jointly ready and all of NATO is ready," he said.
Russia in 2014 invaded Ukraine to seize and annex Crimea, a region it still holds. Russian-backed separatists have also waged war since then in Donbass, an eastern province bordering Russia.
North Korea's Foreign Ministry said it empathized with Russia and called the U.S. troop deployments "a serious security concern."
"The above facts clearly indicate that the United States, though advocating a solution through dialogue and diplomacy, is taking a growing Russia as a thorn in its flesh," the column said.
North Korean diplomats met with their Russian counterparts on Tuesday and Wednesday to discuss "strategic cooperation" and "issues of mutual concern regarding the regional and international situation," according to two North Korean press releases.
Russia, one of the North's few international friends, has previously come to the regime's aid. Russia and China have lobbied the U.N. Security Council to lift sanctions against Pyongyang and blocked a U.S.-led effort to sanction North Korean affiliates, according to multiple news reports.
The U.S. Treasury Department announced on Jan. 12 that it imposed sanctions against six North Koreans, a Russian and a Russian company for procuring material goods for Pyongyang.
U.S. sanctions against North Korea create "a toxic atmosphere around Pyongyang" and fuel its "widespread unwillingness to cooperate," Russian Ambassador to the U.N. Dmitry Polyanskiy said during a Security Council meeting on Wednesday.
U.S. Ambassador to the U.N. Linda Thomas-Greenfield in a rebuttal argued that member nations were "too often" undermining legitimate sanctions.
"When member states willfully ignore sanctions, ignore sanctions evasion activity or fail themselves to live up to the commitments we have all made to enforce those measures, they undermine the utility of those tools and the work of the council itself," she said at the meeting.
---
---
---
---