Several hundred US troops arrive in Europe as Russia expands its forces along Ukrainian border
By
Stars and Stripes
February 7, 2022
---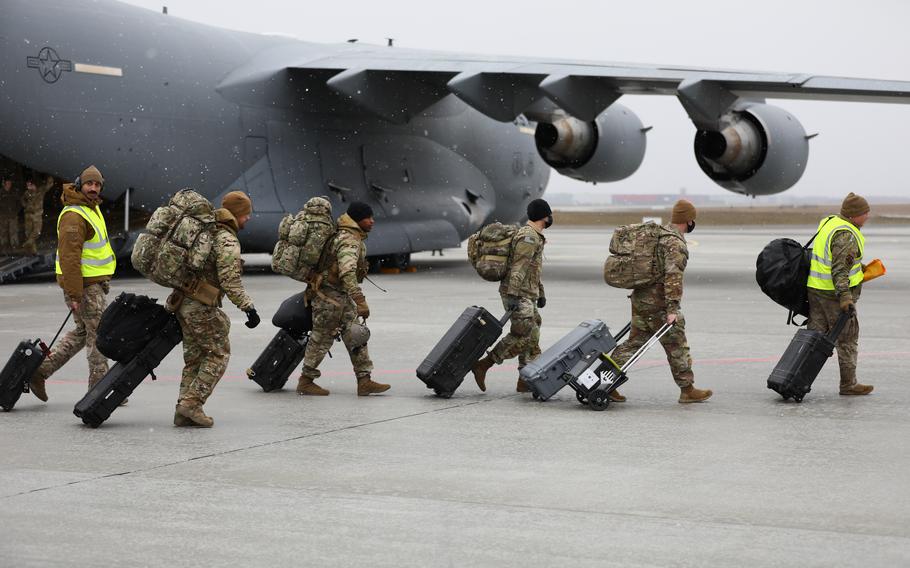 WASHINGTON — Several hundred U.S. troops from Fort Bragg, N.C., have arrived in Poland and Germany amid rising tensions in Europe over Russian armed forces massing at the Ukraine border, chief Pentagon spokesman John Kirby said Monday.
The Pentagon announced last week that it would send roughly 1,700 troops with the 82nd Airborne Division from Fort Bragg to Poland and an additional 300 from other units of the 18th Airborne Corps from Fort Bragg to Germany to form a joint task force headquarters there.
A "couple hundred" troops from the 82nd Airborne have landed in Poland since Sunday, with the rest to follow "over the coming days," Kirby told reporters at the Pentagon.
"The headquarters element [in Germany] for the 18th Airborne Corps is pretty much all in place," he said.
U.S. officials also said last week that they would move about 1,000 troops already stationed in Germany to Romania. Kirby on Monday said those troops had already arrived.
The roughly 3,000 U.S. forces deploying did not include the approximately 8,500 troops that Defense Secretary Lloyd Austin placed on high alert Jan. 24 to be ready to deploy within five days if called upon. Most of those troops would be sent to join the NATO Response Force, which includes 40,000 troops from multiple nations, should it be activated, Kirby has said.
The moves come as more than 100,000 Russian troops continue amassing along Ukraine's northern border with Belarus and eastern border with Russia. The buildup began in December, but Kirby on Monday said they continued to increase "just over the past two days."
European Commission Vice President Josep Borrell estimated Russian forces along the Ukraine border could be closer to 140,000. He offered that estimation Monday during a news conference with Secretary of State Antony Blinken.
Kirby said the Pentagon is also concerned about the kinds of military equipment and forces that Russia is moving closer to Ukraine, such as tracked vehicles, artillery and long-range weapons, air and missile defense, and special operations forces.
"What's important is not just the numbers, it's the capabilities and what we see is that [Russian President Vladimir Putin] is really putting in place robust … combined arms capabilities in Belarus and along that border with Ukraine, [and] in Russia," he said. "I mean, he has a full suite available to him, and it continues to grow every day."
Kirby also said Russia has moved capabilities to sustain troops in the field for an extended deployment that also raise concerns that Putin could be planning to invade Ukraine as Russian forces did in 2014, which resulted in the annexation of Crimea.
"Even as he has added combat capability, he has also added logistics and sustainment capability — in other words, the ability to keep them in the field for longer and longer periods of time," he said. "So, it's a whole panoply of things that we're looking at and watching."
Still, Kirby said many unknowns remain regarding Putin's intentions.
"We could not say with specificity now: A, that he's made a final decision one way or another [to invade] or B, if he does, what it's going to be," Kirby said. "But with each passing day, he gives himself a lot more options from a military perspective."
As Russia's forces increase, it remains unclear how many troops Russia would need to launch a full-scale occupation of Ukraine, he said.
"As we know from our own experience, if you're intending to hold territory, you've got to make sure you have plenty of sustainment to do that to including ample force," Kirby said. "I couldn't give you a number of what an occupation force would look like because it's really going to depend on what he ends up doing."
Still, Kirby said, "There is still time and place" for a diplomatic resolution to the situation.
"We still believe there's a diplomatic path forward that should and can be pursued," he said. "And Mr. Putin can easily de-escalate tensions by just getting some of that force presence away, which is certainly within his power to do that."
Kirby said he had no announcements about more U.S. troops deploying to Europe.
"I would remind … [that] we have upwards of 80,000 troops already on the European continent, so there's a lot of capability that just already exists," he said. "They may not have to move anywhere."
---
---
---
---