Fort Bragg troops arrive in Germany and Poland as Russian buildup continues near Ukraine
By
Stars and Stripes
February 4, 2022
---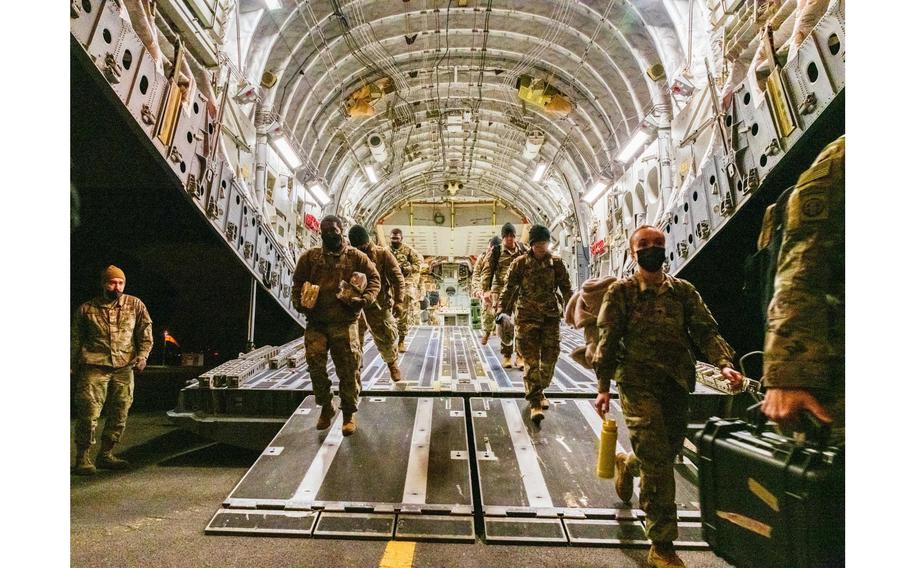 STUTTGART, Germany — Hundreds of Fort Bragg-based soldiers deployed to U.S. Army Europe and Africa headquarters in Germany on Friday, while another contingent arrived in Poland to set the stage for 1,700 82nd Airborne Division soldiers, U.S. European Command said.
About 300 soldiers from the XVIII Airborne Corps are in Wiesbaden, where they will provide a "Joint Task Force-capable headquarters" to support efforts aimed at reinforcing NATO's eastern flank, EUCOM said Friday.
Meanwhile, service members from the 435th Air Ground Operations Wing arrived in Poland on Thursday night to prepare an airfield for the U.S. Army soldiers arriving there.
"This is a strong signal of allied solidarity in response to the situation in Ukraine," Polish Defense Minster Mariusz Blaszczak said in a statement Friday announcing the arrivals.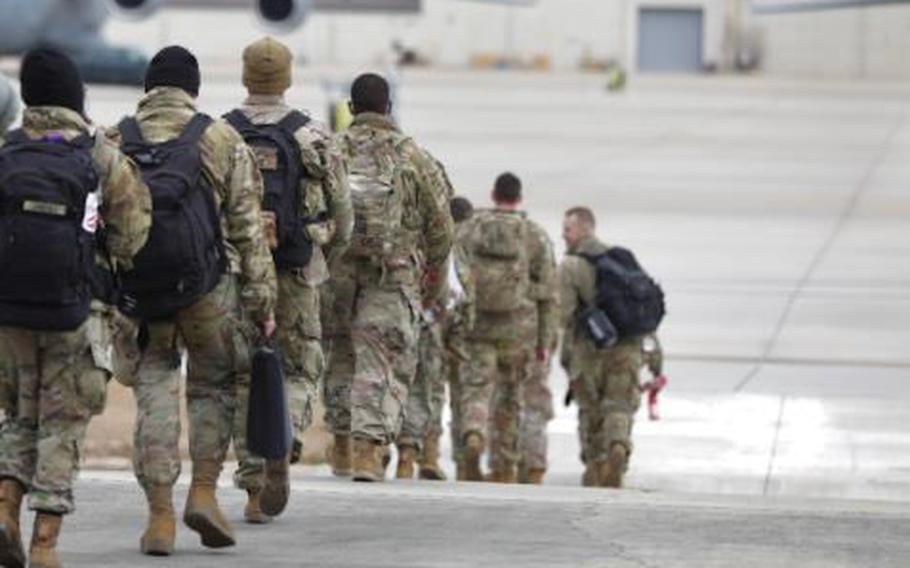 EUCOM said the U.S. forces that landed in Poland are operating out of an airport in Rzeszow, a southeastern town not far from the Ukrainian border.
The U.S. military already has about 4,000 servicemembers operating in various parts of Poland on a rotational basis, including hundreds of soldiers supporting a NATO mission just 50 miles from Russia's military exclave of Kaliningrad.
The joint headquarters in Wiesbaden will augment the Army's recently established V Corps, which became fully operational last year.
"An XIII Airborne Corps task force adds scale and capabilities to our operations here in Europe," U.S. Army Europe and Africa said in a statement.
In the coming days, 1,000 soldiers from the 2nd Cavalry Regiment in Vilseck, Germany, will depart for Romania in connection with President Joe Biden's decision to boost troop levels along NATO's eastern flank.
U.S. European Command and USAREUR-AF have declined to provide details thus far about troop arrivals in Poland and Romania.
In Romania, the U.S. already has 900 troops carrying out a wide range of missions, with much of the activity centered around Mihail Kogalniceau Air Base, which hosts elements of the 1st Air Cavalry Brigade and the 1st Infantry Division's 1st Armored Brigade Combat Team.
The Navy also as an Aegis Ashore Missile Defense System site at Deveselu, Romania and the U.S. Air Force operates a drone facility at Campia Turzii, a Romanian air base.
---
---
---
---