Austin discusses North Korea's 'direct and serious threat' with counterparts in Asia
By
Stars and Stripes
February 10, 2022
---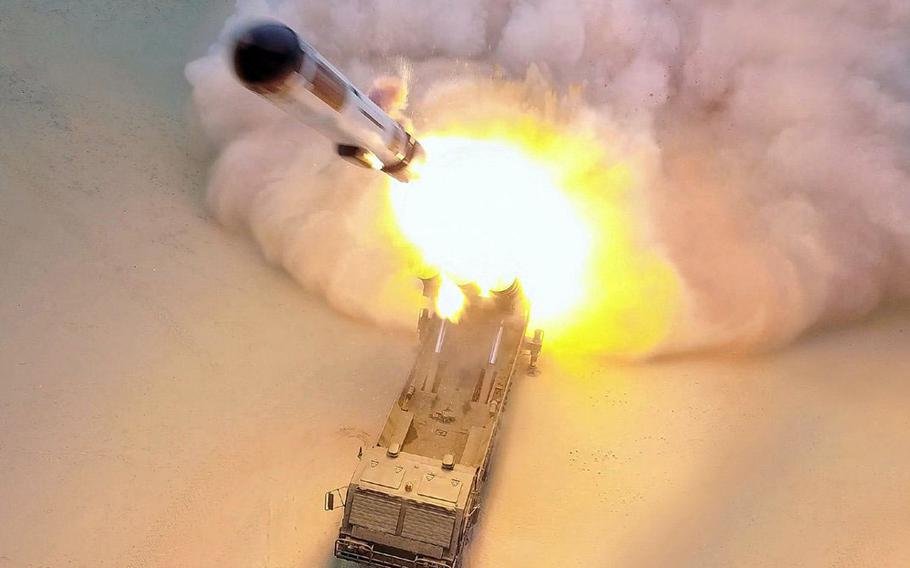 Defense chiefs from the United States, South Korea and Japan met by phone Thursday to discuss a series of North Korean launches last month that included an intermediate-range ballistic missile.
Defense Secretary Lloyd Austin, South Korean Defense Minister Suh Wook and Japanese Defense Minister Nobuo Kishi spoke by conference call "to reaffirm the importance of trilateral security cooperation in addressing global security challenges and threats posed by [North Korea's] weapons of mass destruction and missile programs," according to a statement from the Defense Department.
The defense leaders described the North's missile tests as "destabilizing to regional security" and "a clear violation" of U.N. Security Council resolutions.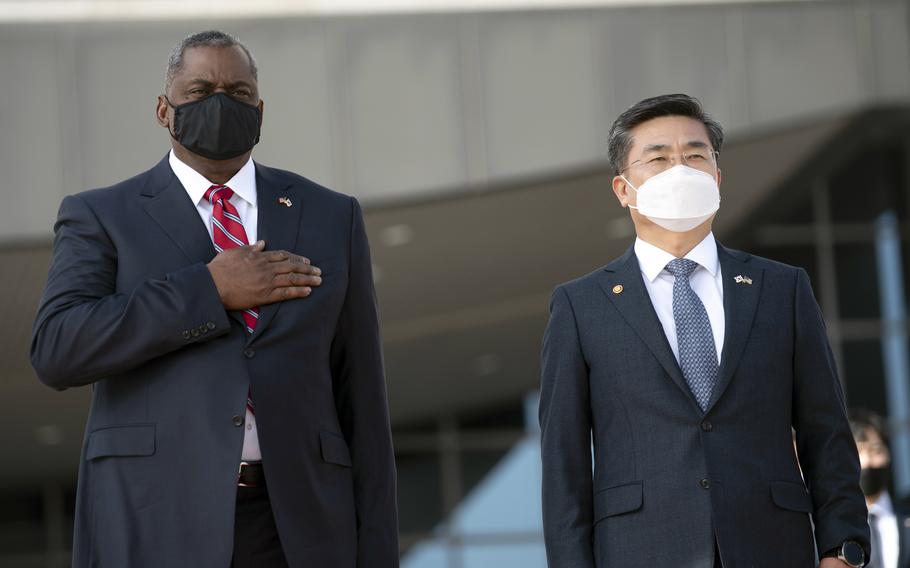 Suh, according to a statement from South Korea's Defense Ministry, emphasized the test-fires were a "direct and serious threat" and that South Korea's military was responding with and developing "independent available capabilities."
The defense chiefs agreed to meet in person in the future, though no date has been set. Secretary of State Antony Blinken is scheduled to meet his counterparts from South Korea and Japan in Hawaii on Saturday to discuss North Korea's provocations and other matters of mutual interests.
The defense leaders' meeting happened soon after a Washington, D.C.-based think tank released satellite images showing what appear to be preparations for a North Korean military parade amid the heightened tensions.
Analysts from 38 North – a website run by the Stimson Center that monitors North Korean activities – spotted several hundred people in formation on a parade training ground in Pyongyang where past rehearsals were held. The suspected preparations, which were photographed Feb. 5, come ahead of several North Korean anniversaries, including the birth of former leader Kim Jong-il on Feb. 16.
The defense chiefs' call also comes after seven rounds of missile tests by North Korea so far this year.
Pyongyang last fired an intermediate-range ballistic missile on Jan. 30 and took photographs of Earth from space using a camera mounted to the projectile.
The missile, believed by experts to be a Hwasong-12, was the longest-range weapon fired by North Korea in nearly five years, when then-President Donald Trump and the communist regime threatened each other in official statements. The missile's estimated maximum range is 2,795 miles, more than enough to reach the U.S. territory of Guam.
North Korea's Foreign Ministry praised the tests, saying the weapons can "shock the world" with their ability to target the United States.
"Now, the mass media of the whole world are competing to report the tests of the powerful missiles launched by our country," the ministry said in a statement Tuesday.
U.S. officials have invited Pyongyang to talks without preconditions. The day after North Korea fired its last missile, White House press secretary Jen Psaki told reporters "the door to diplomacy remains open and we have conveyed that clearly."
North Korea, which claims its missile development is purely defensive, ridiculed the offer and in a statement said the "aggravated tensions just lies in the U.S. hostile policy."
---
---
---
---