South Korean presidential candidates spar again over THAAD missile defense system
By
Stars and Stripes
February 17, 2022
---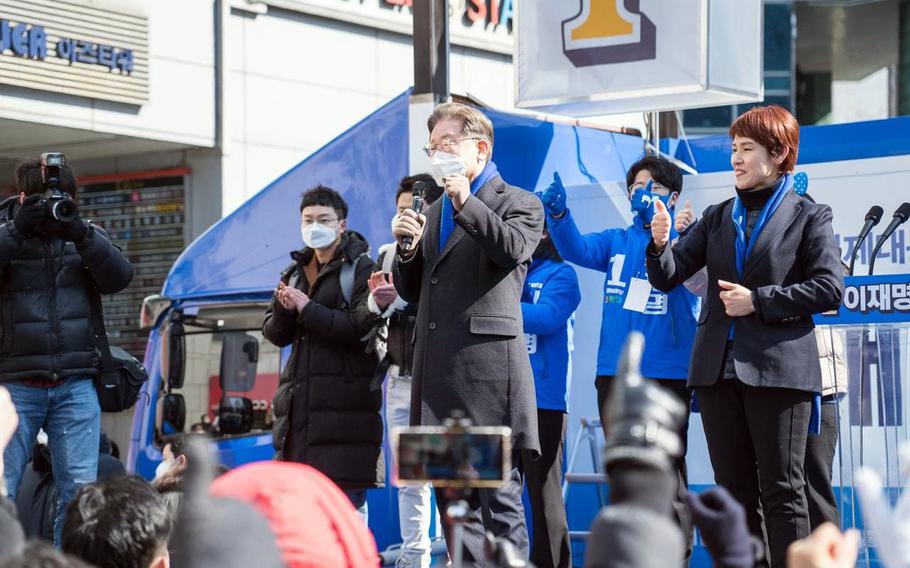 A front-runner in South Korea's March 9 presidential election delivered his strongest remarks against deploying additional U.S.-made missile defense systems by suggesting his political opponents who favor the idea were "telling lies."
Lee Jae-myung, the ruling Democratic Party's candidate and the former governor of Gyeonggi province, argued that national security on the Korean Peninsula ought to be apolitical.
"A nation is its people; therefore, all national capabilities must be concentrated on security to protect the lives and safety of the people," Lee said during a campaign stop in Gangnam District on Wednesday afternoon. "It's no wonder. Security should not be an object of a political scheme."
Lee's remarks centered on the Terminal High Altitude Area Defense, or THAAD, a missile defense system developed by Lockheed Martin. A U.S.-operated THAAD battery is posted in South Korea "solely to enhance the defense" of the country amid North Korea's "strategic provocations," U.S. Forces Korea said in 2017.
Yoon Seok-youl, the nominee of the conservative People Power Party and a former chief prosecutor, has argued that the sole THAAD battery in South Korea is inadequate for defending the capital city of Seoul, and that the country needs another unit, manned by the South Korean military.
"THAAD is needed for the capital area, accordingly," Yoon said during a presidential debate on Feb. 3.
The $800 million THAAD system is able to track enemy missiles up to 1,864 miles away but can intercept them only up to 124 miles, according to the Center for Strategic and International Studies. THAAD critics argue that North Korea already possesses long-range artillery and low-altitude maneuvering missiles that can circumvent the system's range and capability.
Lee, in his remarks on Wednesday, accused Yoon and his campaign of warmongering to score political points ahead of the March 9 election.
Lee also warned of the economic consequences of Yoon's pro-THAAD stance by pointing to China's boycotts of South Korean businesses following the battery's deployment in 2017. Economic losses were estimated to be around $7 billion, according to South Korea's National Assembly.
"They raise tensions, saying needless things such as THAAD deployment, no matter whether the economy dies, the stock market crashes and foreign-invested companies' stock prices tumble or not," Lee said.
Lee urged listeners to "make sure something like this doesn't happen again" and suggested Yoon was stoking security fears "to pursue one's political and individual interests."
A spokesman for Yoon's party told Stars and Stripes by phone Thursday that THAAD is a "military strategic issue" that ought to be discussed by "military strategy experts."
"THAAD is a system to keep missiles from touching the ground," said Lee Myung Woo, a spokesman for the South Chungcheong Branch of the People Power Party. "We should have a kill-chain that can defend our country, completely, anywhere, no matter what type of missiles."
---
---
---
---