South Korean presidential candidate won't press charges against egg-tossing anti-THAAD protester
by
David Choi
Stars and Stripes
December 17, 2021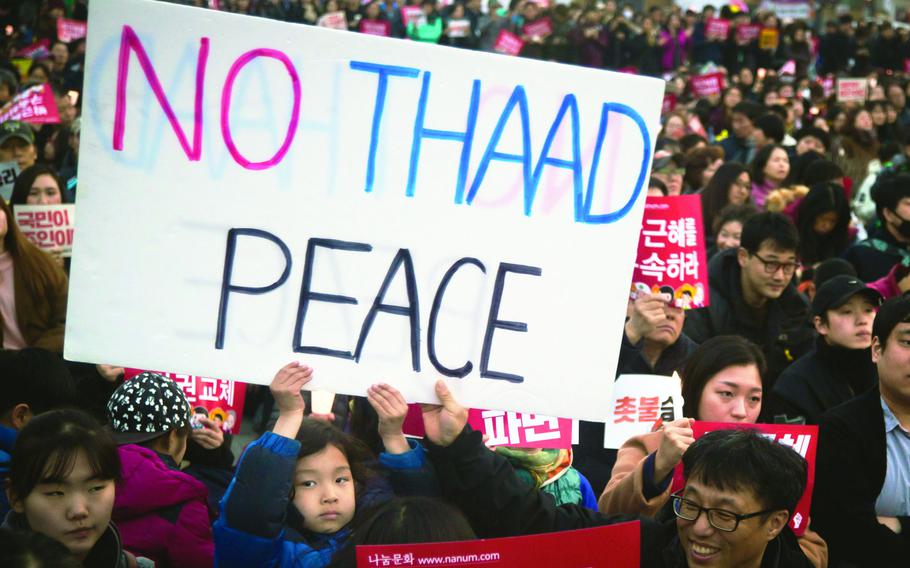 CAMP HUMPHREYS, South Korea — The ruling party's candidate for president in South Korea has declined to press charges against a protester who threw eggs at him over the ongoing deployment of a U.S. missile defense system in their country.
Lee Jae-myung, the former governor of Gyeonggi province and the Democratic Party's presidential candidate in the March 2022 election, had at least two eggs hurled at him by a high school student during a campaign stop Monday in Seongju county. Lee was not struck by the eggs; however, his bodyguards were hit, a Seongju police officer told Stars and Stripes under the customary condition of anonymity.
Lee, in a statement released Thursday, said he was not pursuing charges against the student protester, who alleged the Democratic candidate was wavering in his opposition against the deployment of Terminal High Altitude Area Defense systems in South Korea.
"I am sorry to tell you the situation took place and that you had no option but to throw eggs at me," Lee said in a statement obtained by Stars and Stripes. "And my heart truly goes out to you and everyone who were against the THAAD deployment."
Lee, previously an outspoken critic of the missile defense system, reiterated in his statement that his "position remains unchanged that the THAAD deployment does not completely coincide with the national interest."
However, Lee acknowledged that the missile defense system "already became reality" with its deployment during ousted South Korean President Park Geun-hye's conservative administration, and that as a politician, he was inclined to "maximize the national interest according to the given reality and situation."
"If you felt … as if I did a flip-flop on the promise, it is completely my responsibility," Lee said, adding that "we are still looking at the same" agenda in opposing THAAD's staging in South Korea.
A THAAD battery is staged at a South Korean military base in Seongju, an agricultural commune roughly 130 miles south of Seoul. The U.S. and South Korea in 2016 agreed to deploy the American missile defense system to focus "solely on North Korea" and to "contribute to a layered missile defense that would enhance the alliance's existing missile defense capabilities," U.S. Forces Korea said in a statement at the time.
Activists have since staged protests in the surrounding area and frequently block construction trucks from delivering military supplies into the base. The activists argue that THAAD is a precursor to a military conflict and have voiced concerns about possible radiation emitted from the system.
THAAD's critics extend beyond the Korean Peninsula. As the system became operational in 2017, Beijing voiced its concern and placed economic pressure on Seoul by banning tour groups and temporarily closing South Korean corporate businesses.
"I would like to reiterate that the deployment of the THAAD system in [South Korea] will disrupt the strategic balance in the region and endanger the strategic security interests of regional countries including China," former Foreign Ministry spokesperson Geng Shuang said in 2017.
Lee's conservative challenger, Yoon Seok-youl, in public statements described THAAD as a "sovereign" issue and left open the possibility of upgrading the system in the future.
Stars and Stripes reporter Yoo Kyong Chang contributed to this report.
---
---
---
---