Japan refreshes emergency measures in areas where US military's coronavirus cases are highest
by
Joseph Ditzler and Mari Higa
Stars and Stripes
January 7, 2022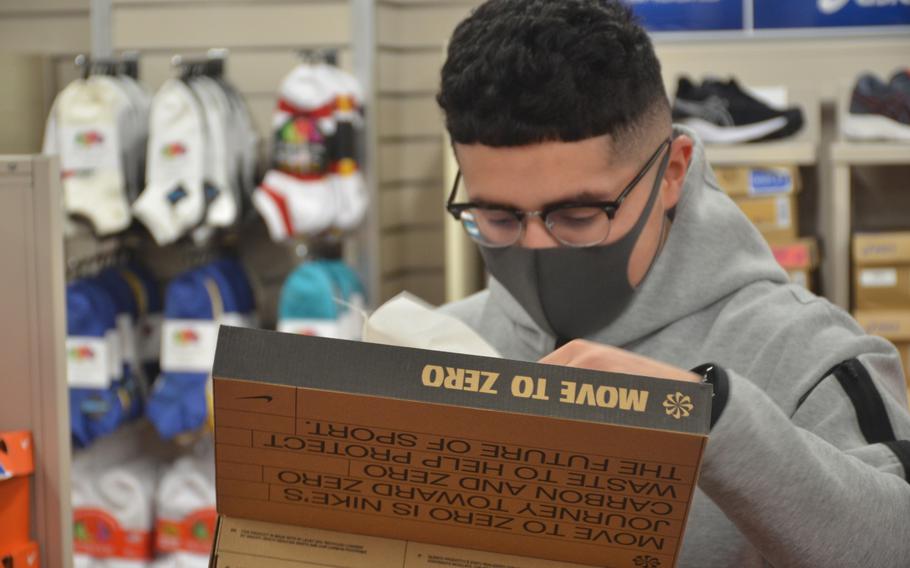 Stars and Stripes is making stories on the coronavirus pandemic available free of charge. See more stories here. Sign up for our daily coronavirus newsletter here. Please support our journalism with a subscription.
TOKYO — The Japanese government approved renewed public health measures on Friday for three prefectures where COVID-19 cases are piling up at U.S. military bases.
The "quasi-emergency" means early closing hours for restaurants, a ban on alcohol sales and restrictions on large events, according to an online video of a Diet committee meeting. The same measures were in place in regions where the fifth coronavirus wave struck Japan hardest, until it dissipated in September.
The affected areas are Okinawa, where the majority of U.S. forces in Japan are stationed; Yamaguchi, home of Marine Corps Air Station Iwakuni; and neighboring Hiroshima. The measures take effect Sunday until Jan. 31.
U.S. bases in Japan on Friday confirmed 348 new coronavirus cases that accumulated during the week.
Another 91 people turned up with COVID-19 on Thursday at MCAS Iwakuni, the U.S. hotspot that continues to post the military's highest one-day case numbers. U.S. Forces Japan a day earlier said nearly 1,800 people at 18 U.S. bases were infected with the virus.
Meanwhile, the heads of the U.S. Defense and State Departments met virtually Friday with their Japanese counterparts — the "2+2" security consultative committee — a day after Japan's foreign minister asked for curbs on travel by U.S. service personnel in Japan.
The committee statement after the meeting contained one sentence on the topic: "The Ministers reaffirmed the importance of bilateral coordination for combating COVID-19, sharing timely information on incidents and accidents, as well as mitigating impacts on and supporting strong relationships with local communities."
Some commanders, including Marine Col. Lance Lewis at MCAS Iwakuni, have implemented measures more stringent than the minimum required by USFJ when it raised the coronavirus risk level to condition Bravo on Thursday.
The air station, where the carrier air wing attached to the USS Ronald Reagan and several Marine fighter squadrons are stationed, had 529 active cases Thursday, more than any other U.S. base in Japan, according to USFJ.
The spreading coronavirus gained speed in Japanese communities. Okinawa reported a pandemic record 1,414 new cases Friday, exceeding one set Thursday at 981, according to a daily update from the prefectural Department of Public Health and Medical Care.
Kadena Air Base, Okinawa, on Friday said 71 people tested positive for COVID-19 between Dec. 31 and Friday for 123 total cases, according to its weekly summary.
Marine Corps Installations Pacific, the command responsible for Marine bases in Japan, Hawaii and Guam, reported 493 active cases Friday, according to an email from spokeswoman 1st Lt. Ash Fairow. That's 29 more than USFJ reported Thursday at Marine bases on Okinawa.
The Marines adopted stricter rules on pre-travel testing, restriction of movement and masks in mid-December after COVID-19 arrived with a unit of Marines from the United States.
A hardship program instituted in November to permit service members and their families to travel over the holidays on government-contracted flights directly from Seattle to Okinawa continues unabated, according to Fairow. However, passengers must test negative for COVID-19 within 72 hours of departing for Japan.
Yokosuka Naval Base, the 7th Fleet's homeport south of Tokyo, on Friday reported 170 people had contracted the disease since Dec. 30 for 220 total, according to a news release from the installation.
Sixty-three of those people, all immunized, had recently arrived or returned to Japan; another two were not immunized. All 65 were in restricted movement when they tested positive, according to the base.
Another 75 showed symptoms of COVID-19, contact tracing turned up 23 people and seven tested positive during medical screenings. All of those individuals were immunized, the base said.
Sasebo Naval Base on Kyushu Island reported another seven cases for 55 total, and Naval Air Facility Atsugi southwest of Tokyo reported nine for 97 total on Friday, according to posts on their official Facebook pages.
---
---
---
---