South Korean president calls for 'rigorous' measures to stem coronavirus on US bases
by
David Choi
Stars and Stripes
January 7, 2022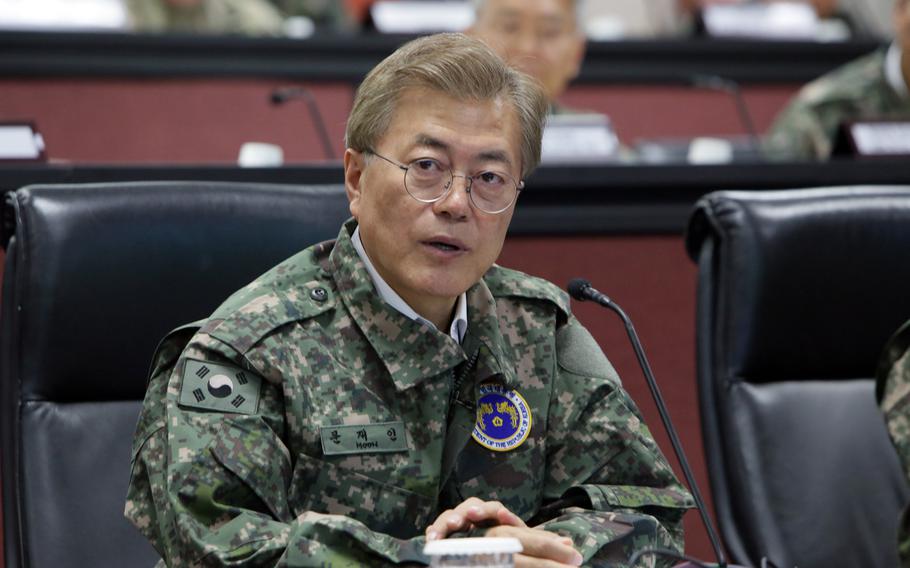 Stars and Stripes is making stories on the coronavirus pandemic available free of charge. See more stories here. Sign up for our daily coronavirus newsletter here. Please support our journalism with a subscription.
The South Korean government needs to work closer with the U.S. military to curb the spread of COVID-19 stemming from American troops stationed in the country, the country's president announced Friday.
"The government should cooperate closely with U.S. Forces Korea for more rigorous disinfection management of U.S. military bases in Korea and their service members," President Moon Jae-in said in a statement issued by spokeswoman Park Kyung-mee.
The South Korean government must "work on special countermeasures preemptively, to strengthen epidemic prevention at business places and facilities being used by residents" near U.S. military installations, according to the statement.
Moon's comments are his first linking U.S. troops with the viral surge that has broken pandemic records in South Korea for the most new COVID-19 infections in one day. Gyeonggi Province, where Camp Humphreys is located, tallied 1,261 new cases Thursday, which accounted for 33% of all cases in the country that day.
Likewise, the government in Japan has repeatedly called on the U.S. military there to enact curbs on its population after COVID-19 flowed into the country with service members returning home from holiday leave.
Okinawa Gov. Denny Tamaki criticized the U.S. military for lacking "management ability" after a Marine Corps base on the island reported 260 cases in late December.
USFK on Wednesday reported 682 cases of COVID-19 for the week ending Jan. 3, up from 467 new cases the prior week.
South Korea reached its one-day pandemic peak with 7,849 confirmed cases on Dec. 15, according to the Korea Disease Control and Prevention Agency. It reported 3,717 new cases on Thursday.
Army Col. Seth Graves, the Camp Humphreys garrison commander, on Dec. 29 described the uptick of new cases as "like nothing we've seen here on the installation since the beginning of the pandemic."
USFK troops, civilian employees and their families are free to travel throughout the country but are advised to adhere to local laws and mask mandates.
However, individual units and base commanders may impose additional restrictions on service members to meet local conditions.
USFK in December implemented a 10-day quarantine period for inbound personnel. Additionally, Eighth Army changed its policy to permit those who test positive for COVID-19 to quarantine in their homes, rather than in an isolation barracks.
---
---
---
---