Familiar restrictions return to US bases in Japan as COVID-19 case numbers roar back
by
Joseph Ditzler, Alex Wilson and Jonathan Snyder
Stars and Stripes
January 5, 2022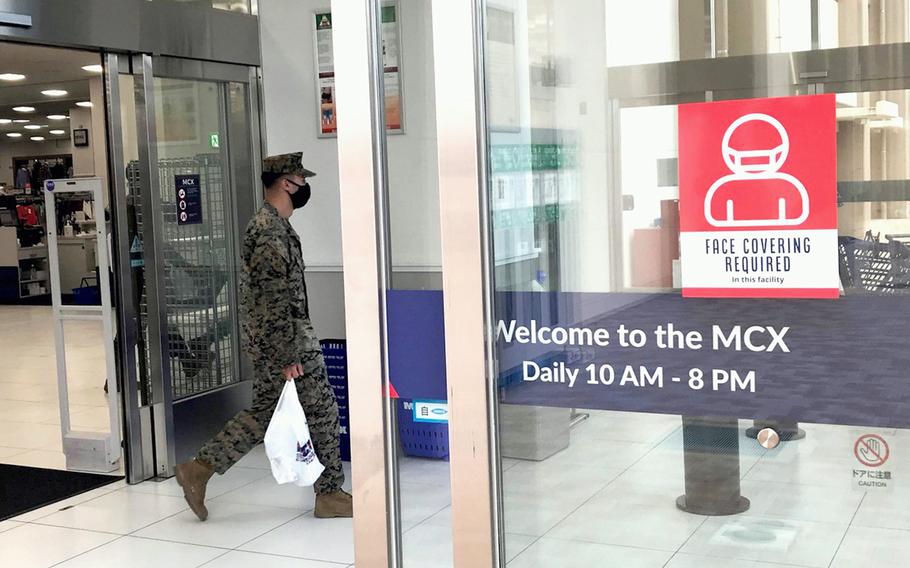 Stars and Stripes is making stories on the coronavirus pandemic available free of charge. See more stories here. Sign up for our daily coronavirus newsletter here. Please support our journalism with a subscription.
TOKYO – The overall U.S. military authority in Japan is considering a return to stricter health protection measures as U.S. bases reported another 338 COVID-19 cases on Wednesday.
Those new numbers include infections from a week ago; however, the bulk of new cases, 182, popped up Tuesday at Marine Corps Air Station Iwakuni, according to a Wednesday news release by the base.
U.S. Forces Japan may raise the health protection condition to Bravo, which signals an increased community transmission of the coronavirus and brings heightened restrictions, USFJ spokesman Air Force Maj. Thomas Barger told Stars and Stripes by phone Wednesday.
COVID-19 is roaring back into U.S. military communities in Japan where it was barely a memory in recent months. With it comes familiar rituals: masks, limited group sizes and, in extreme cases, no more free time in the surrounding Japanese communities.
Some commanders attribute the viral surge to people returning to Japan after spending the holidays in the United States or arriving to take up new duty stations. The upside, according to commanders who have publicized their situations, is that the COVID-19 symptoms this time are less severe for most people who catch it.
At Yokosuka Naval Base, the 7th Fleet's homeport south of Tokyo, commander Capt. Rich Jarrett on Wednesday imposed condition Bravo measures without declaring Bravo. Wearing masks indoors is mandatory for everyone, regardless of vaccination status; the movements of individuals in quarantine are further restricted; and gatherings are limited to 10 people.
The base is experiencing a significant rise in COVID-19, but is waiting on USFJ to declare condition Bravo, base spokesman Randall Baucom told Stars and Stripes by email Wednesday. He said the base would announce its coronavirus caseload in its Friday summary.
Likewise, MCAS Iwakuni commander Col. Lance Lewis on Tuesday ordered a tough set of restrictions without raising the health protection condition.
The military has confirmed 422 people with COVID-19 at the air base 25 miles south of Hiroshima since Dec. 24. The cluster there started with eight people testing positive over Christmas weekend.
"There is no easy way to put this," Lewis wrote on the base's official Facebook page, "so here it is: due to a significant increase in positive cases, we are going to 'turtle up' for a week to arrest the spread of COVID on base."
Overnight liberty is curtailed until midnight Jan. 13. "When you go to sleep at night, it'll be in your own bed," Lewis wrote.
Recalling the pandemic's most extreme stages, base residents may visit "essential services only" outside the installation, meaning medical appointments, veterinary visits, trips to grocery stores and post offices. Restaurant dining is off-limits for the week, but takeout orders are OK. The base Facebook page lists all the new restrictions.
"I think it's the right thing to do, not allowing liberty, not allowing people to go out and travel," said Caroline Kamacho, a Marine spouse from St. Louis, at MCAS Iwakuni on Wednesday. "Because I think a lot of people are catching it going out into town and to Osaka and Tokyo. It sucks, but we got to nip it in the bud somehow."
Remember Betty White
At Combined Arms Training Center Camp Fuji, a Marine Corps base 65 miles southwest of Tokyo that's already in condition Bravo, the command on Wednesday clamped down on most off-base activities except outdoor dining, grocery shopping and outdoor recreation, according to a post on its Facebook page. Forty-one people have contracted the virus there since late December.
At Yokota Air Base in western Tokyo, the headquarters of USFJ, the number of people infected with the coronavirus grew to 64 with the addition of 57 on Wednesday, according to a base news release.
Of the new cases, 30 tested positive in quarantine after returning to Japan from the U.S., and another four were already isolated as close contacts. The remaining 23 were identified by base public health authorities, according to the release.
Naval Air Facility Atsugi, about 25 miles northwest of Yokosuka, on Wednesday reported 69 cases, according to a post on its Facebook page. Most, 42, recently arrived in Japan, 18 had fallen ill and four were identified as close contacts. Five "tested positive, source pending."
U.S. Army Japan, headquartered at Camp Zama 26 miles southwest of Tokyo, confirmed 14 of its people tested positive between Dec. 29 and Wednesday, according to a news release. Seven had recently arrived in Japan; four were already isolated as close contacts; and three were sick with COVID-19 symptoms.
At Sasebo Naval Base in Kyushu prefecture, 16 people tested positive since Dec. 28 for a total of 17 active cases there, according to a post on its official Facebook page Wednesday. Eleven had fallen ill and five turned up in medical screenings.
On Okinawa, the Marine Corps and Air Force were quiet Wednesday, but the prefectural Department of Public Health and Medical Care reported another 623 people with the disease.
The department reported six new cases at U.S. military bases: two at Kadena Air Base, one at the Marines' Camp Foster and three at unspecified locations.
At MCAS Iwakuni, Lewis rallied his command with the memory of the late Betty White, the treasured actress who died Dec. 31 at age 99.
"Think about what Betty would do; she'd be resilient, she'd help her neighbors, and she'd do it with strong wit and a Golden Girl smile on her face," he wrote. "If you want to know about real toughness, read up on how Betty White helped win WWII. Now THAT is tough."
Stars and Stripes reporter Mari Higa contributed to this report.
---
---
---
---