Guam 'stays the course' as coronavirus cases surge again on US island territory
by
Matthew M. Burke 
Stars and Stripes
January 4, 2022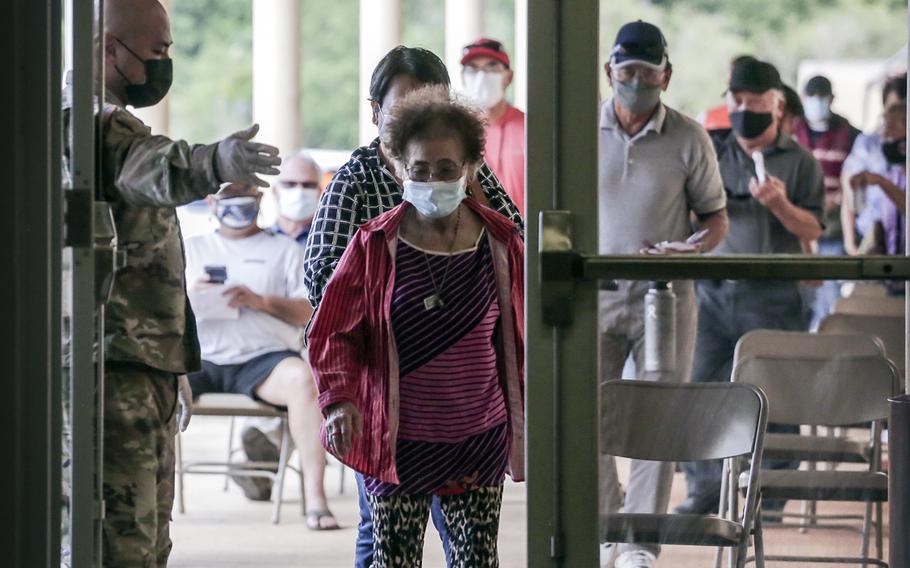 An influx of new coronavirus cases and several deaths is testing mitigation efforts and the health care system on Guam, the U.S. island territory in the Western Pacific.
Guam on Tuesday reported 210 new cases of COVID-19, the coronavirus respiratory disease, including 11 hospitalizations, according to a statement from the Joint Information Center. One of the hospitalizations was at Naval Hospital Guam.
Seventy-one new cases and three deaths were reported over the New Year holiday weekend, according to a separate statement Monday.
The three individuals who died were all vaccinated, the Joint Information Center said in a statement Monday. Two of them — a 76-year-old female and a 47-year-old female — reportedly had underlying health conditions.
A 58-year-old male, pronounced dead on arrival at the Guam Regional Medical City on Friday, had no reported underlying health conditions.
A spokeswoman for Guam Gov. Lou Leon Guerrero, in an email to Stars and Stripes on Tuesday, called the surge "manageable" and said residents should not panic.
"None of these admissions are in [intensive care unit] level of care nor are they on a ventilator," Krystal Paco-San Agustin wrote.
By contrast, the Joint Information Center reported 43 new cases and eight hospitalizations on Dec. 28.
Paco-San Agustin said people are being treated at home with monoclonal antibodies to keep them out of the hospitals.
"Protecting our limited health care resources remains our top priority," she said.
She said public health officials cannot yet attribute the new cases to the fast-spreading omicron variant of the coronavirus that was first detected in South Africa in November.
Guam does not yet have the technology to test samples for the variant and has instead sent samples for genome sequencing to the Centers for Disease Control and Prevention in Atlanta, Paco-San Agustin said.
"While we await results, Gov. Leon Guerrero has stated publicly that we must act as if Omicron is here, especially following holiday gatherings and an increase in travel," Paco-San Agustin said.
The 36th Wing at Andersen Air Force Base did not reply to an email from Stars and Stripes requesting a status update. A spokeswoman for Joint Region Marianas did not respond to an email request Tuesday for further information.
Guam has imposed mask and vaccine mandates, among other measures, to stem the virus' spread, Paco-San Agustin said. Guerrero implemented a proof-of-vaccination policy for businesses and large gatherings starting Sept. 6.
People may not gather in groups of more than 100 outdoors or 25 indoors, Paco-San Agustin said.
Guam has confirmed 19,899 coronavirus cases and 273 deaths during the pandemic, the Joint Information Center announced Tuesday.
About 80% of the island's 169,000 people are vaccinated.
"We stay the course," Paco-San Agustin said. "In addition to vaccinations, we continue to test, track and treat."
---
---
---
---