US, Japan discuss coronavirus curfew as US military increases its health-risk level
by
Joseph Ditzler
Stars and Stripes
January 6, 2022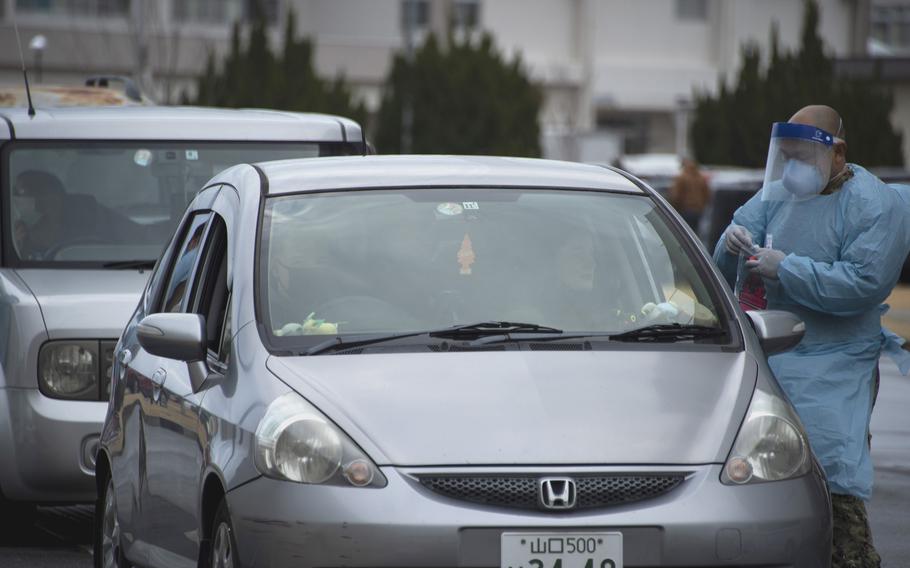 Stars and Stripes is making stories on the coronavirus pandemic available free of charge. See more stories here. Sign up for our daily coronavirus newsletter here. Please support our journalism with a subscription.
TOKYO – The U.S. military authority in Japan raised its coronavirus risk level a notch higher Thursday in response to growing numbers of COVID-19 cases on U.S. bases throughout the country.
U.S. Forces Japan reported 1,784 active cases of the coronavirus respiratory disease at 18 U.S. bases from Misawa Air Base in northeastern Japan to 10 Marine Corps, Army, Air Force and Navy bases on Okinawa to the south.
By moving to health protection condition Bravo, USFJ imposed on all U.S. installations a uniform set of rules to help stem the coronavirus' spread. Anyone with the military and recently arrived in Japan must wear a mask while waiting on a negative COVID-19 test or while indoors and in public areas on U.S. bases.
USFJ made wearing masks off base compulsory for anyone affiliated with the U.S. military, regardless of vaccination status. That requirement was already put in place by local commanders across Japan.
Also Thursday, Japanese Foreign Minister Yoshimasa Hayashi during a phone call with U.S. Secretary of State Antony Blinken asked for stronger measures from U.S. commands in Japan, including limits on off-base travel, to curb the coronavirus surge. U.S. commanders in Japan acknowledge that many post-holiday military travelers returning from the U.S. have tested positive for the disease.
The topic is on the agenda again Friday when Defense Secretary Lloyd Austin, isolating at home with COVID-19, meets virtually with Hayashi, Defense Minister Nobuo Kishi, Blinken and newly confirmed U.S. Ambassador Rahm Emanuel for the 2022 U.S.-Japan Security Consultative Committee meeting.
Some U.S. commanders at bases with fast-growing case numbers had already imposed temporary liberty restrictions, but they are in the minority.
Marines at Camp Fuji southwest of Tokyo and at Marine Corps Air Station Iwakuni near Hiroshima are temporarily barred from overnight stays in local communities, for example.
Camp Fuji, the Marines' Camp Hansen on Okinawa and Misawa Air Base in northeastern Japan were already in condition Bravo.
Although USFJ did not impose a uniform travel ban, condition Bravo calls for avoiding unnecessary travel, "especially to areas known to be experiencing active disease transmission," according to the Defense Department Public Health Emergency Management policy.
"Local commanders know best how to make their local decisions," USFJ spokesman Maj. Thomas Barger told Stars and Stripes by phone Thursday. "They can always tighten their local requirements in addition to what USFJ implements."
Barger said USFJ's decisions on public health measures involve consultation with Japanese authorities as well as other factors. He said he could not predict whether the Foreign Ministry's request Thursday would result in restricted travel for the U.S. military population.
"There's a bit of science involved" in raising the health protection level, which also relies on guidance from the Centers for Disease Control and Prevention, Barger said. A planning team recommended the change to USFJ commander Lt. Gen. Ricky Rupp, who made the call.
New on-base cases
The coronavirus caseload at U.S. bases continued to grow Thursday, although many commanders said most of those with the virus have mild or no symptoms.
MCAS Iwakuni on Thursday reported another 115 new infections, according to a news release. The air station has the most active cases, 529, of all U.S. installations, according to USFJ.
No. 2 with 282 is Camp Hansen, where a mid-December coronavirus spike among a contingent of newly arrived Marines drew the wrath of Okinawa Gov. Denny Tamaki. He expressed fears of a community spread of the omicron variant.
COVID-19 made a resurgence on the island around the same time. On Thursday, the prefectural Public Health and Medical Care Department reported 981 new coronavirus cases, exceeding the previous one-day pandemic record of 809 on Aug. 25. U.S. bases on Okinawa reported 162 new infections Thursday, according to the Public Health Department.
No. 3 on USFJ's list is Yokosuka Naval Base, the homeport south of Tokyo of the 7th Fleet, with 213 active cases.
Next is Misawa with 133 active cases, according to USFJ. Base commander Col. Jesse Friedel on Dec. 30 said the base is experiencing its highest caseload of the pandemic.
Two bases on Okinawa, the Marines' Camp Foster with 103 and Kadena Air Base with 101, round out the top six.
'Eliminate local residents' worries'
The Japanese government also expressed dissatisfaction during the Hansen incident when it learned USFJ had rescinded a requirement that service members headed for Japan test negative for COVID-19 before boarding their flights. USFJ afterward imposed a three-test policy: pre-travel, on arrival and five days later.
During his 35-minute call with Blinken on Thursday, Foreign Minister Hayashi "strongly urged the U.S. to strengthen and thoroughly take measures against preventing of spreading the infection," including a curfew, "to eliminate local residents' worries," according to the Foreign Ministry.
A State Department news release noted the two spoke on several topics, including support for Ukrainian independence, North Korea's recent missile test and the prospects for denuclearizing the Korean Peninsula.
But the U.S. statement finished with only a vague sentence on the coronavirus: "They also expressed their shared commitment to combatting and recovering from the COVID-19 pandemic."
According to the ministry, Blinken said the health and safety of the Japanese are "very important, along with those in the U.S. forces in Japan," and he would convey Japan's request to Department of Defense immediately.
Stars and Stripes reporters Hana Kusumoto and Mari Higa contributed to this report.
---
---
---
---