Austin sending deputy to Hawaii in wake of tainted-water crisis that displaced thousands
By
Stars and Stripes
December 14, 2021
---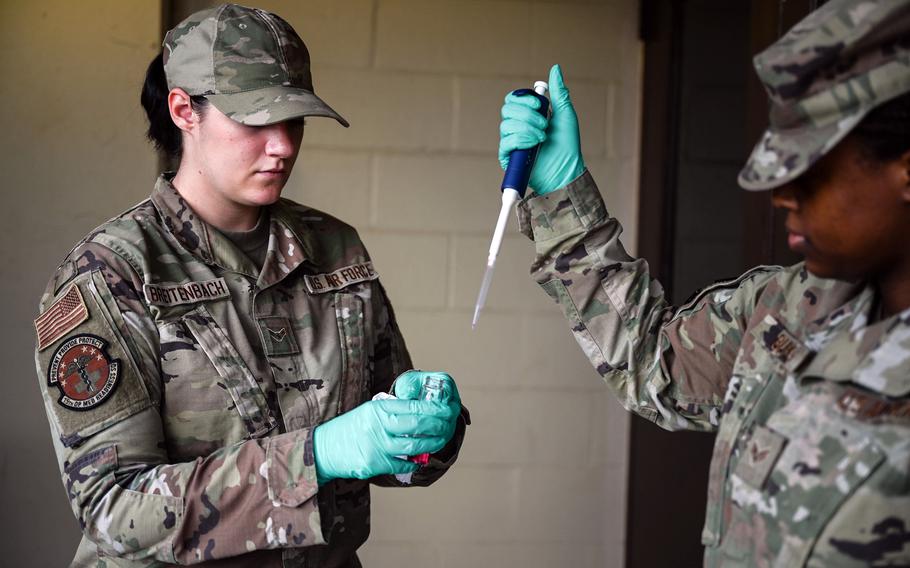 FORT SHAFTER, Hawaii — Deputy Defense Secretary Kathleen Hicks is slated to visit Hawaii this week to see firsthand how contaminated water has affected more than 3,000 displaced residents of military housing residents.
"I have asked Deputy Secretary Hicks to visit the Red Hill Bulk Fuel Storage Facility this week during her travel to Hawaii and to consult with Navy leaders, local officials, experts, and affected personnel and families," Defense Secretary Lloyd Austin said in a statement Monday.
Late last month, families living on and near Joint Base Pearl Harbor-Hickam began complaining of foul-smelling tap water with a visible oily sheen.
The Navy tracked the source of contamination to its Red Hill well, one of the three used in the service's water distribution system. That well has been shut off since the complaints began, and efforts to remove fuel from the well have begun.
Hicks launched a junket Monday that also includes stops in Michigan, Colorado, California and Nebraska. In Hawaii, she is expected to meet with officials at U.S. Indo-Pacific Command.
Her trip follows a visit last week by Carlos Del Toro, the secretary of the Navy, and Adm. Mike Gilday, chief of naval operations, who met with local officials and scores of residents whose lives were upended by the crisis.
"Nothing is more important to me or to this Department than the health, safety and well-being of our people and their families, as well as that of residents living near our installations," Austin said.
"To that end, I am receiving daily updates by the Navy Department about fresh water contamination near the strategically important Red Hill Bulk Fuel Storage Facility at Joint Base Pearl Harbor-Hickam – contamination that has directly affected thousands of military members and their families," Austin said.
The Army and Navy are paying hotel bills to temporarily relocate anyone affected by tainted water.
Aliamanu Military Reservation and Red Hill, a pair of military communities near the joint base that are administered by the Army, are connected to the Navy's water system.
U.S. Army Pacific's commander, Gen. Charles Flynn, on Thursday authorized the evacuation of all Defense Department personnel, civilian employees and their families living on Aliamanu and Red Hill.
Flynn's authorization also includes any Army personnel and dependents living in 22 other sites impacted by contaminated water.
The Navy has authorized temporary moves for residents in 11 communities.
As of Saturday, 1,741 families had been relocated from areas affected by contamination, the Navy said in a factsheet posted online.
The Navy has tracked the origin of the contamination to a Nov. 20 jet fuel spill connected with the Red Hill underground storage tanks.
The Hawaii Department of Health issued an emergency order last week directing the Navy to cease operations at that World War II-era complex. It also directed the Navy to empty the facility of the roughly 150,000 gallons of fuel now stored there.
The Navy suspended operations but has not agreed to empty the underground tanks facility, which the Navy has described as "a national strategic asset that provides power for sea control, maritime security, regional stability, humanitarian assistance and continued prosperity in the Indo-Asia-Pacific region." The fuel is used by the Navy, Marines, Army, Coast Guard and Hawaii National Guard.
The Navy is transporting a massive water filtration system from the mainland to Hawaii to begin flushing and filtering water in the system's pipelines.
"We take this very seriously," Austin said in the statement. "And I am personally monitoring our progress and our mitigation efforts. Indeed, Navy leadership updates me daily on the measures they are taking to care for affected military personnel and families, to restore the safety of the water system in military housing, and to coordinate with local authorities – in particular the Hawaii State Department of Health – about the best way forward."
---
---
---
---