Navy says it has identified and isolated a Hawaii well tainted by petroleum products
by
Wyatt Olson
Stars and Stripes
December 3, 2021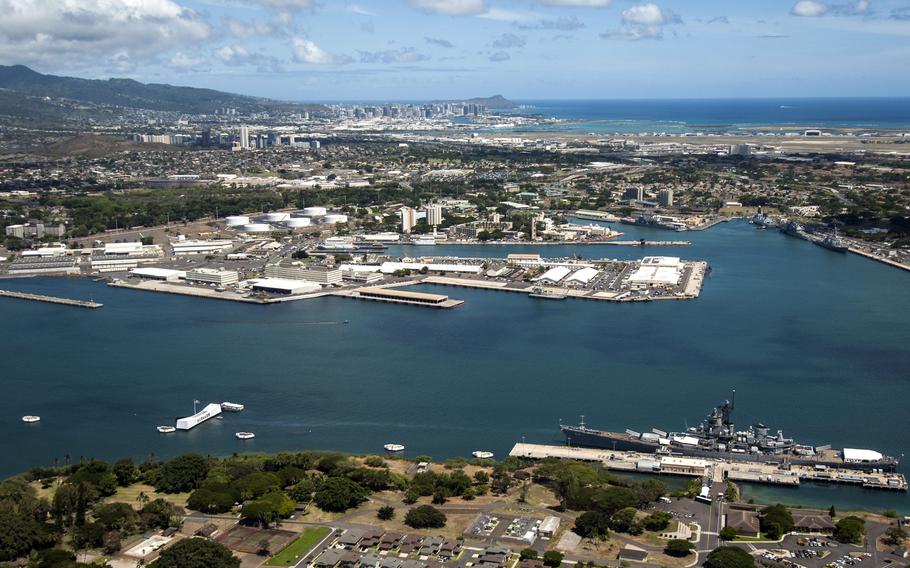 FORT SHAFTER, Hawaii – The Navy on Hawaii has identified the well contaminated with petroleum products that prompted outcry from thousands of military households and left them without a water supply, the deputy commander of the Pacific Fleet said Thursday.
Two tests done by the Navy since Sunday confirmed that the Red Hill well appeared to be contaminated, Rear Adm. Blake Converse, head of the crisis action team tackling the water problem, said during a Facebook livestream.
"The Red Hill well was isolated on Sunday, and it's remained isolated since then," he said.
The Navy and Hawaii Department of Public Health began testing tap water and well heads Sunday after residents among roughly 7,000 military households on the Navy water supply complained of a foul odor and oily sheen.
In its test done Wednesday, the health department Wednesday found traces of petroleum in tap water at Red Hill Elementary School, which lies a couple of miles outside Joint Base Pearl Harbor-Hickam but uses Navy water.
Converse said a sample taken Sunday by the Navy "identified trace amounts of very volatile hydrocarbons" that are normally associated with jet fuel or gasoline.
"The second [Navy] test that was done just today, which was a new test we just received on island that tests volatile hydrocarbons or petroleum gaseous products," he said.
He said the samples from the Red Hill well "found clear indications of petroleum products" just above the water line.
Both Navy tests provide "pretty clear indications" of volatile petroleum products in the well, Converse said, "and we've determined that that is the likely source of the contamination of our water distribution across the Navy system."
With the wells already isolated, the task now is to restore potable water to purity levels approved by the U.S. Environmental Protection Agency through flushing and testing of the system aside from the Red Hill well, Converse said.
"We are also going to be identifying the specific method by which petroleum products are getting into the Red Hill well and fixing that," he said.
The contamination has left many pointing to a history of leaks from the nearby Red Hill Bulk Fuel Storage Facility.
The World War II-era tanks were carved into the mountain about 100 feet above an aquifer that provides roughly 25% of the island's drinking water. The tanks hold about 110 million gallons of fuel.
Critics have long called for the Navy to permanently close the site, but the service maintains that it is essential to national security.
Rep. Kai Kahele, D-Hawaii, on Thursday told a subcommittee of the House Armed Services Committee that Oahu residents have been clamoring for answers about the risks of the Red Hill fuel tanks since news broke about the foul water this week.
"We cannot have this water source contaminated by petroleum fuel from the Red Hill tanks," he said.
---
---
---
---