Navy and Army picking up hotel tab for those forced out of Hawaii homes by tainted water
by
Wyatt Olson
Stars and Stripes
December 5, 2021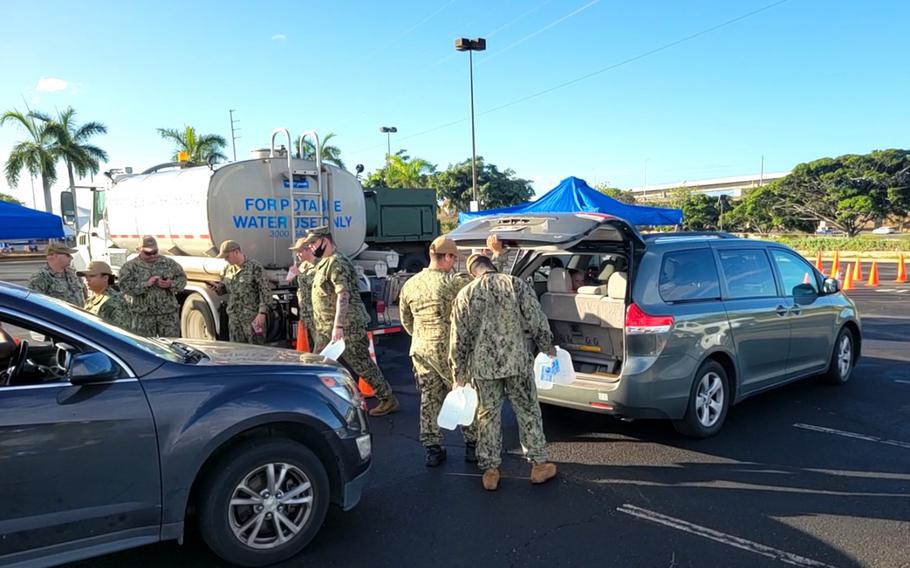 FORT SHAFTER, Hawaii — The Navy and Army are footing hotel bills for hundreds of families affected by petroleum-tainted tap water at 10 military housing communities on Oahu near Joint Base Pearl Harbor-Hickam.
The authorization for temporary lodging, or TLA, began on Friday and is limited to active-duty service members and civilian employees living in housing in the communities of Red Hill, Catlin Park, Halsey Terrace, Radford Terrace, Doris Miller, Hale Na Koa, Earhart Village, Officer Field and Moanalua Terrace, the Navy said in a Facebook posting Friday.
Also included is Aliamanu Military Reservation, which is administered Army Garrison Hawaii.
Directions for applying for temporary lodging are posted on Joint Base Pearl Harbor-Hickam Water Resources and Updates, a new website created to address water concerns.
It is still unknown how many households are affected and how many will move to the island's hotels, most of which are in Waikiki Beach.
The Army and Navy have been trucking in water to the affected communities, as well as setting up makeshift showers and laundry facilities.
Testing by the Navy found that petroleum had contaminated its Red Hill well, one of three that the service uses to supply water to roughly 7,000 households. The well was isolated from the water system on Sunday, soon after residents began complaining about foul-smelling water, which sometimes carried an oily sheen.
Although the origin of the contamination has not yet been traced, many point to the nearby Red Hill Bulk Fuel Storage Facility.
The World War II-era fuel tanks, which currently hold about 110 million gallons of fuel, were carved into the mountain about 100 feet above an aquifer that provides a significant portion of the island's drinking water.
Critics have long called for the Navy to permanently close the site, but the Navy maintains that it is essential to national security.
Rear Adm. Blake Converse, deputy commander of U.S. Pacific Fleet, said Saturday in a Facebook town hall livestream that the Army Material Command had sent its director of operations to Oahu to assist with the recovery process.
"They bring some unique expertise," Converse said. "Specifically, they brought the commander of their Army Environmental Command down who has unique experience in diagnosing and isolating and then recovering water systems with these kinds of complex problems we're seeing today."
The process for returning the well to usable condition "is still being developed," Converse said.
"It starts with flushing the potable water system, and that has commenced," he said. "Then it's going to continue with some detailed flushes in the low-flow and local high spots and in the residences and all the facilities that are provided water by the Joint Base Pearl Harbor-Hickam military water distribution system."
The Navy is also "committing" to an engineering analysis of monitoring systems that "we may need to install to ensure the consistent and continued health and safety of the water system so that we don't have this in the future," Converse said.
Capt. James Meyer, commander of Naval Facilities Engineering Command Hawaii, expressed optimism during the Facebook town hall that the Red Hill well could be fully restored.
"We believe we can remove the contaminants," Meyer said.
But he added that there is "a process to potentially look at, if we need to," for setting up a purification plant to ensure safe drinking water for the entire system.
---
---
---
---