South Korea posts new coronavirus high weeks after easing social distancing rules
by
David Choi
Stars and Stripes
November 24, 2021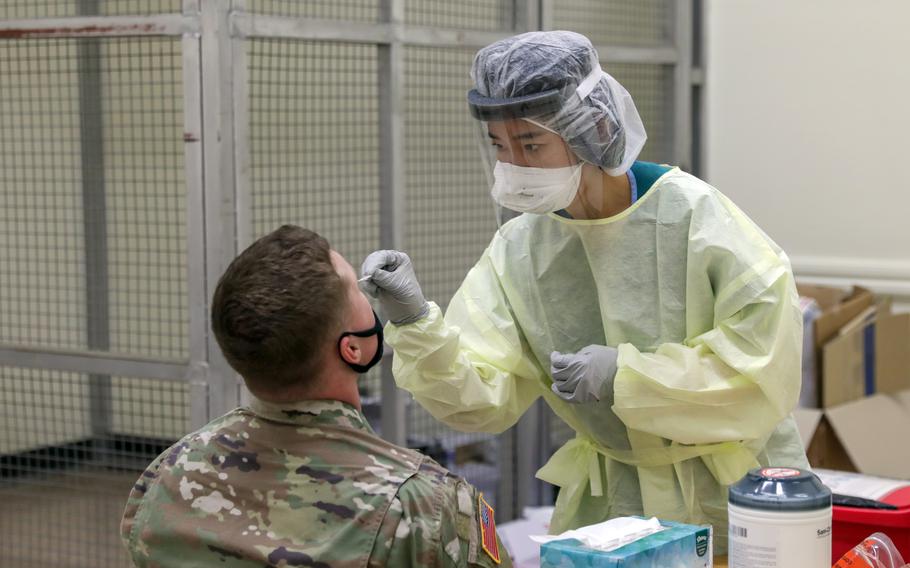 South Korea reported 4,116 new cases of the coronavirus on Wednesday, a new daily record just weeks after the country's Health and Welfare Ministry loosened social distancing regulations.
The new infections confirmed by the Korea Disease Control and Prevention Agency exceed the previous record of 3,292 on Nov. 18. The country of roughly 51 million people has recorded 425,065 cases since the pandemic began in March 2020.
Seoul accounted for 34% of the new infections; Gyeonggi province, home to Camp Humphreys and Osan Air Base, accounted for 29.9%, according to the KDCA.
Nearly 80% of the population is fully vaccinated and 82% has received the first dose of a vaccine, the KDCA reported Wednesday. Over 2 million people have received a vaccine booster shot.
Earlier this month, social distancing measures were eased due to the "public fatigue" from the protracted restrictions and the vaccination rate in the country. The Ministry of Health and Welfare at the time cited "economic damage" as well as "cultural damages" for its decision to take the "first step toward a gradual return to normal life."
The ministry originally planned to loosen restrictions over three, four-week periods and a separate two-week evaluation phase. Schools were open after the policy went into effect this month, and restaurants and cafes were allowed to open for their normal business hours.
Prime Minister Kim Boo-kyum told reporters Wednesday that health officials were assessing whether the country would move to the next phase of easing restrictions. Kim described the COVID-19 rates in Seoul as "an urgent situation."
"Although it's a time for us to agonize over whether to move on to the next step or not, the infectious disease prevention and control situation is more serious than we expected," Kim said.
U.S. Forces Korea, the command responsible for roughly 28,500 American troops stationed in the country, reported 39 new cases between Nov. 16 and Monday. About 98% of U.S. service members in South Korea are fully vaccinated.
USFK removed all travel restrictions within South Korea earlier this month "due to increased vaccination rates … and to better align with the [South Korean] government's 'living with COVID-19' initiatives,'" the command said in a Nov. 5 press release.
USFK earlier this month began issuing proof-of-vaccination cards that would be recognized by the South Korean government and local businesses. The command also this month began administering Pfizer's COVID-19 vaccine to children, two weeks after the Food and Drug Administration approved it for emergency use in 5- to 11-year-olds.
Stars and Stripes reporter Yoo Kyong Chang contributed to this report.