DODEA assigns school bus seats to students in South Korea as coronavirus precaution
by
David Choi
Stars and Stripes
November 17, 2021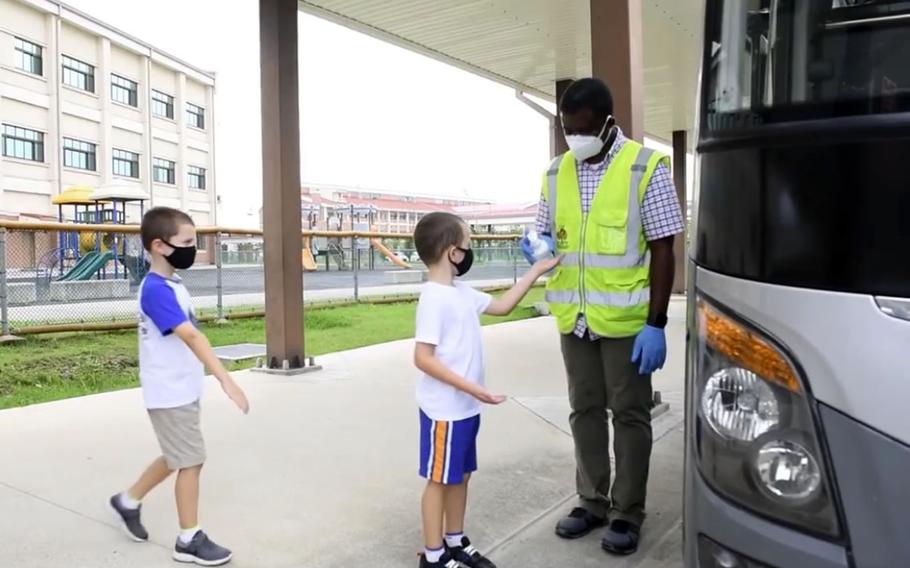 CAMP HUMPHREYS, South Korea — The Defense Department's school system in South Korea has implemented assigned seating for students riding school buses to ease the process of tracing the spread of coronavirus cases.
Department of Defense Education Activity-Pacific West announced the policy, which took effect Monday, in a Nov. 10 letter posted on Humphreys High School's Facebook page. Assigning students to specific seats would facilitate contact tracing in the event a student contracted COVID-19, the coronavirus respiratory disease.
"The health and safety of our students, staff and community is our top priority," DODEA-Pacific West district superintendent Jeff Arrington said in the letter. "We are continually looking for ways to improve."
Arrington encouraged students to stay home "if they are sick," and asked parents to make sure they provided children with "well-fitted and clean masks."
Arrington posted his letter two days before more than a dozen cases arose at a children's center at Camp Humphreys. By Monday, 11 children and two staff members at the Capt. Jennifer M. Moreno School Age Center run by Child and Youth Services had tested positive. The center, which provides before- and after-school programs for children from first through fifth grades, closed Friday but reopened Monday, CYS coordinator Tiffany Harris said Tuesday.
School districts in the United States have implemented similar measures on school buses. New York's Hudson City School District in September assigned students to seats despite seeing "an improvement" with students wearing face masks during their commute.
Superintendent Maria Suttmeier in a public notice posted on the school district's website said that without assigned seating, a single case traced to a bus would mean 10 days in quarantine for all students on that bus, even those who were not in close contact with the infected student.
Around 7,000 children are enrolled in DODEA-Pacific West schools, according to a factsheet published by the agency in July 2020.
U.S. Forces Korea, the command responsible for military personnel in South Korea, announced Monday that Pfizer's BioNTech vaccine is available by appointment for eligible children between the ages of 5 and 11.
The command in its most recent update this week reported 49 new cases between Nov. 9 and Friday, of which 45 were locally transmitted.
---
---
---