Pfizer coronavirus vaccine available for children of military families in South Korea
by
David Choi
Stars and Stripes
November 15, 2021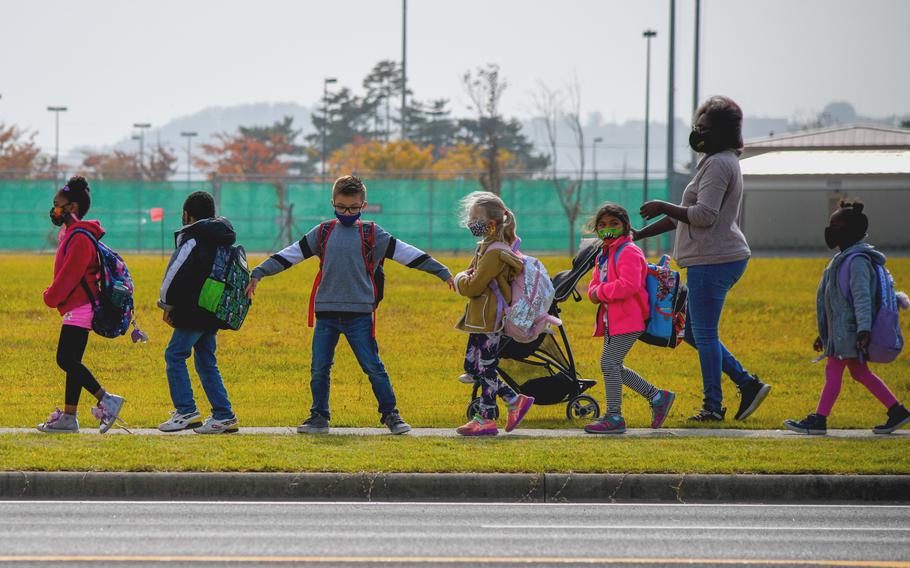 CAMP HUMPHREYS, South Korea — Children from U.S. military families in South Korea this week will be offered Pfizer's COVID-19 vaccine, less than a month after the Defense Logistics Agency announced it was ready to ship out doses to families stationed overseas.
U.S. Forces Korea, the command responsible for military personnel in South Korea, announced Monday that Pfizer's BioNTech vaccine is available by appointment for eligible children between the ages of 5 and 11. The vaccine remains voluntary for the children of military families and for military spouses not employed by the federal government. 
The Food and Drug Administration approved Pfizer's vaccine for emergency use in 5-11 year olds on Oct. 29. The approval followed an independent advisory committee that "overwhelmingly voted in favor" of the measure, according to the FDA.
FDA studies found that age group's immune response to the vaccine was comparable to that of the 16-25 age group. The administration also reported Pfizer's vaccine was 90.7% effective in preventing the coronavirus among children ages 5 to 11.
"As a mother and a physician, I know that parents, caregivers, school staff, and children have been waiting for today's authorization," acting FDA commissioner Janet Woodcock said in an announcement Oct. 29. "Vaccinating younger children against COVID-19 will bring us closer to returning to a sense of normalcy."
Pfizer's vaccine for children is a lower dose than that of older people, according to the FDA. Approximately 39% of positive cases among people younger than 18 years old in the U.S. were of children between 5-11. Nearly 700 people under 18 years old died of COVID-19 in the U.S. as of Oct. 17, of which 146 were between 5 and 11 years old.
Military bases in Europe are also planning to receive the vaccine for children. Around 28,800 doses were already pre-ordered by international military facilities, the DLA said in a news release Oct. 27. 
Less than 1% of USFK active-duty service members are confirmed positive and over 85% of the community is fully vaccinated, the command reported in its last update on Nov. 9.
South Korea's Central Disease Control Headquarters reported 2,006 new cases Monday, down from the record high of 3,273 daily cases in September. Over 78% of the population is fully vaccinated and nearly 82% received the first dose of a vaccine.
choi.david@stripes.com
Twitter: @choibboy
---
---
---