US Forces Korea lifts COVID-19 restrictions, allowing troops to travel freely on peninsula
by
David Choi
Stars and Stripes
November 5, 2021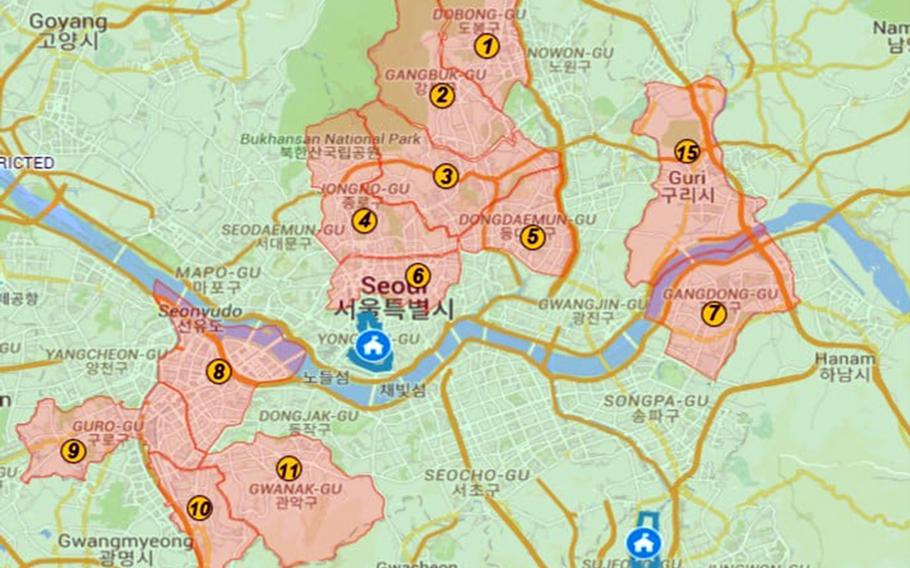 CAMP HUMPHREYS, South Korea — Americans affiliated with the U.S. military in South Korea were free to move about the country as of Friday, when U.S. Forces Korea lifted its coronavirus travel restrictions.
USFK, the command responsible for roughly 28,500 American troops on the peninsula, said in a news release its troops and other personnel are no longer subject to travel restrictions meant to curb the spread of COVID-19, the coronavirus respiratory disease.
Looser restrictions for U.S. personnel, including Defense Department civilian employees, contractors and family members, "better align with the [South Korean] government's 'Living with COVID-19' initiatives," according to USFK.
The U.S. military population has lived with some form of travel restriction since the early days of the pandemic. At first, individual installations were locked down as cases erupted. Widespread curbs on travel and other activities became the norm and were imposed, eased and reimposed as the pandemic ebbed and flowed.
Since August, the U.S. military has prohibited or discouraged its population from visiting districts in South Korea that confirmed 50 or more COVID-19 cases per 100,000 people over seven days.
USFK will continue to update its COVID-19 hotspot map but travel restrictions for those areas no longer apply. The U.S. military population is expected to adhere to local restrictions, however, and unvaccinated personnel are still prohibited from entering saunas, bathhouses, karaoke bars and adults-only businesses.
Individual commanders may be "more restrictive" in imposing additional social distancing measures at their discretion, according to USFK.
"We're getting close to the end of the pandemic, that's for sure," USFK's command surgeon, Army Col. Douglas Lougee, told Armed Forces Network Pacific on Oct. 22.
The South Korean government on Monday announced it would loosen its social distancing measures due to the "public fatigue" from nearly two years of mitigating the coronavirus.
Over 76% of South Koreans felt a new social-distancing policy was called for due to the country's vigilant response to the pandemic, according to a recent survey from Seoul National University.
Despite some setbacks in vaccinating its population, South Korea has been lauded for its COVID-19 response and enforcing mitigation measures earlier during the pandemic.
The plan announced Monday by the Ministry of Health and Welfare will relax restrictions in several steps and evaluate its efficacy over a span of two weeks. Each step would ease restrictions for business hours, curfews and group gatherings.
The ministry described its plan as "the road map for gradual return to normal," with the goal of becoming "the better Korea."
"Today is a day we take the first step toward a gradual return to normal life," Health Minister Kwon Deok-cheol said during a public briefing earlier this week. "We have gone through so many great and small crises."
The country reported 2,344 new COVID-19 infections Friday, down from the record-high of 3,273 daily cases in September, but higher than the weekly average of 2,133 cases.
Over 76% of South Koreans were fully vaccinated as of Friday, and at least 80% had received the first dose of a vaccine.