Air Force grants more than 1,800 vaccine exemptions, will consider thousands more
by
Corey Dickstein
Stars and Stripes
November 3, 2021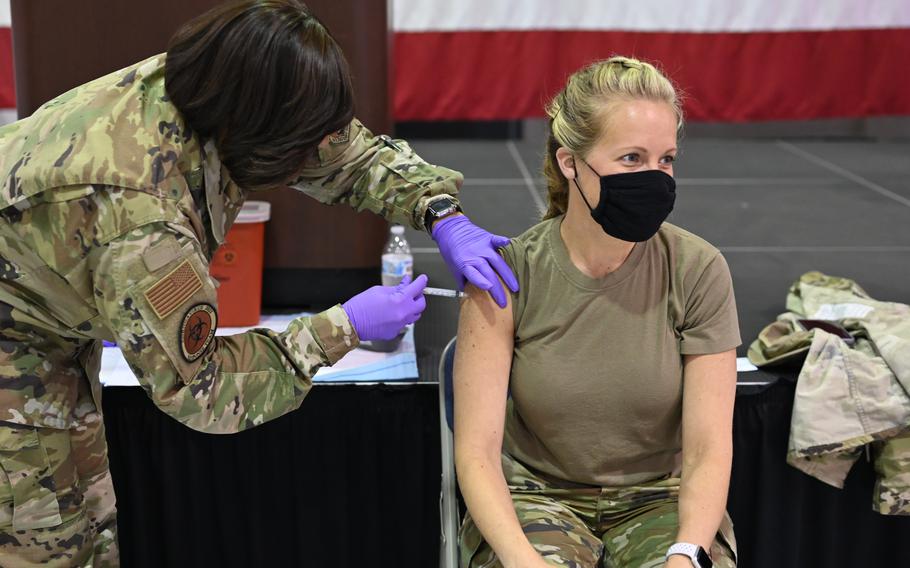 The Air Force has granted 1,866 airmen and Space Force guardians exemptions from the mandatory coronavirus vaccination, the vast majority for medical reasons, according to service data released Wednesday.
The data also showed 8,486 active-duty airmen and guardians remained unvaccinated without an approved exemption as of Wednesday, one day after the Air Force's deadline for its troops to be fully vaccinated or request an exemption. Among those unvaccinated service members, 4,933 had requested a religion-based exemption, but the service had yet to approve any religious accommodation as of Wednesday, the data showed.
Service officials said 800 troops in the Air Force and Space Force had outright refused the vaccine without seeking an exemption, leaving them exposed to potential punishment including dismissal from the military. However, the officials declined to provide further information, including whether it had discharged any of those individuals to date. Officials said earlier this week that it had kicked out 40 trainees — 23 in basic training and 17 in technical training — who declined vaccination and issued them uncharacterized, entry-level discharges.
The Air Force on Tuesday became the first of the Pentagon's military services to reach its vaccination deadline for active-duty troops, after the Defense Department mandated in August that its personnel receive the coronavirus vaccine.
Defense Department civilians must be vaccinated by Nov. 22, while active-duty troops in the Marine Corps and Navy must be vaccinated by Nov. 28, and soldiers have until by Dec. 15.
National Guard and reservists have later deadlines in each of the services. Air Force National Guard members and reservists must be fully vaccinated by Dec. 2, officials said. It takes two weeks after one's last shot to be considered fully vaccinated.
About 97% of the about 326,000 active-duty airmen and guardians had received at least one coronavirus injection, as of Wednesday, according to a service spokesperson, who spoke on the condition of anonymity. About 96% of all active-duty airmen and guardians were fully vaccinated by Wednesday.
Vaccination rates were lower for the Reserve components. The data showed 90.5% of the about 501,000 Air National Guard and Air Force Reserve members were fully vaccinated by Wednesday, and another 3.7% had received at least one shot.
The Air Force spokesperson said mandatory vaccinations were needed to ensure troops could respond to issues around the globe whenever they are needed without the risk of serious illness. More than 43,700 airmen and guardians have been diagnosed with the coronavirus since last year, including six deaths among them.
"This is a readiness issue," the spokesperson said.
The Air Force will spend 30 days reviewing additional requests for medical and religious exemptions to the vaccine, the service said in a statement. Medical exemptions will be approved by service medical providers for a variety of reasons, including issues such as an allergy to a vaccine ingredient, officials said. Religious accommodations can be granted by commanders.
Those with active requests seeking an exemption, including an appeal of a commander's decision, will not face punishment for not being immunized until their case is closed, at the earliest, the service said.
Those who are not fully vaccinated, including those granted accommodations, must be tested weekly in order to enter a Defense Department facility, the Air Force said.
Service officials have yet to publicly describe precisely what will happen to those who do not ultimately meet vaccination requirements, but they said commanders will be responsible for making punishment decisions. Service members who fail to become vaccinated and do not receive an exemption could be charged with failure to obey an order, Article 92 under the Uniform Code of Military Justice. A conviction for that offense can be punished by a dishonorable discharge, pay forfeiture or up to two years of jail time, according to the UCMJ.
---
---
---