Coronavirus vaccines for 5- to 11-year-olds ordered for US bases in Europe
by
Jennifer H. Svan
Stars and Stripes
October 28, 2021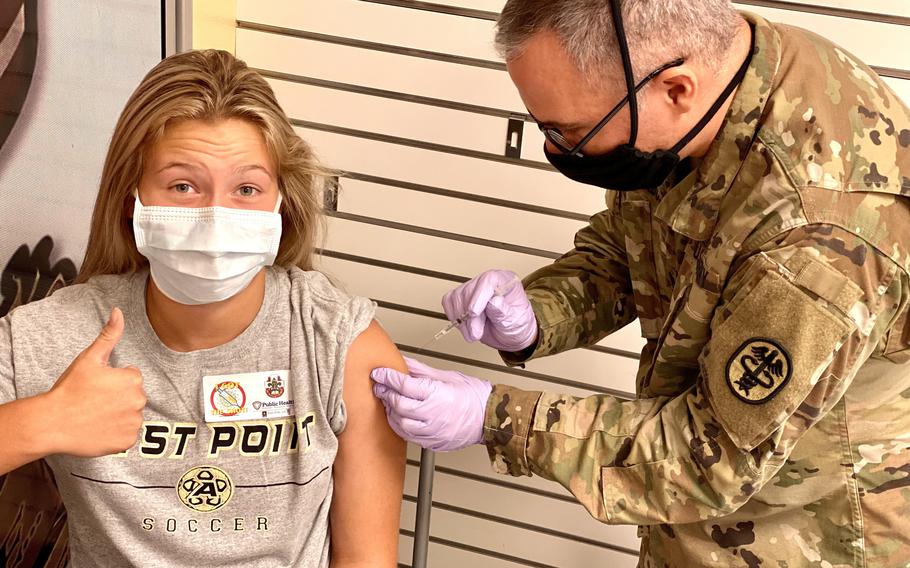 The Pfizer COVID-19 vaccine for 5- to 11-year-olds could be available to U.S. military families in Europe next month, pending emergency use authorization of the shots for younger children.
Army medical facilities in Europe have ordered more than 10,000 doses of the vaccine, but Pfizer won't ship the shots until authorization is granted, said Gino Mattorano, a spokesman for Regional Health Command Europe.
Once that happens, all Army medical treatment facilities in Europe should receive their orders within 7 to 10 business days, he said.
Mattorano said the vaccine supply for the other services in Europe comes from the same source, so he would expect other installations to receive their orders for doses around the same time. Ramstein Air Base officials said they would work with the Army on administering the vaccine to kids in their community.
Navy officials in Italy were not immediately available for comment Thursday.
A panel of independent advisers to the Food and Drug Administration on Tuesday endorsed the Pfizer-BioNTech vaccine for younger kids. It concluded that the shot is safe and 90.7% effective in preventing symptomatic coronavirus infections.
The FDA is expected to issue a decision on emergency use authorization soon. If authorized, the Centers for Disease Control and Prevention would issue its own recommendations and guidelines on administering the vaccine.
The Army plans to coordinate vaccination events for kids with Department of Defense Education Activity schools, Mattorano said. Inoculations will also be available by appointment.
Air Force families in the Kaiserslautern military community will be able to get the shot at Landstuhl Regional Medical Center if necessary, he said.
It's possible for children to get the flu and coronavirus vaccine at the same time, Mattorano said. U.S. military bases in Europe are conducting flu vaccination clinics for beneficiaries four years and older. Younger patients are required to make an appointment for the shot.
Efforts to roll out the vaccine to younger kids come amid an uptick in coronavirus cases at a school on Ramstein Air Base, part of the largest overseas military community. Ramstein Middle School transitioned to remote instruction this week after reporting "a cluster" of new infections on Sunday.
Base officials at Ramstein said this week it was Air Force policy not to disclose case numbers. Despite that, some Air Force bases, particularly in Japan, regularly do so.
On Thursday, the 86th Medical Group announced on its Facebook page that PCR and antigen testing would be available on Friday and Monday "due to a recent increase in COVID-19 cases." The base medical clinic had planned to be closed on those days.
The COVID-19 spike "is occurring in family units" and not connected to any particular date or event, base officials said in a statement.
Ramstein Intermediate School, meanwhile, reported two confirmed coronavirus cases on Wednesday, prompting parent-teacher conferences scheduled for Thursday and Friday to be virtual instead.
Parent-teacher conferences scheduled for Friday at Ramstein High School will also be virtual, school officials said.
---
---
---