More US military bases in Japan announce dates for flu shots, coronavirus boosters
Stars and Stripes
November 8, 2021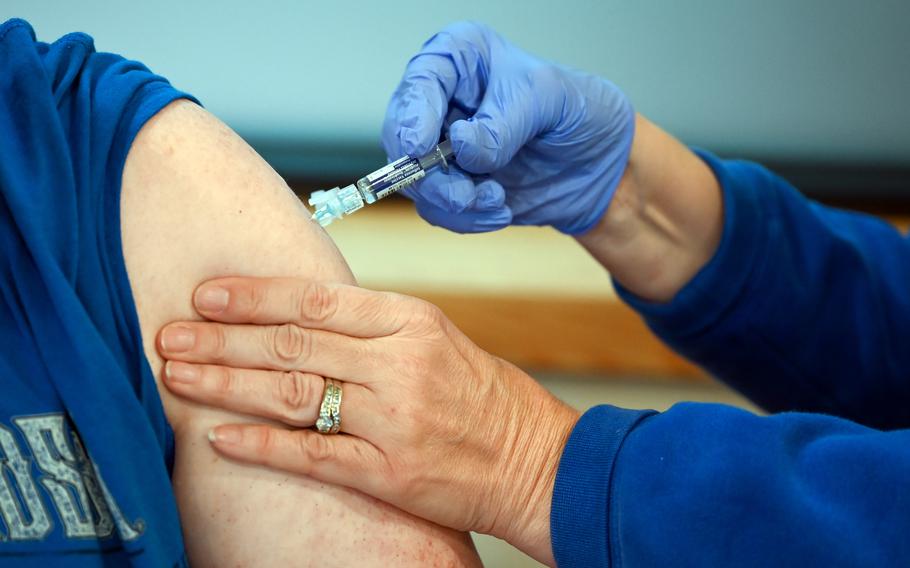 YOKOTA AIR BASE, Japan ⁠— More U.S. military bases in Japan have begun administering annual flu shots along with coronavirus vaccine boosters.
Air Force, Navy and Marine Corps installations across the country, from Misawa to Okinawa, are scheduling shot lines for influenza vaccines this month.
Naval Hospital Okinawa at Camp Foster held a flu shot exercise Oct. 4, and doses are still available at the hospital, spokesman Joseph Andes told Stars and Stripes via email Friday.
"We vaccinated more than 7,200 personnel during this shot exercise alone," he said.
Camp Zama, the headquarters of U.S. Army Japan near Tokyo, made flu shots available in early October, base spokesman Kevin Krejcarek told Stars and Stripes by email Thursday.
Yokosuka Naval Base, the home of the 7th Fleet and Naval Forces Japan south of Tokyo, started administering flu shots Nov. 1 to students at Defense Department schools on base and their families.
Marine Corps Air Station Iwakuni, near Hiroshima, has scheduled drive-thru flu vaccine lines for Nov. 17 and Nov. 23 at its Branch Health Clinic, as well as an in-person line reserved for students and family members on Tuesday at the gymnasium.
Yokota Air Base, headquarters of U.S. Forces Japan in western Tokyo, scheduled a flu shot line for uniformed personnel on Monday and for all eligible individuals ages 4 and up on Nov. 15 at the Taiyo Community Center.
Most installations have posted information about the availability of flu shots and coronavirus vaccine boosters on their official Facebook pages or websites.
The Centers for Disease Control and Prevention recommends the flu vaccine for anyone age 6 month and older. The 2021-22 vaccine includes two updates on the H1N1 and H3N2 vaccine strands from last year's shot, according to the CDC website.
Coronavirus vaccine boosters are by appointment only at most installations.
Booster shots for the Pfizer and Moderna vaccines are recommended at least six months after the second dose for anyone who is immunosuppressed, over age 65 or who works in high-risk settings, such as medical care, according to the CDC.
Medical clinics are advertising that patients can mix vaccines, meaning they can pick which vaccine they want for their booster. Not all clinics will have all vaccines available, but most military clinics in Japan have Pfizer and Moderna.
Twitter: @starsandstripes
---
---
---