China looms large over House delegation's Thanksgiving trip to Japan, South Korea
by
Matthew M. Burke 
Stars and Stripes
November 23, 2021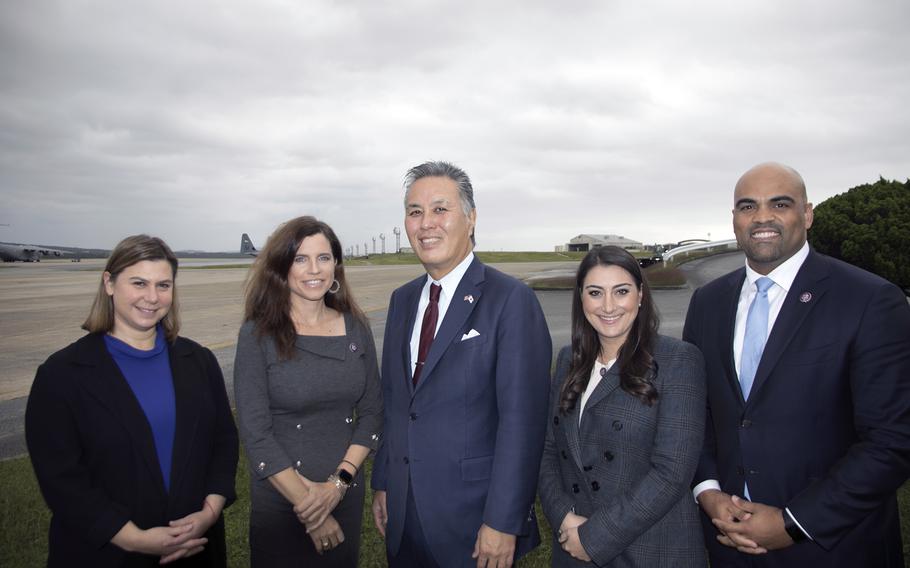 KADENA AIR BASE, Okinawa – A U.S. congressional delegation heard from U.S. military commanders on Okinawa of China's increasing provocations in the region, but left Tuesday saying conflict with the Asian power must be avoided.
"There's a growing sense of a new reality with China, a stronger China, a more equipped China, a China that is closing the innovation gap," Rep. Mark Takano told Stars and Stripes as the five-member delegation prepared to depart Kadena. "And that new reality hasn't really sunk in, in a clear way, in an informed way, with all of our colleagues, I think even with the American people."
Takano, a California Democrat and chair of the House Veterans Affairs Committee, is leading three other Democrats and Republican Nancy Mace of South Carolina on a fact-finding mission to Japan and South Korea. The trip over Thanksgiving week includes meetings with troops serving abroad.
Delegation members Mace, Elissa Slotkin of Michigan and Colin Allred of Texas serve with Takano on the Veterans Affairs Committee; Slotkin and Sara Jacobs of California serve on the House Armed Services Committee.
Slotkin, a former CIA analyst, said something must be done, short of war, to maintain order in the region following China's repeated "Sputnik moments." One such moment was the July 27 launch of a hypersonic missile that circled the globe and caught some U.S. military leaders by surprise.
Slotkin said a top-down societal approach – using military, economic and even agricultural tools – is needed to maintain deterrence.
Referring to China's posturing toward Taiwan, the island democracy China regards as a breakaway province, Takano said he wants to see the status quo maintained. Some U.S. military leaders have said China is building toward an attempt to reclaim Taiwan by force within several years.
"We don't want to see unification by force," he said.
The delegation met with representatives of all four service branches, including members of the Special Forces, Takano said. The House members also had lunch with U.S. military veterans living on Okinawa and toured U.S. Naval Hospital Okinawa.
"I felt it was an important gesture for members of Congress to give up their Thanksgiving and spend it with the troops and on behalf of the American people show gratitude for their service and sacrifice," Takano said.
The troops complained of the myriad, continuing travel restrictions imposed to stem the coronavirus' spread, Takano said. Members of the delegation promised to speak to Japanese leaders to try and ease those restrictions.
"It's been a tough year and a half here, coinciding, of course, with an increasingly tense security situation," said Allred, a former NFL linebacker.
Coronavirus precautions precluded the delegation meeting with Okinawa prefectural officials. Takano said he hoped to discuss the relocation of Marine Corps Air Station Futenma in central Okinawa to the remote, northern base of Camp Schwab. Okinawa Gov. Denny Tamaki steadfastly opposes the move and wants to close MCAS Futenma outright.
"We need to move forward as expeditiously as possible, but we need to do it in a way that is inclusive and is persuasive," Takano said.
The delegation departed for South Korea, where it is scheduled to spend Thanksgiving.