Navy sends another warship through Taiwan Strait, nearing a dozen transits this year
by
Alex Wilson
Stars and Stripes
November 23, 2021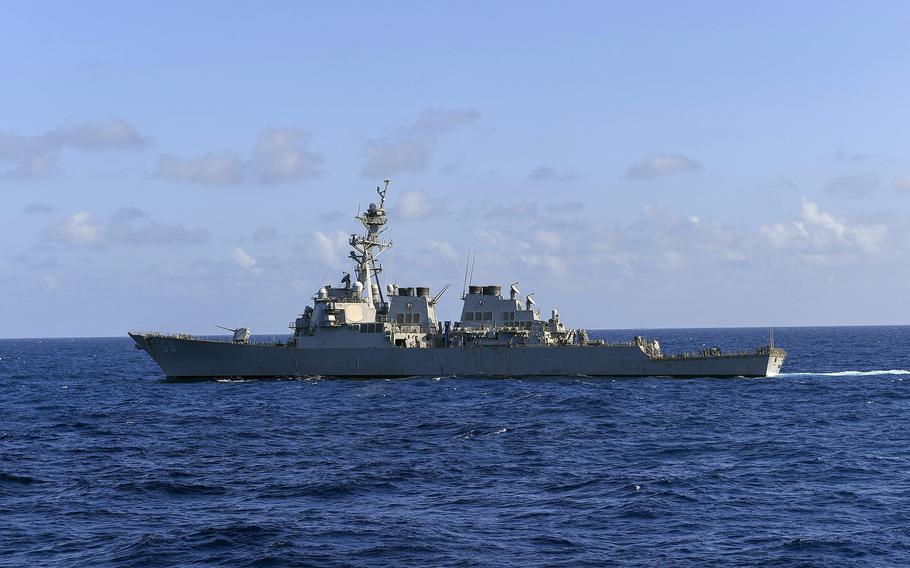 A U.S. Navy destroyer passed through the Taiwan Strait on Tuesday, marking at least the 11th trip through the contested waterway by an American warship this year.
The USS Milius, homeported at Yokosuka Naval Base, Japan, made the transit on Tuesday, according to a news release that day from the 7th Fleet.
Navy warships regularly steam through the approximately 110-mile strait that separates China and Taiwan. The Chinese government routinely condemns those operations as provocative.
Beijing considers Taiwan, a functioning democracy, a breakaway province that must be reunited with the mainland, possibly by force.
The Milius' trip through the strait came just over a month after two other vessels — the destroyer USS Dewey and the Canadian frigate HMCS Winnipeg — made the same transit Oct. 14-15.
The October transits drew rebuke from China's Ministry of Foreign Affairs, which said its military monitored the ships' closely.
"US warships have repeatedly flaunted their prowess in the Taiwan Strait, provoking and stirring up trouble, and even gone further to collude with its allies to provoke, disrupt and mess around," said Foreign Ministry spokesman Zhao Lijian in a statement Oct. 18. "The vile acts of the US are by no means commitment to freedom and openness, but rather deliberate disruption and sabotage of regional peace and stability. The international community sees this crystal clear."
The Navy, which has sent a warship through the strait roughly once per month this year, frequently describes those trips as routine and a demonstration of "the U.S. commitment to a free and open Indo-Pacific."
China had not responded to the Milius' transit as of Tuesday afternoon.
Tensions in the Indo-Pacific, particularly in the South China Sea, have continued to rise over the past year. In October, China sent a record number of aircraft toward Taiwan's air defense identification zone, while Beijing has made increasingly open remarks about a reunification of the island and the mainland.
Last week, China used a water cannon to deter two Philippine vessels that were carrying supplies to Philippine troops on a contested shoal in the South China Sea.
The incident prompted outrage from the Philippine government, as well as a reminder that Manila's supply vessels are protected by a mutual defense treaty with the United States.