'Trouble in cahoots': China condemns Taiwan Strait transits by US, Canadian warships
by
Seth Robson
Stars and Stripes
October 18, 2021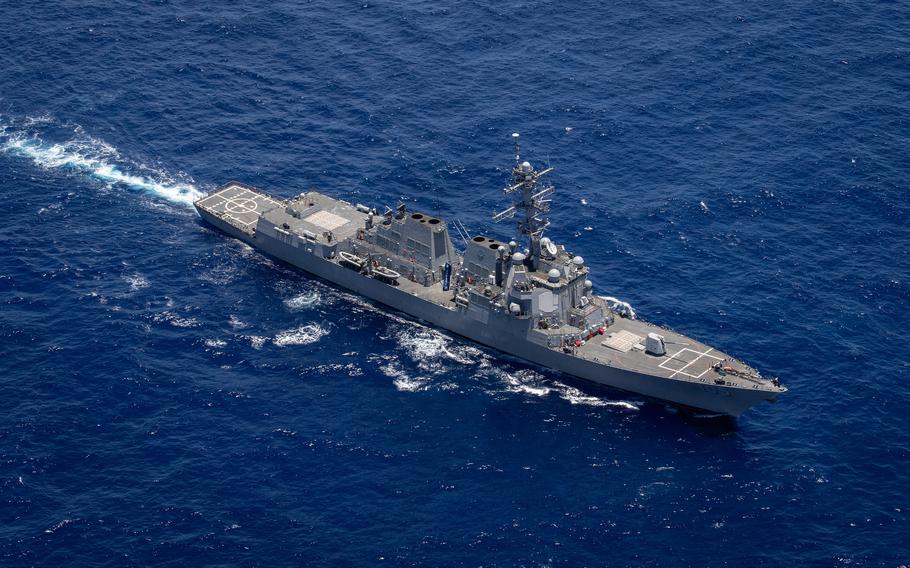 China's military has complained about the latest transit of the Taiwan Strait by foreign warships, this time involving U.S. and Canadian vessels.
The guided-missile destroyer USS Dewey and the frigate HMCS Winnipeg sailed through the contested waterway last week, Cmdr. Hayley Sims, a spokeswoman for the U.S. 7th Fleet at Yokosuka Naval Base, Japan, said by phone Monday.
The transits happened Thursday and Friday, she said in a follow up email.
"Dewey's and Winnipeg's transit through the Taiwan Strait demonstrates the commitment of the United States and our allies and partners to a free and open Indo-Pacific," she said in the email. "Cooperation like this represents the centerpiece of our approach to a secure and prosperous region."
China "sent naval and air forces to track and monitor the two warships in the whole course," Senior Col. Shi Yi, spokesperson for the Eastern Theater Command, was quoted as saying Sunday by the official China Military website.
The "US and Canada made provocations with odious nature and stirred up troubles in cahoots, which seriously jeopardized the peace and stability across the Taiwan Strait," according to Shi's statement. "Taiwan is a part of China. Troops of the [People's Liberation Army] Eastern Theater Command are staying on high alert at all times, and ready to resolutely counter all threats and provocations."
China recently conducted beach-storming drills that appeared to simulate an invasion of Taiwan, which China regards as a rebellious province. In a separate demonstration, nearly 150 Chinese warplanes flew into Taiwan's air defense identification zone over a four-day period beginning Oct. 1.
Last week's strait transit was the 10th by a U.S. warship this year. The guided-missile destroyer USS Barry, homeported at Yokosuka, sailed through the waterway on Sept. 17.
Chinese officials also complained after the HMS Richmond, part of the Royal Navy carrier strike group lead by the HMS Queen Elizabeth, steamed through the contentious, 110-mile-wide waterway on Sept. 27.