US troops deployed to Taiwan to train local forces amid growing tensions with China, report says
by
Corey Dickstein
Stars and Stripes
October 7, 2021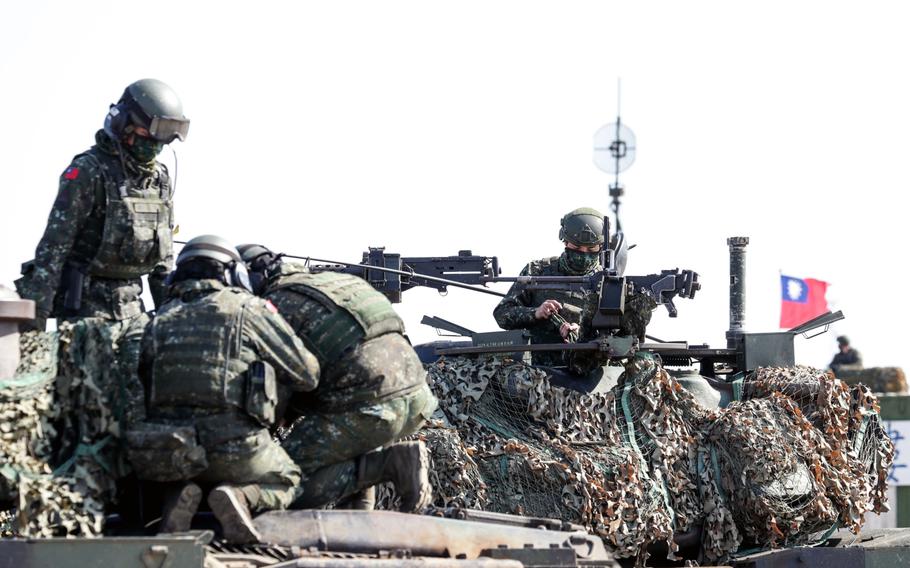 U.S. troops have been deployed to Taiwan for at least the last year to train local military forces to bolster the island's defenses amid increasing tensions with mainland China, The Wall Street Journal reported Thursday.
Some two dozen U.S. special operators and a small contingent of Marines are deployed in Taiwan, according to the newspaper, which cited unnamed U.S. officials. The special operators have worked with Taiwanese ground troops and the Marines have worked with maritime forces on small-boat operations, according to the Journal.
The Pentagon neither confirmed nor denied the report. A spokesman said American support for Taiwan has remained consistent and is grounded in ensuring "peace, security and stability in the Indo-Pacific — including in the Taiwan Strait."
"I don't have any comments on specific operations, engagements, or training, but I would like to highlight that our support for and defense relationship with Taiwan remains aligned against the current threat posed by the People's Republic of China," Pentagon spokesman John Supple said in a statement Thursday after The Wall Street Journal report was published. "We urge Beijing to honor its commitment to the peaceful resolution of cross-Strait differences."
The news report comes as China has increased its pressure on Taiwan and also invested heavily in recent years to modernize its military. Taiwanese officials said this week that nearly 150 Chinese military planes, including fighter jets and bombers, passed through Taiwan's air defense zone between Friday and Monday.
"I would note, the [People's Republic of China] has stepped up efforts to intimidate and pressure Taiwan and other allies and partners, including increasing military activities conducted in the vicinity of Taiwan, East China Sea, and South China Sea, which we believe are destabilizing and increase the risk of miscalculation," Supple said.
Taiwan Defense Minister Chiu Kuo-cheng on Wednesday warned reporters in Taipei that relations with China had reached a 40-year low and Beijing could be preparing to invade Taiwan by 2025.
While Taiwan has its own democratic government, Beijing considers it a renegade province that must, and eventually, be unified politically with the mainland, perhaps by force.
The deployment of American forces to Taiwan is on a rotational basis, meaning troops regularly cycle in and out of Taiwan to replace one another, The Wall Street Journal reported. While the U.S. presence is small, it is designed to boost Taiwanese confidence that it could fend off Chinese aggression, according to the newspaper.
The White House declined comment on the report. It announced Wednesday that President Joe Biden and Chinese President Xi Jinping had agreed to hold a virtual summit to address issues between the two nations before the end of the year.
Biden and Xi said earlier this year that they had agreed to abide by the "one China" policy forged in the 1970s, in which the United States officially recognizes China instead of Taiwan. That pact lets the U.S. unofficially support Taiwan, including with arms sales to defend itself.
In May, Christopher Maier, assistant secretary of defense for special operations and low-intensity conflict, told senators during his confirmation hearing for that position that the United States should strongly consider deploying American troops to improve Taiwan's defenses.
Taiwanese media last year reported some American forces, including Green Berets and Navy SEALs, had participated in training events on Taiwan in recent years, but those deployments were never confirmed by the Pentagon, which has not acknowledged the presence of American troops on the island for 40 years as part of the "one China policy."
Some of the operations that American forces are conducting in Taiwan might be classified, but the Pentagon also did not seek to disclose their presence there because of political sensitivities with China, especially amid the growing tensions in the region and between Beijing and the United States, the U.S. officials told The Wall Street Journal.