'Breathtaking expansion': US Strategic Command leader expects further revelations of China's nuclear weapons advancement
by
John Vandiver
Stars and Stripes
October 18, 2021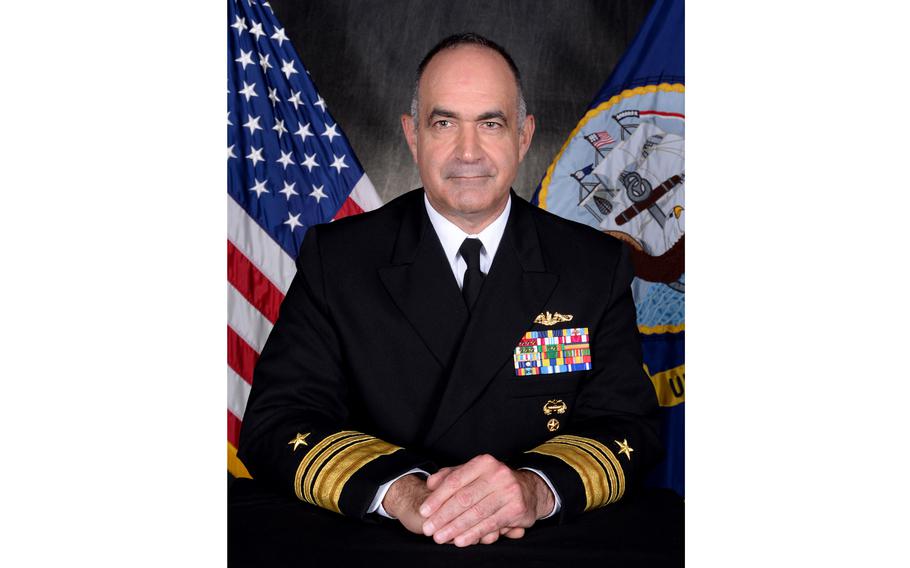 STUTTGART, Germany — China's nuclear capability is advancing at a breathtaking pace, U.S. Strategic Command's top officer said Monday following a report that Beijing tested a nuclear-capable hypersonic missile that orbited the Earth before closing on its target.
"It almost seems like we can't go through a month without some new revelation coming about China," said Adm. Charles Richard, who heads the U.S. nuclear weapons mission. "I am not surprised at reports like this. I won't be surprised when another report comes next month."
Richard is in Europe this week for talks with U.S. Africa Command's Gen. Stephen Townsend and U.S. European Command's Gen. Tod Wolters, who also serves as NATO's supreme allied commander.
His visit comes amid a report showcasing the kind of military advances that Richard refers to as China's "strategic breakout," which, when combined with Russia's nuclear capabilities, has the U.S. in "uncharted waters."
Never before has the U.S. had to simultaneously deter two potential adversaries with such capable nuclear arsenals, Richard said in an interview with Stars and Stripes.
On Saturday, Financial Times reported that China recently carried out a hypersonic missile test that U.S. intelligence officials said took them by surprise.
The report, citing five unidentified U.S. government sources, said the Chinese launched a rocket carrying a hypersonic glide vehicle that flew through low orbit.
Although the weapon missed its target by about 25 miles, the test revealed Beijing's dramatic progress in hypersonic weaponry.
Richard declined to confirm the details in the Financial Times report. But the "breathtaking expansion of strategic and nuclear capabilities" means that "China can now execute any possible nuclear employment strategy," he said.
During the Cold War, China had a nuclear posture of minimum deterrence, which allowed the U.S. to focus almost exclusively on the nuclear threat posed by the Soviet Union. But China's economic rise has given the country the capabilities to meet its global ambitions.
Some of China's conventional capabilities have been on display in recent weeks, including in the periphery of Taiwan, where Chinese fighter planes have ramped up incursion flights into Taiwanese air defense zones. Such moves have heightened concerns about a possible conflict there.
"In my mind, (the Chinese) are building a military that is capable of coercion, which requires us to have a strategy to be able to stand up to that coercion or defend the Indo-Pacific and the broader world order that the U.S. and our allies value," Richard said.
Russia presents problems as well, he said. Like China, the Kremlin has made advances in hypersonic weaponry.
But in Europe, security analysts have also worried about the potential role for low-yield nuclear weapons, which could be deployed by Moscow in the event of conflict with the West.
The idea of "escalate to deescalate," which entails a small nuclear strike by Russia on a non-nuclear NATO member in an attempt to get allies to back down or risk wider nuclear war, must be taken seriously, Richard said.
"It's their doctrine," Richard said. "Russia is very clear in terms of what their policies are. I take it at face value … that is a vexing deterrent challenge."
Against this backdrop, the United States is undertaking its own nuclear assessment. President Joe Biden launched a posture review due early next year that will lay out priorities for modernizing the U.S. nuclear arsenal.
The strategy outlined by the Defense Department also will examine how the U.S. can reduce the role of nuclear weapons in its national security strategy while maintaining its strategic deterrent.
Richard said he is confident the review will be "clear-eyed" about the threats. But he also said he gets apprehensive when he hears arguments in think tank circles against upgrading the nuclear arsenal based on an assertion that mutual assured destruction makes the prospect of such conflict a virtual impossibility.
"Russia and China are developing capabilities," Richard said. "And you have to ask yourself why are they doing that if they are equally dismissive of their utility."