US military in Japan reports 75 new coronavirus cases as Tokyo's count continues to decline
by
Joseph Ditzler
Stars and Stripes
August 31, 2021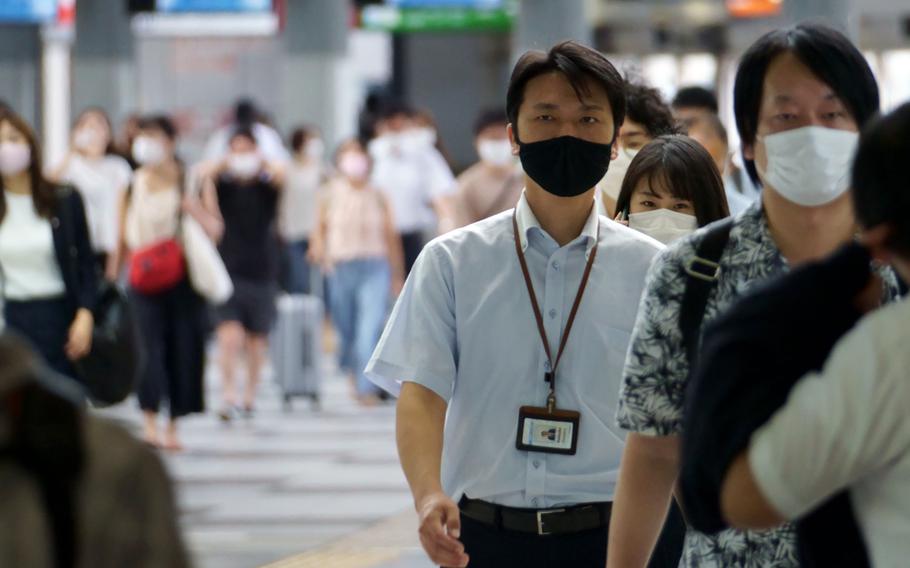 TOKYO – U.S. military installation across Japan announced 75 new cases of the coronavirus respiratory disease on Tuesday, mostly at Marine Corps bases on Okinawa.
Meanwhile, Japan's capital city recorded a ninth consecutive day of a comparative decline in new cases of coronavirus, evidence the city's fifth pandemic wave may be cresting.
Another 2,909 people tested positive for the virus in Tokyo, according to public broadcaster NHK, which cited the metropolitan government. That's 1,311 fewer cases than a week prior, according to metro government data. Another 15 people died Tuesday, NHK reported.
Forty of the U.S. military's cases were discovered since Monday within the Marine Corps community on Okinawa, according to a Facebook post by Marine Corps Installations Pacific. The command provided no further information.
Another 29 have surfaced since Friday at Yokosuka Naval Base, 28 miles south of central Tokyo. They consist of 12 unimmunized and 17 immunized individuals, according to a base news release.
Of the unimmunized, seven are affiliated with the Navy: five developed COVID-19 symptoms, one turned up in a medical screening and one was discovered during contact tracing. The remaining five are base employees: one was a close contact and four had fallen ill.
Of the immunized, 15 are associated with the Navy: five turned up in medical screenings and 10 fell ill with COVID-19 symptoms. Two are base employees who became ill.
The base has 55 active cases.
Nearby Naval Air Station Atsugi had one individual test positive Tuesday while in restricted movement, according to a base news release. Seven people with COVID-19 are being monitored there.
Marine Corps Air Station Iwakuni, south of Hiroshima, has had five people infected with COVID-19 since Monday, according to a news release Tuesday. Three had been in restricted movement and two were not. The base provided no further information.
Sasebo Naval Base commander Capt. David Adams ordered a ban on off-base drinking anywhere on Kyushu Island by the base population effective Wednesday. The ban is in effect until the end of a local state of emergency Sept. 12.
"COVID-19 remains a serious public health emergency and we must continue to learn to live and thrive in this environment," Adams wrote in a base Facebook post Tuesday. "We have made great progress over the last several months as we have learned how to coexist with this threat."
The active cases of COVID-19 on the base, nine as of Monday, "are directly or indirectly associated" with a restaurant or bar where alcohol was served, the commander wrote. "This number will most likely grow in the coming weeks due to how easily the COVID-19 Delta variant is being transmitted if we do nothing."
The delta variant is widespread in Japan and considered highly contagious.
Adams imposed no curfew or other restrictions on off-base dining and group size, and dining and drinking on base are unaffected. Adams wrote that he would re-evaluate the drinking ban Sept. 12.
Yokota Air Base in western Tokyo on Tuesday clarified parts of the base commander's order Friday that prohibits unvaccinated service members from leaving the installation.
Children's programs at Yokota may continue as planned; however, children over age 2 must wear masks and practice social distancing when possible, according to an email to Stars and Stripes from base spokesman Capt. Stuart Thrift.
Spouses with an official dependent ID are permitted on Yokota regardless of vaccination status. For an unvaccinated spouse without an ID, the service member must request an exception-to-policy letter from the squadron commander or equivalent. The exception letters are to be used only when conducting official business on base, Thrift wrote.
On Okinawa, where the bulk of U.S. forces are concentrated, the prefectural Department of Public Health and Medical Care reported another 554 new cases Tuesday.
Japan reported another 13,625 newly infected people Monday, and 47 deaths, according to the Johns Hopkins Coronavirus Resource Center. Nearly 45% of the population, or 56.7 million people are fully vaccinated.
Stars and Stripes reporter Mari Higa contributed to this report.