US military in South Korea reports its fastest surge of new coronavirus cases, 40 in two days
by
David Choi
Stars and Stripes
August 31, 2021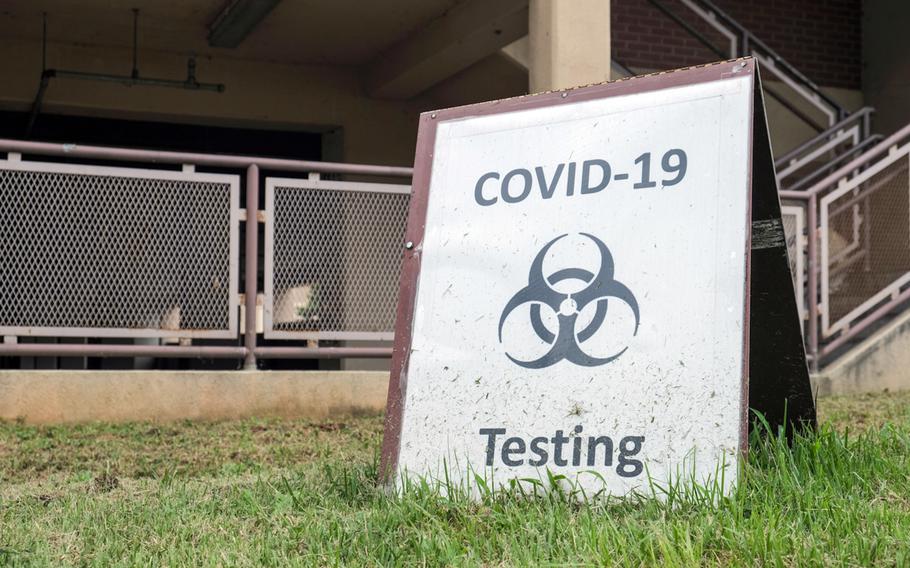 CAMP HUMPHREYS, South Korea — U.S. Forces Korea on Tuesday announced the fastest surge of new coronavirus cases among its personnel, surpassing a record set in July.
Forty people, including U.S. military family members and South Korean contractors, tested positive for COVID-19 on Thursday and Friday, the command said in a news release. The previous record was 37 infections over a three-day span between July 5 and 7.
Fifty-one USFK personnel tested positive between Aug. 23 and Friday, which is, so far, fewer than the previous record of 58 cases during a weeklong period in July.
USFK releases its number of COVID-19 cases at irregular intervals throughout the week. The figures only represent personnel who were already stationed in South Korea and do not include recent arrivals into the country.
Nearly half of the recent cases are service members at Osan Air Base, roughly eight miles north of Camp Humphreys, the largest U.S. military base overseas. Nineteen of the 40 positive cases originated at the air base, while two cases were reported at Humphreys.
The remaining cases include one contractor and 18 service members on temporary duty in South Korea. USFK did not specify where those individuals are posted; the command "does not publicly discuss specific details about confirmed cases," according to a statement to Stars and Stripes on Tuesday.
All of the infected personnel were moved to isolation buildings at Humphreys, Osan or a South Korean medical facility.
Osan came under scrutiny following a party at an enlisted club on Aug. 21. Video footage reviewed by Stars and Stripes showed dozens of military personnel drinking and dancing at the club-like event without masks or regard for USFK's social-distancing policy. According to that policy, service members in indoor common areas on military facilities are required to wear a mask.
USFK on Tuesday said it "remains at a high level of readiness" with over 80% of its personnel being fully vaccinated and less than 1% of its active-duty force confirmed positive.
The command, which is responsible for about 28,500 U.S. troops in South Korea, updated its travel guidelines Saturday. The new regulations allow troops to travel more freely throughout the country but bans them from entering a few "hotspot" districts that are defined by the number of COVID-19 cases there over a weeklong period.
Meanwhile, the Korea Disease Control and Prevention Agency on Tuesday reported 1,372 new cases in the country, down from a daily high of about2,221. The country has been in a daily downtrend for new cases for the last six days.