North Korea warns of 'preemptive strike capabilities' following US-South Korea military drills
by
David Choi
Stars and Stripes
August 31, 2021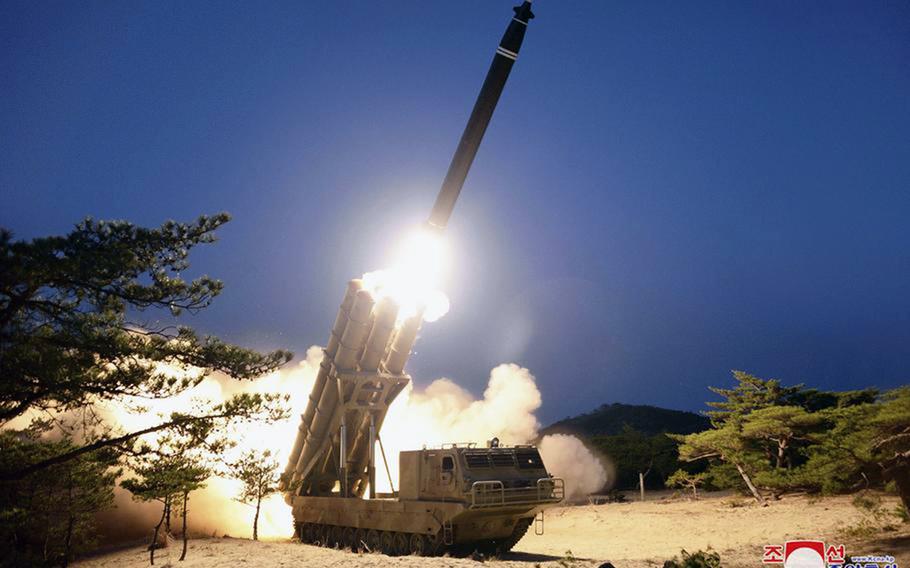 CAMP HUMPHREYS, South Korea — North Korean officials have railed against a recent joint military exercise between the U.S. and South Korea, calling it "the most vivid expression" of a "hostile policy."
The Aug. 16-26 drills consisted of computer simulations and a smaller number of troops than the thousands of ground forces used in large-scale field exercises of the past.
North Korea's Foreign Ministry frequently complains about the allies' military exercises and on Saturday alleged the most recent drill was "fueling up the instability of the situation."
The drills were "the most vivid expression of the U.S. hostile policy against [North Korea], which is aimed at stifling our state by means of force," according to the ministry statement.
North Korea may "continue bolstering the national defensive power and preemptive strike capabilities which can strongly contain and eliminate the outside threats," the statement reads.
The statement comes a day after the United Nations' nuclear watchdog issued a report indicating the regime restarted its Yongbyon nuclear reactor in July. The International Atomic Energy Agency said North Korea's "nuclear activities continue to be a cause for serious concern" and described the evidence as "deeply troubling."
The agency's findings corroborate an analysis from the Center for Strategic and International Studies think-tank in April that said the regime's activity "is likely an indicator of a new reprocessing campaign designed to expand North Korea's inventory of fissile material for nuclear weapons."
President Joe Biden is aware of the UN's report and is "closely coordinating" with allies, White House press secretary Jen Psaki said on Monday.
"This report underscores the urgent need for dialogue and diplomacy so we can achieve the complete denuclearization of the Korean Peninsula," Psaki said at a press briefing. "We continue to seek dialogue with [North Korea] so we can address this reported activity and the full range of issues related to denuclearization."
South Korea's Ministry of Unification mentioned Pyongyang's statement during a press briefing Monday and said it "will thoroughly prepare for all possibilities without forejudging the attitude of the North."
The Unification Ministry will "keep trying to rebuild trust and reinstate relations between South and North Korea as early as possible," spokeswoman Lee Jong Joo said in the briefing.
Stars and Stripes reporter Yoo Kyong Chang contributed to this report.