Endless coronavirus summer sets another Tokyo record; US military in Japan reports 55 cases
by
Joseph Ditzler
Stars and Stripes
August 13, 2021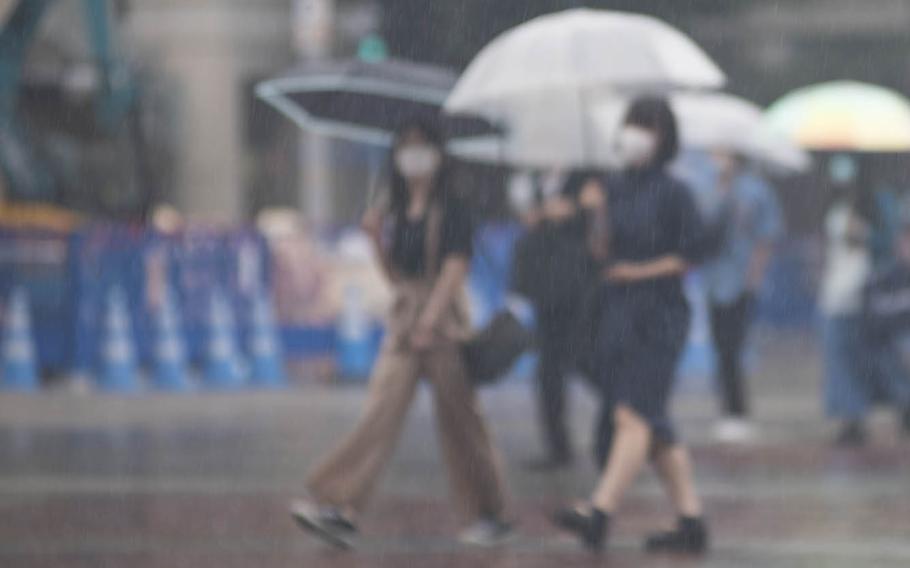 TOKYO — The summer coronavirus surge in Japan's capital city broke 5,000 again Friday, setting another one-day record for newly infected people.
The Tokyo Metropolitan Government reported 5,773 people had tested positive Friday, the second time new cases exceeded 5,000 on one day, according to public broadcaster NHK. The city reached 5,042 new coronavirus cases on Aug. 5. New infections have surpassed 4,000 on eight of the past 10 days in Tokyo, according to metro government data.
More than 264,000 people have contracted the virus in the city during the pandemic, and more than 2,325 have died, according to the metro government. The number of severely ill people in Tokyo, at record highs for four days, reached 227 on Friday, according to NHK.
U.S. military bases in Japan ended the working week with 55 new cases of COVID-19, the coronavirus respiratory disease.
Japan has reported 1.09 million cases since March 2020 and 15,371 deaths, according to the Johns Hopkins Coronavirus Resource Center. Just over 36% of the nation's population, or 46 million people, are fully vaccinated.
Tokyo and the surrounding prefectures of Chiba, Saitama and Kanagawa, along with Okinawa and Osaka, are in a state of emergency through the end of August. Bars and restaurants are encouraged to refrain from alcohol sales and close between 8 p.m. and 5 a.m. Residents are urged to avoid unnecessary travel.
Meanwhile, Yokosuka Naval Base, homeport of the U.S. 7th Fleet south of Tokyo, in a news release Friday said 20 people had tested positive for COVID-19 since Tuesday.
The base has 47 people under observation. As of Tuesday, 50% of COVID-19 cases on the base were occurring among immunized people, base spokesman Randall Baucom told Stars and Stripes on Friday.
Kanagawa prefecture, where the naval base is located, is now considered an area of higher risk, he said. Increased restrictions for the base population include no indoor dining, along with a ban on bars, nightclubs, festivals, indoor sporting events and similar activities, according to an order signed Thursday by base commander Capt. Rich Jarrett.
Among new cases the base reported Friday, six unvaccinated and 10 vaccinated individuals fell ill with COVID-19 symptoms. One vaccinated person tested positive during a medical screening; another vaccinated person was discovered during contact tracing.
Two unvaccinated base employees displayed symptoms of COVID-19 and tested positive, the base said.
Baucom said that active cases among immunized personnel are a concern, but the primary concern is the overall infection rate. The threshold for designating an area of higher risk is 100 cases per 100,000 people, he said.
"We cannot distinguish and protect the community if we only look at the number of cases on base; it gives a false perspective of the danger," he said. "Thirty-five cases among 26,000 personnel on base is nowhere near 100 cases per 100,000 people, but that's not an accurate way to assess the risk."
Yokota Air Base, the headquarters in western Tokyo of U.S. Forces Japan, reported four people tested positive between Aug. 7 and Friday.
Two were in restricted movement after arriving in Japan from the United States. The others were "identified and quarantined" by base public health authorities, the base said in a weekly roundup posted on its homepage. Yokota is monitoring eight cases.
On Okinawa, Kadena Air Base reported another 31 individuals tested positive between Aug. 7 and Friday, for a total 111 under observation, according to a weekly update on the base homepage. The base provided no further information.
Active COVID-19 cases in Okinawa prefecture are at an all-time high, Marine Corps Installations Pacific said in a Facebook post Friday.
"Prior to the ongoing spike in cases, 2,756 was the all-time high reached in early June. Now there are more than 5,000," according to the post.
The prefecture reported 721 new coronavirus cases Friday, a day after reaching a record high of 732, according to the prefectural Department of Public Health and Medical Care.
The department said 22 of 36 hospital beds reserved for severely ill COVID-19 patients are filled. Another 657 of 810 beds for less severe patients are also filled.
On Thursday, Gov. Denny Tamaki at a news conference said the prefecture is in a crisis that has yet to reach its peak.
He announced a goal of vaccinating 50% of the island population with the first dose of a two-shot vaccine by Aug. 31 and 70% by the end of October.
Stars and Stripes reporters Mira Higa and Alex Wilson contributed to this report.