US military commanders curtail travel to Tokyo as COVID-19 wave shows no slack
by
Joseph Ditzler
Stars and Stripes
July 30, 2021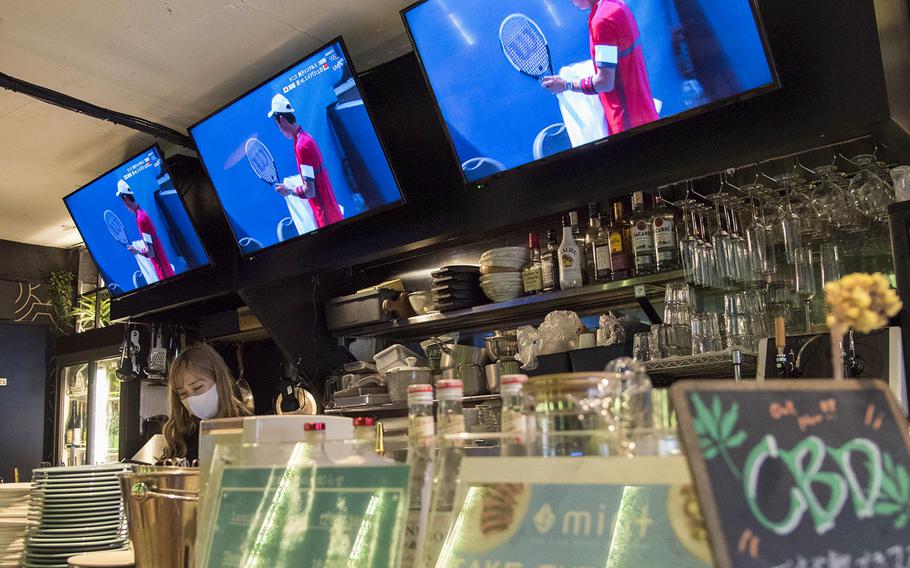 TOKYO — Japan's capital city, host to the Summer Olympics, reported another 3,300 new coronavirus cases Friday, as U.S. military commands began restricting their populations' access to the inner city.
Some U.S. commanders, alarmed at the all-time high rate of new infections in Tokyo, put the city off-limits altogether, even for fully vaccinated individuals. U.S. bases in Japan reported 20 new coronavirus patients on Friday.
Tokyo is experiencing its fifth and most extreme coronavirus wave, in sheer volume of new cases. It reported its one-day pandemic high, 3,865 new patients, on Thursday.
Friday's tally exceeded by 1,941 the number reported a week prior, according to public broadcaster NHK. More than 3,000 people are hospitalized, 81 of them in serious condition, according to data from the Tokyo Metropolitan Government.
At the Tokyo Olympics another 27 people associated with the games, including three foreign athletes, tested positive Friday, Kyodo News reported. The Olympic total is 220 since July 1, according to the news service.
Prime Minister Yoshihide Suga was primed Friday to declare states of emergency in several more prefectures in addition to Tokyo and Okinawa, according to The Associated Press.
A government panel approved putting Tokyo's neighboring prefectures of Saitama, Kanagawa and Chiba under an emergency from Monday until Aug. 31, AP reported. The headquarters for the U.S. Navy and Army and the homeport of the 7th Fleet are in Kanagawa.
Osaka, too, will fall under the declaration, which will extend the emergencies in Tokyo and Okinawa until the end of August, according to AP.
At Yokota Air Base, the headquarters of U.S. Forces Japan in western Tokyo, the commander ordered the central wards of Tokyo off-limits to anyone affiliated with base.
"Due to significant increases in the number of COVID-19 positive cases within Japan, travel to the Tokyo metropolitan area and mainland Okinawa is prohibited for all personnel," said the order signed by Col. Andrew Campbell.
Only stays at the New Sanno Hotel, a U.S. military property in central Tokyo, are permitted, along with travel through the city or, with permission from the appropriate authority, travel for mission-essential duties, the order states.
Yokota on its official website Friday reported six new cases of COVID-19 since Tuesday. Two were still in restricted movement after arriving in Japan, three surfaced during contact tracing and one was "identified and quarantined" by base public health authorities.
Yokosuka Naval Base, 38 miles south of central Tokyo, reported five individuals tested positive after falling ill with symptoms of COVID-19, the coronavirus respiratory disease.
One person was immunized and two are unimmunized people affiliated with the Navy and two are unimmunized base employees, according to a Facebook post by the base Friday. The naval base has 19 patients under medical supervision.
U.S. Army Japan, headquartered at Camp Zama 26 miles from central Tokyo, updated its public health order on Thursday to put central Tokyo off-limits for all activity except public transportation by vaccinated individuals. Leave and liberty in the area requires approval from a colonel or the equivalent, according to a post on the Army's Facebook page.
Misawa Air Base, 405 miles north of Tokyo, updated its coronavirus restrictions Tuesday to prohibit its population traveling through Tokyo and Okinawa.
Marine Corps Air Station Iwakuni, 535 miles west of Tokyo, left its travel restrictions unchanged but reported one new case of COVID-19 on Friday, according to a news release.
Sasebo Naval Base, on Kyushu Island, on Wednesday put Tokyo and Okinawa in the "red zone," and off-limits for all its personnel. Anyone who finds themselves in a red zone, according to a post on the Sasebo Facebook page, should leave that area without delay.
On Okinawa, the Marine Corps reported another eight people had tested positive, but provided no further information, according to a Facebook post by Marine Corps Installations Pacific.
Okinawa prefectural Gov. Denny Tamaki continued to warn the population there to stay home and get vaccinated as new cases on the island, fueled by the delta variant, set new records.
"If we do not take effective measures, we are going to see more than 1,000 cases a day," he said at a Thursday news conference. The prefecture that day reported a one-day record of 392 new cases.
Stars and Stripes reporter Mari Higa contributed to this report.
Correction
This story has been corrected to show that among the five individuals who tested positive at Yokosuka Naval Base, one person was immunized and two are unimmunized people affiliated with the Navy.