'We will not flinch when our interests are threatened': Austin takes aim at China in Singapore
by
David Choi
Stars and Stripes
July 27, 2021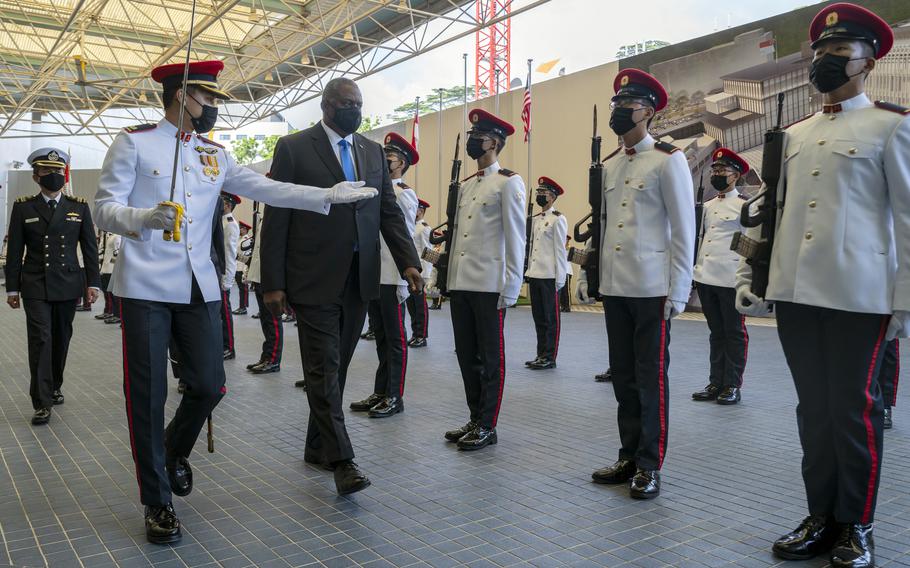 Defense Secretary Lloyd Austin on Tuesday stressed the "strategic imperative of partnership" in confronting challenges in the Indo-Pacific and said the United States and its allies "will not flinch when our interests are threatened" by China.
Austin, in his remarks during the International Institute for Strategic Studies' Fullerton Lecture in Singapore, said regional conflicts are not isolated incidents, and that ensuing conflicts affect the broader global landscape.
"Today, amid this merciless pandemic, we stand together at another hinge moment, and we face another choice between the power of partnership and the dangers of division," he said. "I am confident that — through our collective efforts — the Indo-Pacific will again rise to the challenge. And America will be right at your side, just as an old friend should."
The defense secretary said he believed the success of countries in Southeast Asia depend upon "common principles," which include "a profound commitment to transparency" and "a dedication to freedom of the seas."
Austin, taking aim at China, said "this region has witnessed actions that just don't line up with those shared principles."
Referring to territorial clashes in the South China Sea and the Senkaku Islands, Austin said: "Unfortunately, Beijing's unwillingness to resolve disputes peacefully and respect the rule of law isn't just occurring on the water.
"We have also seen aggression against India, destabilizing military activity and other forms of coercion against the people of Taiwan, and genocide and crimes against humanity against Uyghur Muslims in Xinjiang."
President Joe Biden's administration has prioritized the economic and political threats posed by China, which he described in March as having an "overall goal to become the leading country in the world, the wealthiest country in the world and the most powerful country in the world."
At the time, Biden said, "that's not going to happen on my watch, because the United States is going to continue to grow and expand."
The Defense Department adhered to Biden's policy goal through the creation of a special China Task Force in June to reassess the U.S. military strategy on China and provide classified recommendations to military leaders.
Following his visit to Singapore, the first trip to Southeast Asia by a Biden cabinet member, Austin is scheduled to meet with officials in Vietnam and the Philippines. Deputy Secretary of State Wendy Sherman was in China earlier this week, meeting with Chinese Vice Foreign Minister Xie Feng.
Austin in his speech said the U.S. does "not seek confrontation," but "we will not flinch when our interests are threatened."
"You know, big powers need to model transparency and communication," he said. "And we hope that we can work together with Beijing on common challenges, especially the threat of climate change."
While Austin highlighted some of China's behavior, he placed a greater emphasis on a reassuring message to allies in Southeast Asia, according to Greg Poling, a senior fellow at the Center for Strategic and International Studies.
Austin's speech was "particularly reassuring … in Singapore and Indonesia, who have been most concerned about what they see as a lack of attention from the administration," Poling said in an interview with Stars and Stripes.
Poling noted that many countries in Southeast Asia had been "deeply uncomfortable with the level of tension in the US-China relationship," particularly as it transcended beyond security issues and affected the region's economy.
China's Ministry of Foreign Affairs appeared to put the U.S. on notice during Austin's tour of Southeast Asia earlier Tuesday.
"The United States shall not even try to obstruct or ever interrupt China's development," the ministry said in several statements on Twitter. "The United States must not violate China's national sovereignty, let alone undermine China's territorial integrity."