Air Force weather squadron supporting Army in South Korea adds 'combat' to its name
by
David Choi
Stars and Stripes
June 1, 2021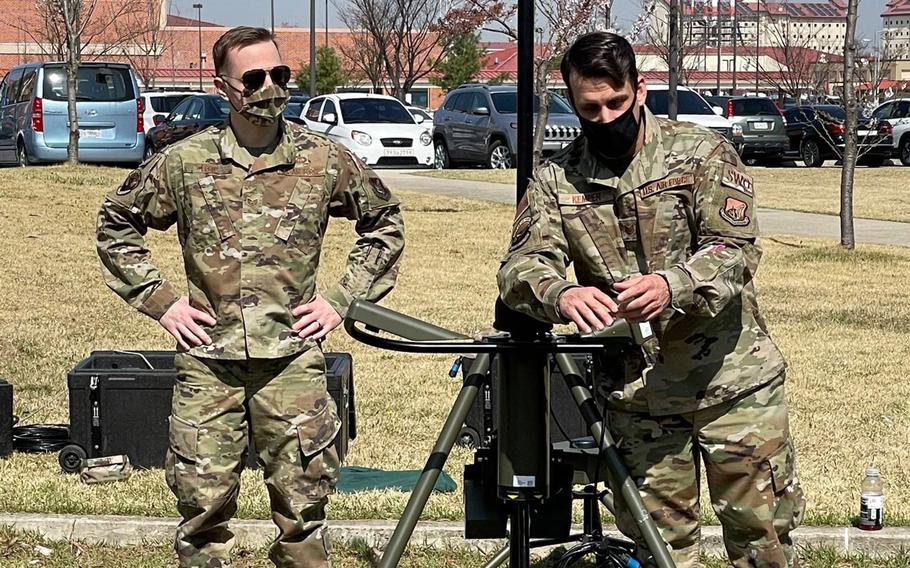 CAMP HUMPHREYS, South Korea — One of the Air Force squadrons responsible for measuring the weather on the Korean Peninsula added a new "combat" designation to its title Tuesday, signifying its unique role in supporting Army units.
The 607th Combat Weather Squadron at Camp Humphreys joins a short list of Air Force units whose primary duty is to provide Army assets with data on weather fluctuations.
"This signifies and differentiates what we do, versus what the traditional Air Force weather squadrons do," the commander of the 607th, Lt. Col. Kevin Bourne, told Stars and Stripes on Sunday. "That name change basically puts us into a bracket of our own and really gives us the identity of working with, living with, and supporting Army operations."
"It sets us apart and really gives us our own identity," he said.
The 607th, unlike traditional weather squadrons in the Air Force, is expected to seamlessly embed with and support Army units. This requires the airmen to receive additional training on land navigation, hand-to-hand combat and weapons, Bourne said. The Army does not have a dedicated weather forecaster career field and requires the support of units like the 607th.
The squadron's roughly 60 service members use portable meteorological systems to measure the weather throughout South Korea, which then makes its way into both Army ground and aviation assets' risk assessments.
"Everything requires planning and weather is a part of that," said Master Sgt. Sean Reynolds, a weather forecaster. "Before pilots can take off, they need to get a valid weather brief. Winds, visibility and thunderstorms make risk assessments.
Accurately measuring the peninsula's weather remains an important task, particularly for aviation units, Reynolds added. The mountainous terrain isolates inclement weather, such as tropical storms, which aviators use in their flight planning.
The 607th also tracks and issues warnings on South Korea's yellow dust, which are fine particles that may cause respiratory problems.
"It's a great feeling to be on this side of change," Bourne said, referring to the rarity of name changes in the military. "When people hear the name of our squadron, they'll automatically be able to identify where we are and what we're doing."
Twitter: @choibboy