For Memorial Day, the US Army Field Band evokes feelings of love and loss
by
John Kelly
The Washington Post
May 30, 2021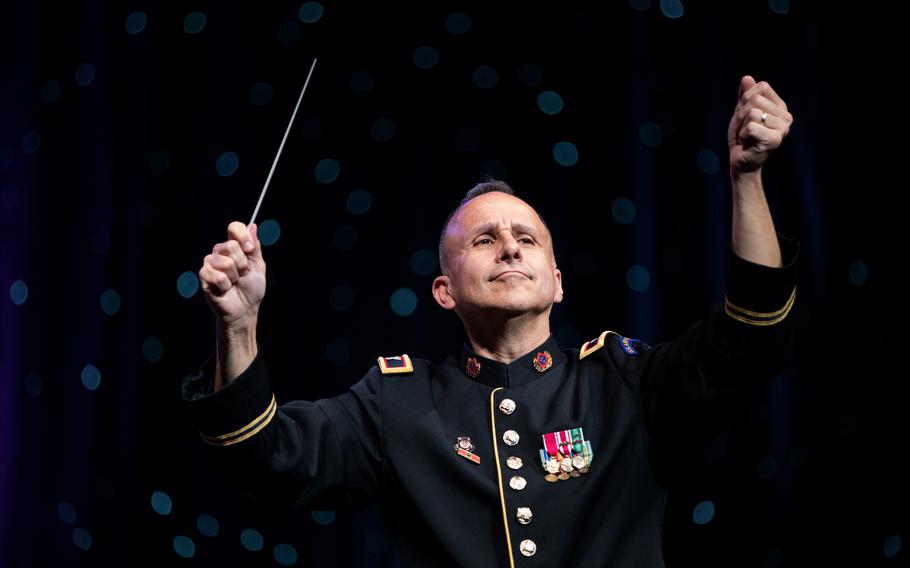 It is Col. Jim Keene's job to think about sound. Not the noise and din of our daily life, but the sound of music and the almost magical way it can enter our ears and lodge in our hearts.
Keene, 55, is the commander of the U.S. Army Field Band.
"We obviously use the power of music to evoke feelings that are absolutely appropriate for Memorial Day," he said.
Those are feelings of loss but they are also feelings of love, sacrifice and patriotism.
"Memorial Day is a wonderful opportunity to show how much the Army cares about its people — because, in the end, the Army and the nation are people," Keene said. "We're all on the same team. And in the Army we ask our people to do some really tough things."
There is nothing more profound, Keene said, than to pause the noise of the world and remember those who were willing to give everything they had in service to their country.
"In our position in the Army Field Band, it's humbling and it's a huge honor to serve in that role," he said. "We tell the story of those who are not here to tell it."
Because of the coronavirus pandemic, that has been challenging. The Fort Meade, Md.-based band is celebrating its 75th anniversary. Typically, it would be performing for audiences around the country. Instead, it has had to turn to social media. It posts videos on its website — armyfieldband.com — and on its Facebook and YouTube pages.
Among those is a video narrated by Maj. Gen. Omar Jones IV, commanding general at the Military District of Washington. Playing under images of the Vietnam Veterans Memorial, Arlington National Cemetery and the Tomb of the Unknowns is an evocative piece of music written by the Field Band's Master Sgt. Adrian Hernandez and performed by Staff Sgt. Tiffany Hoffer on trumpet and Staff Sgt. Grace Bauson on harp. Barely two minutes long, the piece just sounds right.
Music is a fascinating thing. At its most basic, it's nothing more than pressure waves moving through the air. How is it able to affect us so?
Said Keene: "The most critical piece of being a musician is to understand how the audience feels and to then, frankly, make them feel something — and to know what it is that you want to make them feel. What an incredible power that is to use. We think about it all the time as we are evoking emotions."
For Keene, that sometimes involves picking specific music for specific purposes. In times of contemplation, that can mean Adagio for Strings by Samuel Barber or Edward Elgar's "Nimrod," compositions with a plangent feel.
"A diverse nation needs diverse music," Keene said. "On some occasions you go to hymns. A song like 'Amazing Grace' can evoke some very powerful Memorial Day meanings."
So can more contemporary songs. The 130-person Field Band comprises several performing groups, from orchestra to big band ensemble, jazz group to a country outfit called the Six-String Soldiers.
"In a lot of popular music, lyrics are really telling the story," Keene said. The repertoire of Six-String Soldiers includes a song called "Heroes" written by a Marine named Sal Gonzalez.
"The singer carries the day," said Keene. "The punchline of that song is 'Heroes ain't the ones who make it home.' It gives you this poetic introspection."
The U.S. Army Field Band recently posted to YouTube a version of the Eric Clapton song "Tears in Heaven" sung by Staff Sgt. Kyra Dorn, with Master Sgt. Mike Sears on guitar, Sgt. 1st Class Joel Ciaccio on bass and Staff Sgt. Andy Emerich on cajón.
Clapton co-wrote the song in 1991 after the accidental death of his 4-year-old son, Conor.
"It represents loss on a very personal level," Keene said.
On Memorial Day, the job of the musicians in the U.S. Army Field Band is to help us remember those who made the ultimate sacrifice.
Keene knows those words — to make the ultimate sacrifice — can seem trite from overuse.
"That's why the Army needs Army bands," he said. "It needs to give the words meaning."
---
---
---