Memorial Day ceremonies in Europe to feature flyovers but will only be available online to public
By
Stars and Stripes
May 28, 2021
---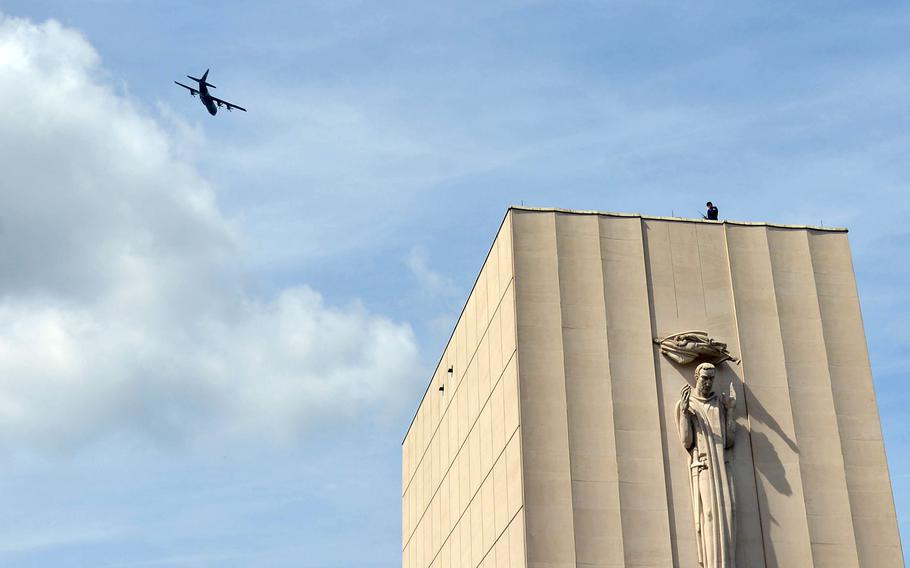 U.S. military airplanes will perform flyovers at Memorial Day ceremonies in Europe streamed online, but the events at ceremonies remain closed to the public again this year.
The American Battle Monuments Commission will stream two prerecorded Memorial Day ceremonies online Monday afternoon in Europe, featuring remarks from U.S. military leaders and band performances.
"Memorial Day provides a special opportunity to honor [fallen American service members'] courage in combat and selfless service," Gen. Tod D. Wolters, head of U.S. European Command, said in a statement.
Air Force C-130 aircraft from Ramstein, Germany, KC-135 tankers from RAF Mildenhall, England, and F-35A Lightning II fighter jets in France were slated to conduct flyovers Sunday and Monday at U.S. military ceremonies in France and the United Kingdom, the command said in a statement Thursday.
Some U.S. cemeteries in France, Belgium and the Netherlands began reopening to the public in May, but "out of an abundance of caution" they would close during Memorial Day ceremonies and reopen afterward, the American Battle Monuments Commission said in a statement.
The Air Force C-130s and KC-135s would conduct five flyovers at unspecified ceremonies. Two F-35s and two French Dassault Rafale fighter jets were slated to fly over Lafayette Escadrille Memorial Cemetery in Marnes-la-Coquette, France, which has not yet reopened to the public.
A ceremony honoring the World War I dead at the Suresnes American Military Cemetery in France will be streamed online starting Monday at 4 p.m. Central European Time. A second ceremony honoring World War II dead at Epinal American Cemetery in France is scheduled for 5 p.m. Monday.
The ceremonies will feature prerecorded remarks by Wolters and a benediction from EUCOM's deputy chaplain.
The U.S Air Force, Army and Navy bands in Europe will perform a joint rendition of the national anthem and the U.S. Air Forces in Europe and Africa band bugler will perform taps.
Both ceremonies will be available on the ABMC Facebook and YouTube pages. The operational status of the commission's cemeteries and memorials can be found online.
"Even though COVID-19 continues to impact our lives, USEUCOM's commitment to our fallen heroes buried on European soil endures," Wolters said.
---
---
---
---