Thousands of motorcyclists prepare for ride through nation's capital this weekend
by
Nikki Wentling
Stars and Stripes
May 26, 2021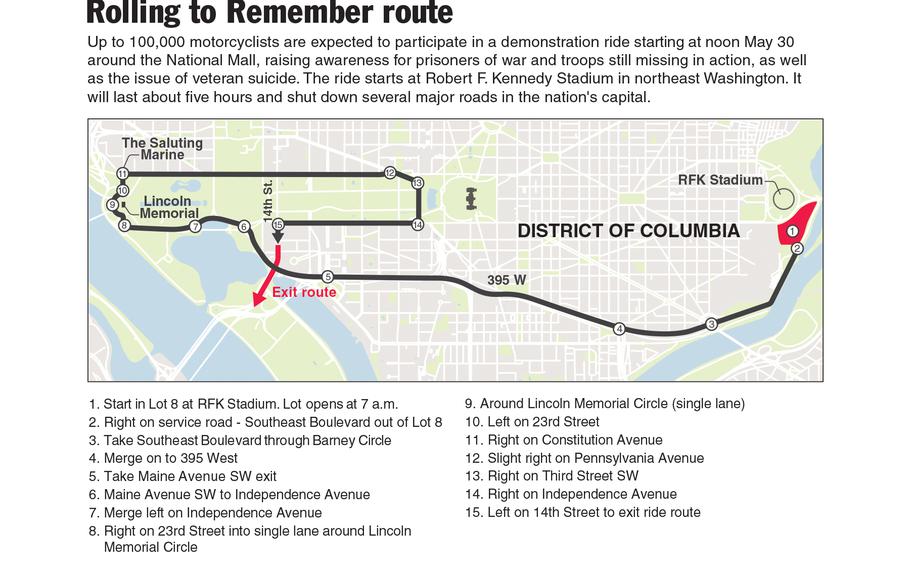 WASHINGTON — Between 50,000 and 100,000 motorcyclists are preparing to gather in Washington, D.C., this weekend for a traditional ride around the National Mall in honor of Memorial Day.  
The event is Sunday after weeks of uncertainty, during which organizers couldn't find a starting point for the ride. After being rejected by the Pentagon for a permit to use its parking lot, D.C. Mayor Muriel Bowser gave approval for riders to gather at Robert F. Kennedy Stadium in the city's northeast quadrant. 
The national veterans' group AMVETS is organizing the ride. The group has planned much of the ride in the past 15 days since Bowser approved RFK Stadium as the starting location. Joe Chenelly, the group's executive director, said he's worked with two dozen government agencies to organize the event.  
"We've compressed what we'd normally do in about eight to nine months into two weeks at this point," Chenelly said. "It's been one heck of a roller-coaster ride throughout this. The bottom line is, we weren't going to give up. We've said all along that it's too important to allow not to happen."  
The event, called Rolling to Remember, aims to raise awareness for prisoners of war and troops still missing in action, as well as the issue of veteran suicide. It was planned as a replacement for the annual Rolling Thunder event, which was held every Memorial Day weekend for 32 consecutive years before ending in 2019. 
The weekend of activities begins Friday, when motorcyclists will participate in a candlelight vigil and wreath-laying ceremony at the Vietnam Veterans Memorial on the National Mall. On Saturday, they're invited to an open house at Harley-Davidson of Washington, as well as a get-together at Crystal City Sports Pub.  
Motorcyclists will gather at RFK Stadium's Lot 8 beginning at 7 a.m. Sunday, and the ride starts at noon. The ride will last about five hours, and several main roads in downtown Washington will be closed during that time. To get to the National Mall, motorcyclists must use a busy section of the Capitol Beltway, an interstate highway surrounding the city.  
Some participants of the ride are planning to attend several ceremonies on the National Mall on Monday, which is Memorial Day.  
Last year's motorcycle ride was canceled because of the coronavirus pandemic. Chenelly said that AMVETS is working to make this year's event safe, despite ongoing risks. 
Motorcyclists will be staged 6 feet apart, and riders will be asked to wear masks in situations where socially distancing isn't possible, he said. The group is also training "COVID marshals" who will encourage social distancing and mask wearing. AMVETS has about 200,000 masks to give away the day of the event. 
Twitter: @nikkiwentling