After World War I, US families were asked if they wanted their dead brought home; 40,000 said yes
by
Michael E. Ruane
The Washington Post
May 30, 2021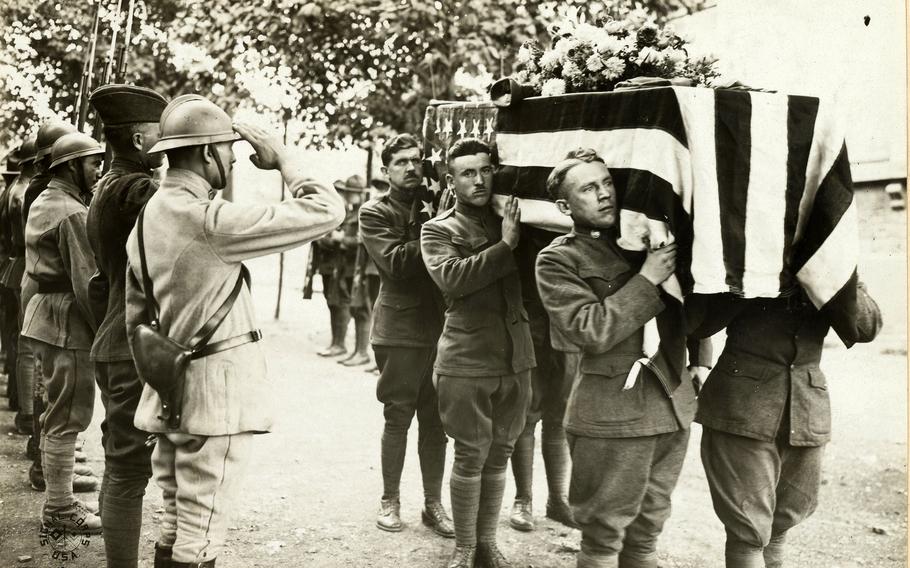 In 1919, when Theodore J. Argiroplos, of Keyser, W. Va., got the government post card asking if he wanted the body of his brother shipped home for burial, he entered "yes" on the appropriate line.
Private James Argiroplos, 24, of the 80th division's 317th infantry regiment, had been killed on Aug. 15, 1918, near a place called Hébuterne in France. And he, and thousands of other dead Americans, were eligible to be buried in an American cemetery in France, or brought home.
So in a massive and little-remembered project after World War I, the U.S. sent out 74,000 questionnaire cards asking families what they wanted and then tried to fulfill their wishes.
Sixty-three thousand answers were received by January 1920, according to historian Lisa M. Budreau.
And between 1919 and 1922 the government identified, located, and exhumed about 44,000 bodies and shipped them home for burial.
But in certain cases, like that of James Argiroplos, the effort was blocked by the brutality of the war.
"Neither the United States nor any other nation up until that time had ever attempted such a colossal task," Budreau wrote in her 2010 book, "Bodies of War."
On May 23, 1921, President Warren Harding went to Pier 3 in Hoboken, N.J., to pay tribute to the 5,000 bodies that had just arrived on the funeral ship USAT Wheaton.
"These dead know ... nothing of the sentiment or the tenderness which brings their wasted bodies to the homeland, for burial close to kin and friends and cherished associations," he said. "These poor bodies are but the clay tenements ... of souls, which flamed in patriotic devotion, (and) lighted new hopes on the battlegrounds of civilization."
Roughly 100,000 Americans died during World War I, from combat, the influenza pandemic and other causes, historians say.
And the repatriation effort came about as the United States was preparing for the solemn homecoming of the lone unknown soldier in November, 1921.
"This is everyone else," said Ryan Hegg, the lead organizer of Homecoming '21, a project that has helped catalogue the 5,000 dead aboard the ship.
Among the bodies, listed as "passengers" on board the Wheaton, was that of Elzie Turner, an Army cook from Seat Pleasant, Md.
He was 28 and had been married a month when he shipped out of Hoboken aboard the Leviathan on July 8, 1918. He died of pneumonia on Oct. 17, 1918, and was buried in an American cemetery in Rimaucourt, France.
The year after his death, his wife, Emily, a native of Ireland, posted a memorial notice in the Washington Evening Star.
"He sleeps beside his comrades
"In a grave across the foam;
"But love and memory linger
"In the hearts of all at home"
An anniversary Mass was scheduled in St. Margaret's Catholic church in Seat Pleasant, the notice said.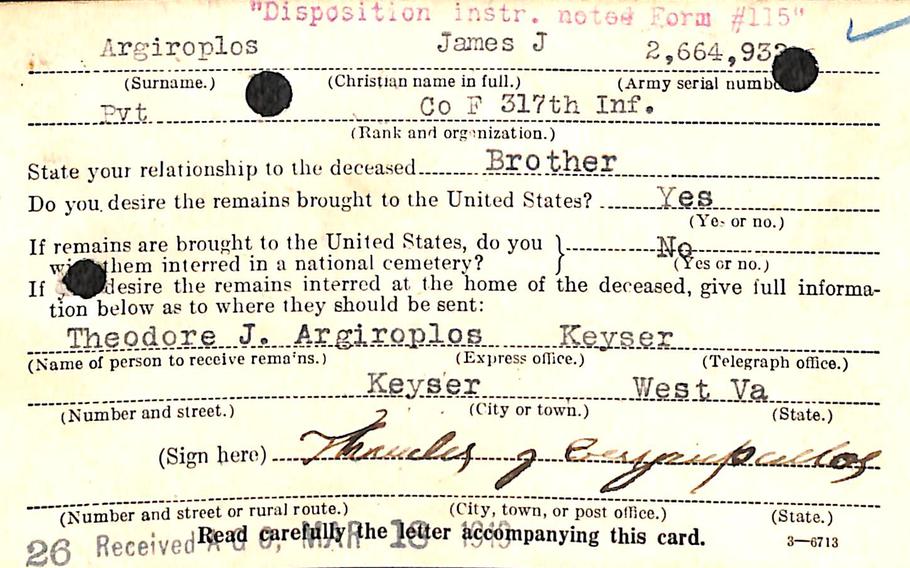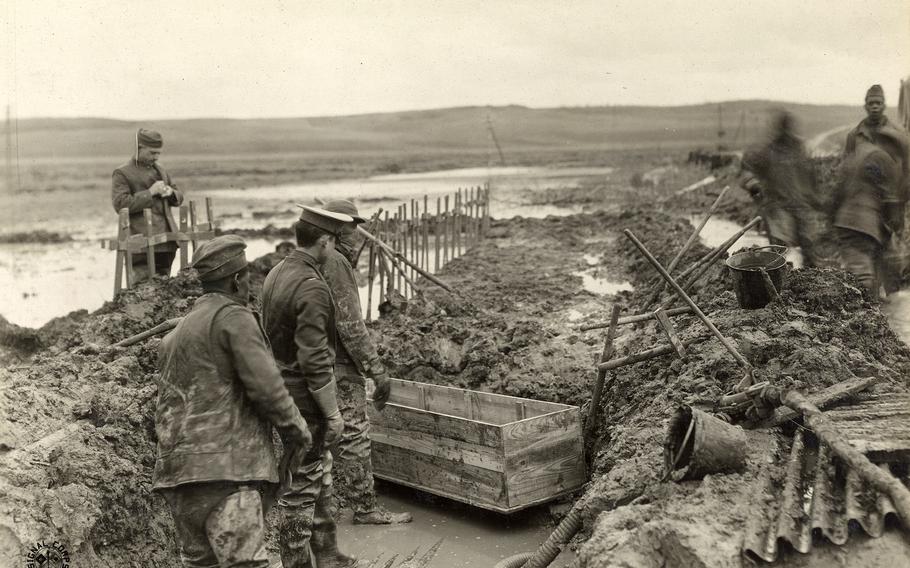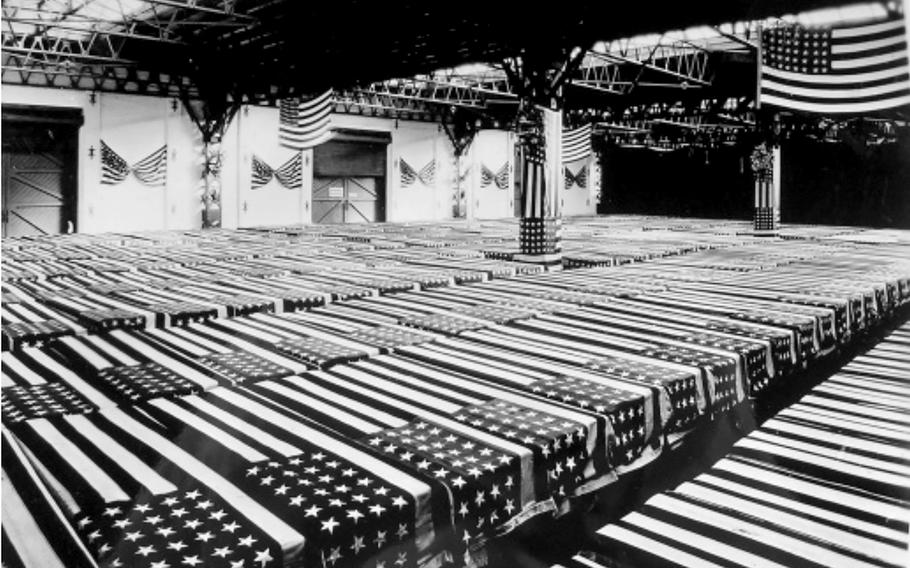 Turner was disinterred on March 17, 1921, after his family asked that he be sent home. His body arrived in Hoboken on May 18 and was delivered to the William H. Sardo funeral home on H Street in Washington on June 10.
He was buried in Mount Olivet Cemetery three days later.
PFC James Geddes, 25, of Washington, D.C., died of pneumonia in Vittel, France, on Oct. 6, 1918.
His widowed mother, Catherine, was at first in denial. "My son was so happy when we last heard from him, planning his first furlough ... that I cannot believe he is dead," she told the Washington Herald.
His body was also brought back on the Wheaton on May 18 and shipped to funeral director Charles Zurhorst on Capitol Hill on May 27.
The funeral was held at the Geddes home on North Carolina Avenue, and James was buried in Glenwood Cemetery on May 31, according to old news accounts.
The response to the government's overtures was mixed.
William Abrams, of Philadelphia, said he did not want the body of his son, Sgt. Albert Abrams, home for burial. "The field of honor is the place," he wrote on the card.
Sgt. Abrams had died of pneumonia the day before the Nov. 11, 1918 Armistice went into effect, ending the 1914-1918 war, according to records at the National Archives.
Pvt. Charles Arnold, of North Bergen, N.J. had also died of disease. His sister, Louise, writing on a separate document, said: "Please leave my brother's body in France where he went to fight for his country. May he rest in peace forever more is the fervent prayer of his sister."
Some relatives initially said they wanted their loved ones home, but then changed their minds.
The families of some soldiers, like Pvt. Birt Adams, of Oakland, Calif., who died of pneumonia on Oct. 6, 1918, were never located.
The job of disinterring the bodies was grisly work. And in the harshly segregated Army of the time it was assigned to 6,000 African American soldiers in labor battalions, Budreau, the historian, wrote.
The work was often done in miserable weather, with stench and mud, and the soldiers lived in primitive housing, Budreau wrote.
"Although popular American opinion placed such great importance on the disposition of its dead, burial being a sanctified duty, no one but the black man was asked to do the job," she wrote.
By 1920 and 1921 the bodies were decomposed and unrecognizable, although many were still in their uniforms, according to records in the Archives.
Government officials worried that family members might seek to open the coffins for a last glimpse, Budreau wrote.
"Americans at home (who) hoped to verify their loved ones' identity ... risked seeing (only) shocking remnants ... that hardly resembled the human form they expected," she wrote.
When they first exhumed Pvt. Max Achenbach, 23, of Revere, Mass., who had died of wounds in a field hospital on Oct. 8, 1918, he still had a large splint on his shattered left leg and a drainage tube near his pelvis.
He had been wrapped initially in burlap and buried in a wooden box. His sister, Emilie, preferred that his body stay in France.
In many cases there was nothing to find.
Pvt. James Argiroplos had immigrated from Sparta, Greece, to Keyser, about 140 miles west of Washington, in 1911. He operated a candy store with his brother at 88 Main Street and declared his intent to became a citizen in 1915, according to records.
He appears to have been drafted after the U.S. entered the war in 1917. On May 25, 1918, before he went overseas, he made out his will — "if perhaps I get kill in army" — at Camp Lee, near Petersburg, Va. He named his brother as beneficiary.
The next day he shipped out of Norfolk on board the Mongolia bound for the war with the rest of Company F of the 317th.
By August 1918, the great German offensives of that year had died out, and British, French and American forces were beginning the counterattacks that would end the war three months later.
On Aug. 14 and 15, while attached to a division from New Zealand, parts of the 317th attacked and captured the towns of Serre and Puisieux-au-Mont, 100 miles north of Paris, according to a summary of the actions of 80th Division, which included the 317th.
Ten men were killed or died of wounds during the period, Aug. 8 to Aug. 18, the summary said.
One of them was James Argiroplos.
But when the Army went to look for his remains to send them home to his brother, there were none to be found.
On a yellowed piece of paper in the National Archives is a statement from Cpl. Joseph Morris, of Company F, who was an eyewitness: "Pvt. Argiroplos was blown to pieces on Serre Ridge."
All that was left, Morris said, was a piece of coat collar, found by New Zealander, bearing the insignia Co. F.