Fast Take: Great power competition and readiness
By
Stars and Stripes
November 16, 2021
---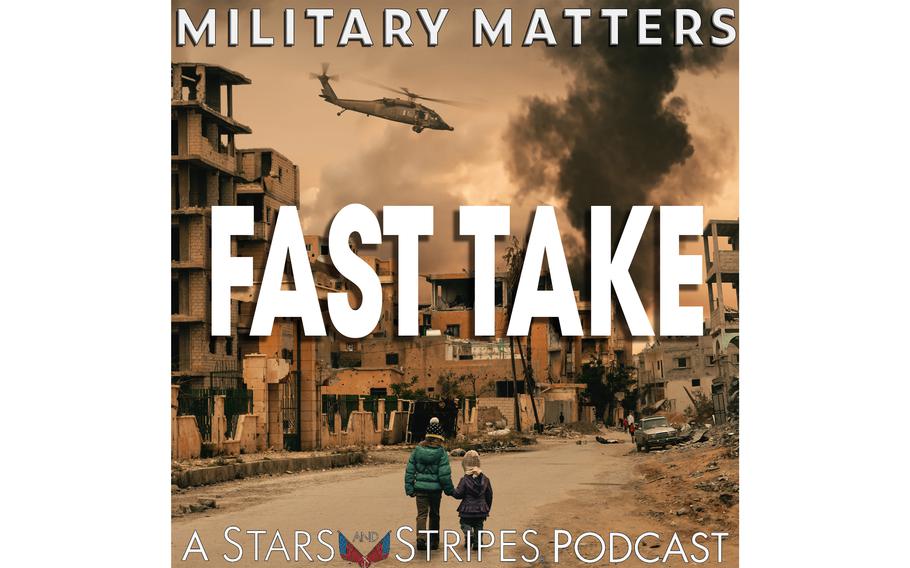 In last week's episode of Military Matters, co-host Jack Murphy spoke with Dr. Jonathan Schroden, director of the Special Operations Research Program at the Center for Naval Analyses, and Special Forces veteran Bob Charest about how the idea of great power competition will affect the missions of Special Operations Forces.
This week on the Fast Take, Murphy and co-host Rod Rodriguez offer more insight into great power competition between the U.S. and China and the U.S. and Russia, moving beyond SOF's mission and into the military as a whole.
"I think that also speaks to, whether it's conventional or special ops, some of the conversations that I had with Dr. Schroden: that the force itself, that the policy makers have not really articulated to the military what our policy is and what we want them to be prepared to do," Murphy said. "So there's quite a bit of confusion within the ranks because of that. So we kind of have to unify or streamline what we would call the commander's intent in the military. You know, what is it we're attempting to accomplish here?"
Rodriguez asked Murphy if he thought that great power competition is "a reflection of maybe this country's stagnation in evolving as a nation, as a military force?"
"After the Cold War, we were in a bipolar worldview, a sort of competition between the West and the USSR or international communism," Murphy said. "Now we've moved into a multipolar world, right? Like I said, that we're in a very profoundly different situation where we have many different countries around the world that are on the rise, they're building their economies, they're getting stronger, they're building their own industries. They're engaging in global trade. This is a good thing in a lot of ways, right. That we don't want to see, you know, other countries destitute and poor, and that leads to problems as well."
"But with China, I mean, we treated them first as a bulwark against the Soviet Union, that we're going to kind of align them against the Russians," Murphy continued. "And then after 1990, we treated it as just a marketplace, a place that we could … expand into and sell things to. … And counter-intelligence investigations and industrial espionage and cyber warfare that was being waged against us and all of that was kind of treated as an afterthought. It was seen as an annoyance that was sort of getting in the way of future economic development while a lot of political scientists and pundits and so forth really believed that China would democratize on its own, that there was a sort of natural inertia that would lead China towards democracy. And clearly that has not happened."
You can find Military Matters on Twitter @stripesmmpod.
Follow Jack Murphy on Twitter @jackmurphyrgr and Rod Rodriguez @rodpodrod.
A transcript of the episode can be found here.
Go to www.stripes.com use promo code PODCAST and save 50% on your digital subscription.
---
---
---
---